It must suck to be a son or legal ward of Batman. Not only are you likely to get drafted into an obsessive war against mentally ill criminal, forced to dress up in colorful tights, and possibly die in battle, but let's be honest, you're never going to be allowed to bring friends home. But Damian Wayne doesn't follow the rules, which is why he and the Teen Titans are seen breaking into the Bat-Cave in this week's issue of Teen Titans.

But they aren't just there to throw an all-night rager. They're there to steal stuff.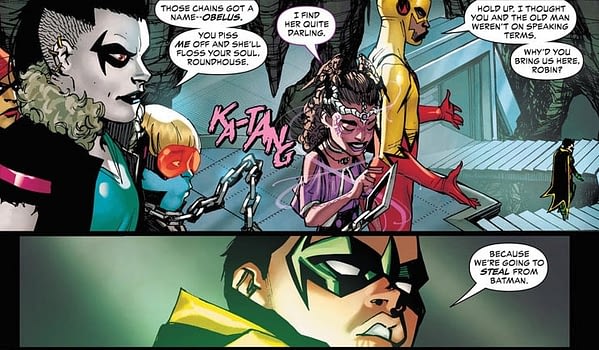 Batman is not going to be happy when he finds out. And he always finds out. The dude builds global surveillance satellites and murderous AIs. You know he's got security cameras in his own hideout.
Comicosity had the EX-X-XCLUSIVE preview of this one, as you can see by the watermark they rudely inserted on the pages. Teen Titans #26 hits stores on Wednesday.
Teen Titans #26
(W) Adam Glass (A) Bernard Chang (CA) Giuseppe Camuncoli, Cam Smith
The Teen Titans plot the ultimate break-in-the Batcave! But Batman's security is no joke, and the Titans will need to work together to get past it without alerting the Dark Knight himself. What's so important to Damian that he'd betray his father this way?
In Shops: Jan 23, 2019
SRP: $3.99