This week we wrap up our retrospective dedicated to the films of Bela Lugosi, this time with Lugosi's performance as a character that David Skal called "Dracula in all but name," vampire Armand Tesla in the 1943 Columbia picture The Return of the Vampire.
Tune in next week as the Castle of Horror Podcast returns to a favorite theme for a brand-new retrospective: Evil Children!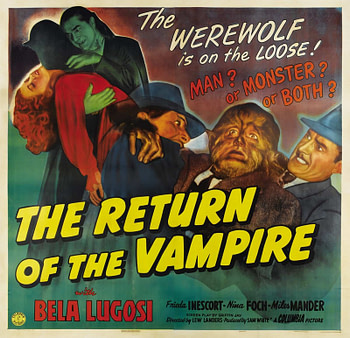 Listen here:
Listen on YouTube:
Check out the Trailer:
Castle of Horror Podcast:
Join us over on Facebook to chime in.
The show is hosted here. Get our RSS Feed. Subscribe at iTunes. Listen on Stitcher. Or on YouTube. Twitter: castleofhorrorp.
The Team: Hosted by Jason Henderson, author of the upcoming Young Captain Nemo, creator of the HarperTeen novel series Alex Van Helsing; Featuring Drew Edwards, creator of Halloween Man; Tony Salvaggio, lead singer of the band Deserts of Mars, lead guitarist of the band Rise from Fire, and co-creator of Clockwerx from Humanoids; attorney Julia Guzman of Guzman Immigration of Denver; and Jamie Bahr, lead singer and upright bassist of the rock and roll band Danger*Cakes.