Next week sees the relaunch of Invaders, and a preview of the issue brings us back to World War II, the good old days when people still knew what to do with a Nazi. But Namor, the King of Atlantis, isn't really living up to his hype. The preview shows Namor, weakened because he's a little thirsty, try and fail to save a soldier. By the time his ally Captain America (who also used to know what to do with Nazis instead of being one back then) finds him, this is what Namor looks like.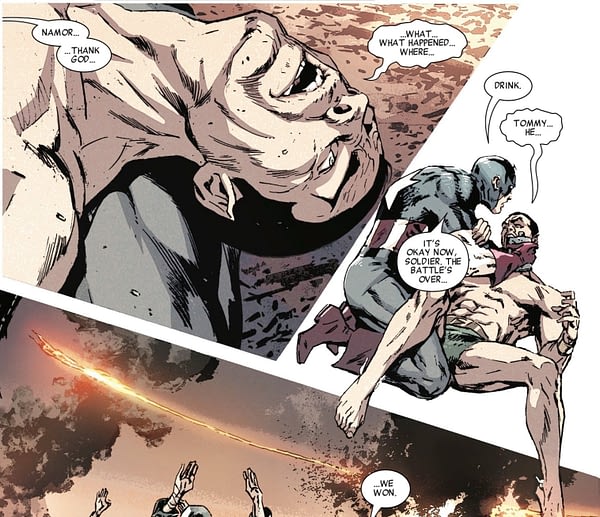 What happened to Imperius Rex, dude? Get it together, Namor! It's only the first issue!
Of course, the cover shows modern goth Namor, so as you can see, the whole story won't be set in the past. AV Club had this one as an EX-X-XCLUSIVE. Invaders #1 hits stores next Wednesday, January 16.
Invaders #1
(W) Chip Zdarsky (A) Carlos Magno (A/CA) Butch Guice
THE GREATEST GENERATION OF MARVEL HEROES IS BACK – TO STOP ONE OF THEIR OWN!
In commemoration of Marvel's 80th anniversary and springing from events in the pages of AVENGERS and THE BEST DEFENSE, the Marvel Universe's first super-team is back! CAPTAIN AMERICA. THE HUMAN TORCH. THE WINTER SOLDIER. NAMOR. They fought in WORLD WAR II together as THE INVADERS. But now NAMOR is the enemy, a global threat more powerful than ever. His deadly plans are as deep and far-reaching as the ocean and REVELATIONS about his past could THREATEN the MARVEL UNIVERSE! It's up to his old teammates to stop him, but what chance do they have against the man who knows their every move? "War Ghost" begins here!
Rated T
In Shops: Jan 16, 2019
SRP: $4.99
(Last Updated
January 13, 2019 9:45 am
)
Related Posts
None found