Sure, maybe it isn't the most exciting aspect of film reporting ever but thanks to AMC Theaters website, we know the probable runtime for Marvel Studios' upcoming female-centric superhero film, Captain Marvel.
According to the official listing for the film, Captain Marvel will have a runtime of 2 hours and 10 minutes, which seems a bit long for the usual solo Marvel Cinematic Universe entries: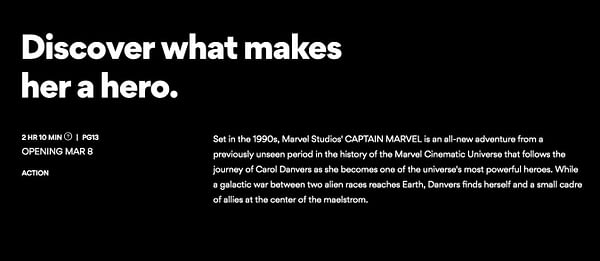 AMC's website also has a synopsis listed:
Set in the 1990s, Marvel Studios' CAPTAIN MARVEL is an all-new adventure from a previously unseen period in the history of the Marvel Cinematic Universe that follows the journey of Carol Danvers as she becomes one of the universe's most powerful heroes. While a galactic war between two alien races reaches Earth, Danvers finds herself and a small cadre of allies at the center of the maelstrom.
Needless to say, that runtime may not be correct, but we'll let you know if it changes.
Anna Boden (first female director for Marvel Studios, only took 21 films) and Ryan Fleck are directing from a script they wrote with Liz Flahive, Carly Mensch, Meg LeFauve, Nicole Perlman and Geneva Robertson-Dworet.
Captain Marvel stars Oscar winner Brie Larson as Carol Danvers, Samuel L. Jackson as Nick Fury, Jude Law as the commander of Starforce (who may or may not have two names), Clark Gregg as Phil Coulson, Lee Pace returning as Ronan the Accuser, Djimon Hounsou as Korath the Pursuer, Gemma Chan as Minn-Erva, Ben Mendelsohn as Skull Commander Talos, Lashana Lynch as Maria Rambeau, Algenis Perez Soto, as well as McKenna Grace and Annette Bening in as-yet-undisclosed roles.
Captain Marvel is set to hit theaters on March 8th 2019, International Women's Day.
Enjoyed this article? Share it!