Skrulls have long been considered enemies of the planet Earth, constantly using their shapeshifting powers and alien weaponry to invade Earth, stopped only by the combined might of Earth's greatest superheroes. But is it possible that, despite all of our outward differences, despite their green skin and pointy ears and wrinkly chins and penchant for galactic domination… Skrulls are really just like us?
When you take a look at this preview of next week's Unbeatable Squirrel-Girl #40, you might find a different perspective on the alien villains…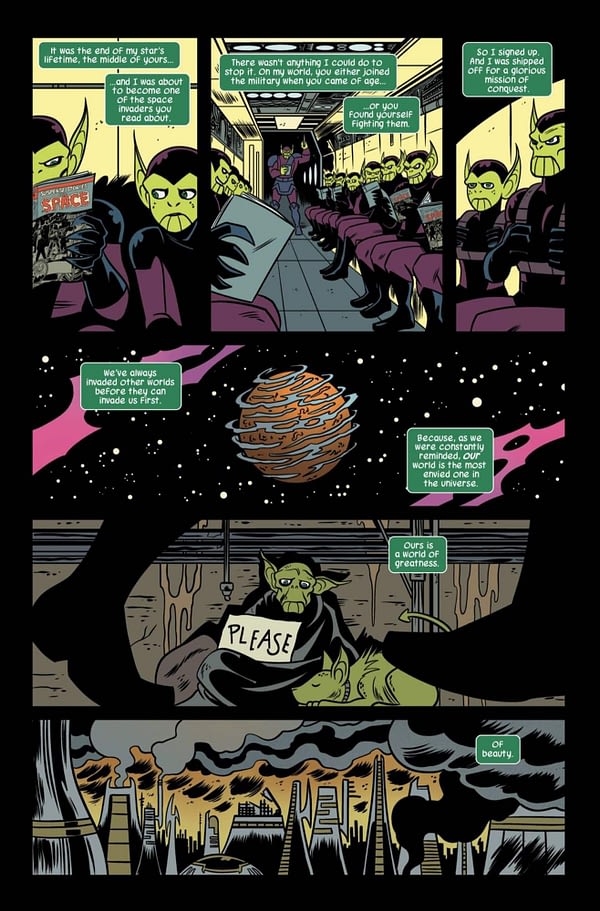 Doesn't anyone believe in Skrull Exceptionalism anymore?
This preview was pilfered from an AV Club EX-X-XCLUSIVE. Ooh, so ex-x-xclusive. Unbeatable Squirrel Girl #40 hits stores next Wednesday.
Unbeatable Squirrel Girl #40
(W) Ryan North (A) Derek Charm (CA) Erica Henderson
• In the past few issues, Squirrel Girl has "died"! She's fought "Iron Man"! And her world has been invaded by a non-zero number of SKRULLS!
• It's been a crazy ride, but gosh, it sure would be nice to know WHY this is happening, WHO is behind it and WHAT machinations – sinister OR otherwise – that they've been working toward!
• Good news: This issue reveals all! Mysteries are laid bare! Secret origins are revealed! And your friend and mine Squirrel Girl is FINALLY brought back from the dead!
• If, like me, your tastes in serialized literature run toward words and pictures in deliberate sequence, then I'm proud to recommend to you THE UNBEATABLE SQUIRREL GIRL #40!
Rated T+
In Shops: Jan 09, 2019
SRP: $3.99
Enjoyed this article? Share it!