Matthew Snyder writes,
Welcome to the Comixology Bestseller list, your guide to see how well your favorite titles are selling digitally. Every week I'll post the ranking of every new title, plus a ranking of the best selling volumes & graphic novels. As always, I hope you find it interesting and informative.
On the week Marvel paid tribute to Stan Lee on their covers, it's only fitting that Marvel wins big in the Top 10, cruising to an 8-2 victory. Batman & Justice League may have taken the top two spots, but it was Marvel domination the rest of the way, snapping a 4 week winless streak.
Two big reasons for Marvel win:
1- The third Wednesday of each month is usually DC's weakest.
2- No less than four major series are wrapping up this week: Darth Vader, Extermination, Infinity Wars and Spider-Geddon. Seriously, I can't remember when that many endings were in the Top 10 at once. (Although Infinity Wars and Spider-Geddon could have Omega or epilogue issues I'm not aware of. I can't keep track these events anymore).
Charles Soule and Giuseppe Camuncoli's Darth Vader wraps up this week, and it will be sorely missed by Marvel. It's no secret Star Wars is popular, but Darth Vader was a sales juggernaut, slicing up other titles like it was the end of Rogue One. The main Star Wars title and Doctor Aphra will have a lot to live up to.
Kelly Sue DeConnick and Robson Rocha's Aquaman has finally washed ashore, and the results are…… pretty good. It failed to crack the Top 10, but Aquaman's still holding the same position it got from the Justice League Drowned boost. And that was probably the most realistic outcome. Anyways, what was your thoughts on this new amnesiac Aquaman? (And the movie, if you've seen it)
Miles Morales: Spider-Man also failed to crack the Top 10 in its debut last week, but scored a rebound over the weekend. It's now No. 2 in the Old Issue Rankings, and it only dropped 3 spots in the Overall Rankings, a rarity. Two possibilities:
1- Demand for Miles Morales was sky high but Marvel did a poor job letting people know he was back, meaning many customers were late to the party.
2- Movie synergy is a real thing and the latest Spider-Verse movie translated into actual comic book sales.
Now I'm a skeptic of movie synergy. If it was a thing, Guardians of the Galaxy and Ant Man and the Wasp would've sold much better. But this weekend lift? Makes you think…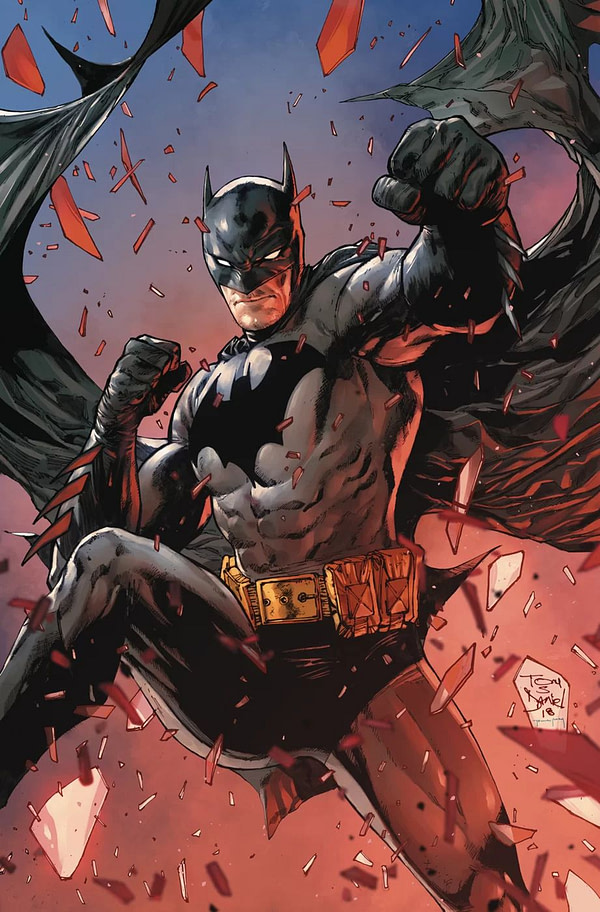 Top 25 Overall:
Batman #61
Justice League #14
Darth Vader #25
Extermination #5
Amazing Spider-Man #12
Uncanny X-Men #6
Infinity Wars #6
Thor #8
Spider-Geddon #5
Captain America #6
Aquaman #43
The Batman Who Laughs #1
Nightwing #55
Miles Morales: Spider-Man #1
Rat Queens #13
West Coast Avengers #6
Runaways #16
Batman: White Knight (62% off)
Teen Titans #25
Batman: Damned #2
Defenders: The Best Defense #1
Catwoman #6
The Life of Captain Marvel #5
Domino #9
Champions Annual #1
New Issue Rankings:
Batman #61
Justice League #14
Darth Vader #25
Extermination #5
Amazing Spider-Man #12
Uncanny X-Men #6
Infinity Wars #6
Thor #8
Spider-Geddon #5
Captain America #6
Aquaman #43
Nightwing #55
Rat Queens #13
West Coast Avengers #6
Runaways #16
Teen Titans #25
Defenders: The Best Defense #1
Catwoman #6
The Life of Captain Marvel #5
Domino #9
Champions Annual #1
Infinity Wars: Fallen Guardian #1
Dead Man Logan #2
Old Man Hawkeye #12
Lucifer #3
Gideon Falls #9
Outcast by Kirkman & Azaceta #37
The Punisher #5
Shuri #3
Iceman #4
Marvel Knights: 20th #4
Exiles #11
Firefly #2
Teenage Mutant Ninja Turtles #89
Pearl #5
John Wick #4
Damage #12
Cover #4
Lumberjanes #57
Batman: Kings of Fear #5
Harley Quinn #56
Klaus and the Crying Snowman #1
A Walk Through Hell #6
My Little Pony: Friendship is Magic #73
Middlewest #2
Killmonger #2
Black Panther vs. Deadpool #3
American Gods: My Ainsel #9
James Bond 007 #2
Weapon H #11
Spawn #292
X-O Manowar #22
The Witcher: Of Flesh and Flame #1
League of Legends: Ashe: Warmother Special Edition #1
Season's Beatings #1
G.I. Joe: A Real American Hero #258
Livewire #1
Solo: A Star Wars Story Adaptation #3
Rumble #10
Witchblade #10
Rivers of London: Action At A Distance #3
Exorsisters #3
Dream Daddy #5
Beasts of Burden: Wise Dogs and Eldritch Men #4
Days of Hate #11
Jim Henson's Labyrinth: Coronation #9
Bloodshot Rising Spirit #2
Hardcore #1
Red Sonja #24
Gold Digger #258
The Warning #2
Outpost Zero #5
Betty & Veronica #1
Scooby-Doo Team-Up #89 (99-cent digital first)
Hillbilly: Red-Eyed Witchery From Beyond #3
Cold Spots #5
Crimson Lotus #2
Joe Hill's The Cape: Fallen #3
Black Badge #5
Regression #14
Teenage Mutant Ninja Turtles: Urban Legends #8
MAD Magazine #5
The Stone King #2
Sparrowhawk #3
Grave Danger #5
Black Butler #147
Ares IX: Darkness
Lightstep #2
Anne Bonnie #9
Artifact One #3
Grimm Tales of Terror #10
Old Issue Rankings:
The Batman Who Laughs #1
Miles Morales: Spider-Man #1
Batman: Damned #2
Superman #6
Batman Annual #3
Uncanny X-Men #5
Avengers #11
Detective Comics #994
Amazing Spider-Man #11
Justice League Dark #6
X-Men Red #11
Fantastic Four: The Wedding Special #1
Doctor Strange: The Best Defense #1
Star Wars: Age Of The Republic – Darth Maul #1
Silver Surfer: The Best Defense #1
Titans #31
Goddess Mode #1
The Magic Order #5
The Flash #60
Doomsday Clock #8
Wonder Woman #60
Hawkman #7
Spider-Gwen: Ghost Spider #3
The Walking Dead #186
Peter Parker: The Spectacular Spider-Man #313
Best Selling Collections & Graphic Novels:
Batman: White Knight (62% off)
Dark Nights: Metal- Deluxe Edition (75% off)
Justice League (2018) Vol. 1: The Totality (62% off)
Batman (2016) Vol. 7: The Wedding (62% off)
The Man of Steel (2018) (71% off)
Dark Nights: Metal- Dark Knights Rising (75% off)
The Witcher Library Edition Vol. 1
Spider-Verse
Spider-Gwen Vol. 6: Life of Gwen Stacy
Ultimate Comics Spider-Man by Brian Michael Bendis Vol. 1
Ultimate Comics Spider-Man by Brian Michael Bendis Vol. 2
Dark Days: The Road to Metal (67% off)
Dark Nights: Metal- The Resistance (71% off)
Wonder Woman: Earth One Vol. 2 (71% off)
Harvey Kurtzman's Marley's Ghost (86% off)
Batman: The Dark Prince Charming (80% off)
Spider-Men
Ultimate Comics Spider-Man by Brian Michael Bendis Vol. 3
Batman/Teenage Mutant Ninja Turtles II (71% off)
Crisis on Infinite Earths Companion Deluxe Edition Vol. 1 (90% off)
Spider-Gwen Vol. 0: Most Wanted?
Spider-Man: Miles Morales Vol. 4
Ultimate Comics Spider-Man by Brian Michael Bendis Vol. 5
Batman (2016) Vol. 6: Bride or Burglar (62% off)
Spider-Men II
Spider-Gwen Vol. 1: Greater Power
Spider-Gwen Vol. 5: Gwenom
Batman: The Complete Hush (71% off)
Batman- Detective Comics Vol. 7: Batmen Eternal (62% off)
Deathstroke (2016) Vol. 5: Fall of Slade (62% off)
Ultimate Comics Spider-Man Vol. 4: Death of Spider-Man
Spider-Man Noir
Watchmen: The Deluxe Edition (83% off)
Justice League: No Justice (62% off)
Spider-Gwen Vol. 4: Predators
Marvel Two-In-One (2017) Vol. 1: Fate of the Four (64% off)
Batman by Azzarello & Risso Deluxe Edition (83% off)
Batman: The Court of Owls Saga- Essential Edition (71% off)
Batman: Hush 15th Anniversary Deluxe Edition (86% off)
Spider-Man/Spider-Gwen: Sitting in a Tree
Batman: Ego and Other Tails Deluxe Edition (83% off)
Spider-Man: Miles Morales Vol. 2
Red Hood and the Outlaws (2016) Vol. 4: Good Night Gotham (62% off)
Spider-Gwen Vol. 3: Long-Distance
Batman: The Dark Knight: The Master Race (75% off)
Spider-Man Noir: Eyes Without A Face
Spider-Man: Miles Morales Vol. 3
Spider-Gwen Vol. 2: Weapon of Choice
Batman (2016) Vol. 5: The Rules of Engagement (62% off)
Hal Jordan and the Green Lantern Corps (2016) Vol. 6: Zod's Will (58% off)