Greetings from the coal face of the direct comics market. Where retailers try to increase their orders of certain comics ahead of sale. Where supply and demand and most accurately reflected, where you can see which books are hot, where new orders are coming in and how retailers are reacting to new, unanticipated desire! And courtesy of stats from Diamond Comic Distributors.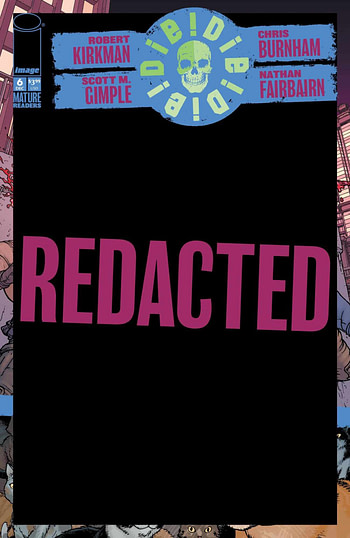 And retailers are really finding gold in the Robert Kirkman/Chris Burnham Die Die Die comic book. So much so that they are happy to order cover unseen. For comparison, this is how today's also hidden cover looked on the stands…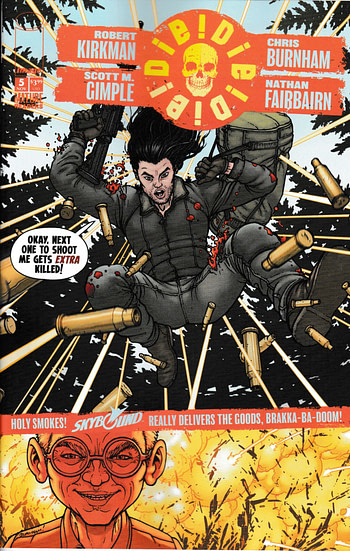 There's also lots of action for Middlewest, Klaus and the Crying Snowman, Firefly, Man-Eaters and Livewire long before the highest superhero title, Aquaman, gets a mention for Kelly Sue Deconnick and Robson Rocha's take on the character….
TOP 25 ADVANCE REORDER COMICS/GRAPHIC NOVELS/TPS
| | | |
| --- | --- | --- |
| PUBLISHER | PRICE | PUBLISHER |
| DIE DIE DIE #6 (MR) | $3.99 | IMAGE COMICS |
| MISTER MIRACLE TP (RES) (MR) | $24.99 | DC COMICS |
| KLAUS AND CRYING SNOWMAN #1 FOC RAMOS INCV | $7.99 | BOOM ENTERTAINMENT |
| FIREFLY #2 FOC GALINDO INCV | $3.99 | BOOM ENTERTAINMENT |
| MIDDLEWEST #2 (MR) | $3.99 | IMAGE COMICS |
| MAN-EATERS #4 CVR B MITERNIQUE | $3.99 | IMAGE COMICS |
| LIVEWIRE #1 CVR A POLLINA (NET) | $3.99 | VALIANT ENTERTAINMENT LLC |
| AQUAMAN #43 | $3.99 | DC COMICS |
| BATMAN #61 VAR ED | $3.99 | DC COMICS |
| GIDEON FALLS #9 CVR C HERO INITIATIVE VAR (MR) | $3.99 | IMAGE COMICS |
| MIGHTY MORPHIN POWER RANGERS #34 FOC MERCADO INCV (C: 1-0-0) | $3.99 | BOOM ENTERTAINMENT |
| KLAUS AND CRYING SNOWMAN #1 MAIN | $7.99 | BOOM ENTERTAINMENT |
| LAZARETTO TP (MR) (C: 0-1-2) | $16.99 | BOOM ENTERTAINMENT |
| LIVEWIRE #1 CVR B TOLIBAO (NET) | $3.99 | VALIANT ENTERTAINMENT LLC |
| TEEN TITANS #25 VAR ED | $4.99 | DC COMICS |
| LIFE IS STRANGE #1 2ND PTG | $3.99 | TITAN COMICS |
| SPAWN #292 CVR B MATTINA VIRGIN | $2.99 | IMAGE COMICS |
| LIFE IS STRANGE #2 CVR A LEONARDI | $3.99 | TITAN COMICS |
| BONE PARISH #5 (OF 12) FOC CROOK INCV | $3.99 | BOOM ENTERTAINMENT |
| SPAWN #292 CVR A MATTINA | $2.99 | IMAGE COMICS |
| HARDCORE #1 (MR) | $3.99 | IMAGE COMICS |
| JOHN WICK #4 CVR A VALLETTA | $3.99 | DYNAMIC FORCES |
| JUSTICE LEAGUE #14 | $3.99 | DC COMICS |
| DF VENOM #1 MIDTOWN MATTINA EXC (C: 0-1-2) | $29.99 | DYNAMIC FORCES |
| BLACK BADGE #5 FOC LAPHAM INCV | $3.99 | BOOM ENTERTAINMENT |
TOP 25 REORDER COMICS/GRAPHIC NOVELS/TPS
| | | |
| --- | --- | --- |
| PUBLICATION | PRICE | PUBLISHER |
| BATMAN WHITE KNIGHT TP | $19.99 | DC COMICS |
| UNCANNY X-MEN #1 | $7.99 | MARVEL COMICS |
| SABRINA CHILLING ADVENTURES TP VOL 01 (MR) | $17.99 | ARCHIE COMIC PUBLICATIONS |
| ADVENTURE ZONE GN VOL 01 HERE THERE BE GERBLINS (C: 1-1-0) | $19.99 | ST. MARTINS PRESS |
| HULK WORLD WAR HULK OMNIBUS HC | $125.00 | MARVEL COMICS |
| GREEN LANTERN #1 | $4.99 | DC COMICS |
| SAGA TP VOL 09 (MR) | $14.99 | IMAGE COMICS |
| INFINITY GAUNTLET TP | $24.99 | MARVEL COMICS |
| THOR BY WALTER SIMONSON OMNIBUS HC NEW PTG | $125.00 | MARVEL COMICS |
| STAR WARS DARTH VADER BY GILLEN AND LARROCA OMNIBUS HC | $100.00 | MARVEL COMICS |
| V FOR VENDETTA 30TH ANNIVERSARY EDITION HC (MR) | $49.99 | DC COMICS |
| HULK PLANET HULK OMNIBUS HC | $100.00 | MARVEL COMICS |
| MMW FAMOUS FIRSTS 75TH ANNIV SLIPCASE SET | $500.00 | MARVEL COMICS |
| AVENGERS #10 | $5.99 | MARVEL COMICS |
| MARVELS AVENGERS INFINITY WAR HC ART OF MOVIE SLIPCASE | $50.00 | MARVEL COMICS |
| SPIDER-VERSE TP | $50.00 | MARVEL COMICS |
| THANOS HC INFINITY CONFLICT OGN | $24.99 | MARVEL COMICS |
| PUNISHER BY GARTH ENNIS OMNIBUS HC NEW PTG | $100.00 | MARVEL COMICS |
| CAPTAIN AMERICA BY WAID & GARNEY OMNIBUS HC | $125.00 | MARVEL COMICS |
| DARK NIGHTS METAL DELUXE ED HC | $29.99 | DC COMICS |
| X-MEN AGE OF APOCALYPSE OMNIBUS HC NEW PTG | $125.00 | MARVEL COMICS |
| UNCANNY X-MEN #1 COCKRUM HIDDEN GEM WRAPAROUND VAR | $7.99 | MARVEL COMICS |
| DAREDEVIL BY MILLER AND JANSON OMNIBUS HC NEW PTG | $125.00 | MARVEL COMICS |
| STAR WARS DARTH VADER #23 | $3.99 | MARVEL COMICS |
| BLACK HAMMER LIBRARY ED HC VOL 01 (C: 0-1-2) | $49.99 | DARK HORSE COMICS |