Two days ago, Bleeding Cool ran the Image Comics solicitations for February 2019. The only two new launches for that month are both Mark Millar titles and I don't think that this is entirely a coincidence. I presumed it was something Millar asked for and got.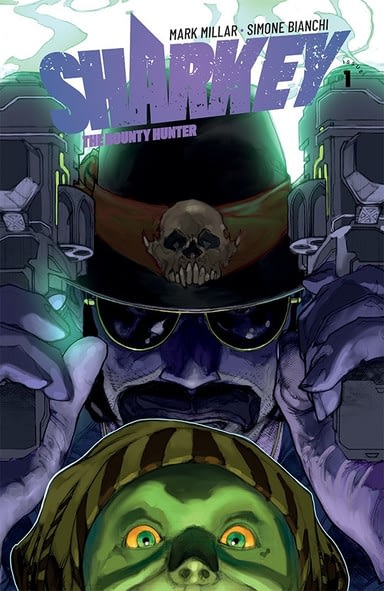 The new Hit-Girl series written by Kevin Smith. And a new Netflix comic series, Sharkey The Bounty Hunty, written by Mark Millar and drawn by comic book superstar Simone Bianchi.
I thought that was pretty big news, got the solicits up, followed it with the covers as they were also released as well as the rather pretty first three pages by Bianchi and noting that the comic was on the back cover of next week's Diamond Previews.
We got significant traffic for the story – as it was revealed that no other website was covering the release of this comic book. Mark Millar wasn't even mentioning it on social media. And this is Mark Millar, remember. Famed for accompanying comic book launches with the most outrageous and fictitious PR stunts – including fake Eminem starring in Wanted, fake videos showing a real life Kick-Ass, a fake elderly comics reviewer getting a tattoo of Starlight on her back, a fake ad for Nemesis on Times Square, a fake copy of Superior in Obama's hand, fake visits to Detroit to research MPH and a fake huge launch for The Magic Order, where it was revealed that US comic convention organisers Reed POP had ordered a hundred thousand copies at discount, in order to secure Mark Millar's appearance at a show or two. And who still most of them warehoused – though if you order anything from them, you usually get a free copy of The Magic Order. Plans to hand them out willy-nilly at shows were scuppered when they realised that it featured a naked blue floating bloke with his willy out, Watchmen style.
But none of that seems to have happened with Sharkey The Bounty Hunter. Especially odd considering that Netflix is committed to making it into a feature film in 2020. 
So I asked around. It turns out that Entertainment Weekly have arranged an official release of information, a PR embargo and – despite all this information being available on Diamond's website – no other website in the US are running anything without an embargoed press release. Mark Millar doesn't do Bleeding Cool – possibly as a result of the coverage we gave his previous launches – and so we just blundered ahead and reported it as news. Which it is.
The other people who reported it were European sites from France and Italy –with Bianchi being Italian, they were all over it – and according to the links we got back from them, it seems popular news on the continent as well.
Look forward to Entertainment Weekly reporting the 'exclusive' news – possibly after Thanksgiving now – and for all the other websites to suddenly follow suit, linking to EW.com. Because that is how the sausage is made.
But maybe only Bleeding Cool pointing out that Sharkey really looks like Lemmy. Depending on his estate, will they have to make significant changes, as Millar had to with Starlight over its similarity to Flash Gordon?
And wondering if we may have another Tooth & Claw/Dead Rabbit/Collider scenario raising its head over another comic book that Image Comics once published, Sharky by Dave Elliot and Alex Horley?