With the CW's three-night Arrowverse "Elseworlds" event only weeks away now (beginning with The Flash on Sunday, continuing with Arrow on Monday, December 10, and concluding with Supergirl on Tuesday, December 11), the network is offering us a new look at the mega-crossover that will look a little familiar to Smallville fans.
In the image below (offered exclusively by our friends at Entertainment Weekly), Tyler Hoechlin's Superman/Clark Kent and Elizabeth Tulloch's Lois Lane find themselves on the Kent Farm. Shot from the perspective of Supergirl's Melissa Benoist, the image is from the actress' first scene with Hoechlin and Tulloch – and was filmed on the same farm that Smallville used throughout its ten season run.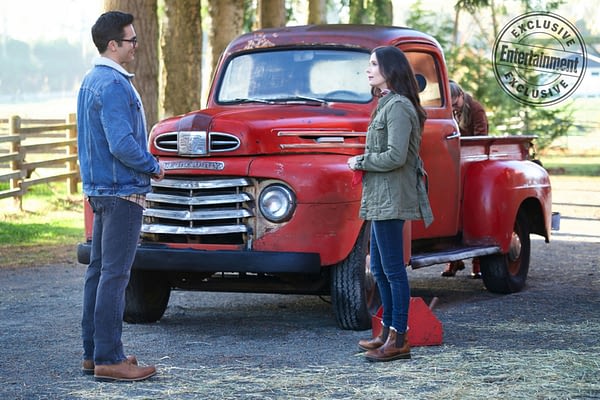 "I felt like we should've been eating apple pie and waving American flags. It was such Americana, and there were pickup trucks and Lois Lane had a toolbox and was working on a car. That iconic relationship of Lois and Clark, [Tyler and Elizabeth] have just totally embraced it." – Melissa Benoist
Fans were also given more details on the crossover event from some pretty in-the-know sources: Supergirl (Benoist), The Flash (Grant Gustin), and Green Arrow (Stephen Amell). Joining Arrow consulting producer Marc Guggenheim, and The Flash showrunner Todd Helbing, teased some new things fans can expect when they spoke with Entertainment Weekly:
Just to be clear: we have more than enough reasons to tune in already: Ruby Rose's Batwoman – and we could stop there…but there's more! Throw Hoechlin's Superman and Tulloch's Lois Lane into the mix…and there's still more! LaMonica Garrett's Monitor, John Wesley Shipp in a Flash costume, and a life-swap between Gustin's Barry and Amell's Oliver make for an almost embarrassment of riches. But with a crossover event this big, there's obviously more secrets to tell – so Benoist, Gustin, Amell, Arrow consulting producer Marc Guggenheim, and The Flash showrunner Todd Helbing offered up a few more tidbits when they spoke with our friends at Entertainment Weekly: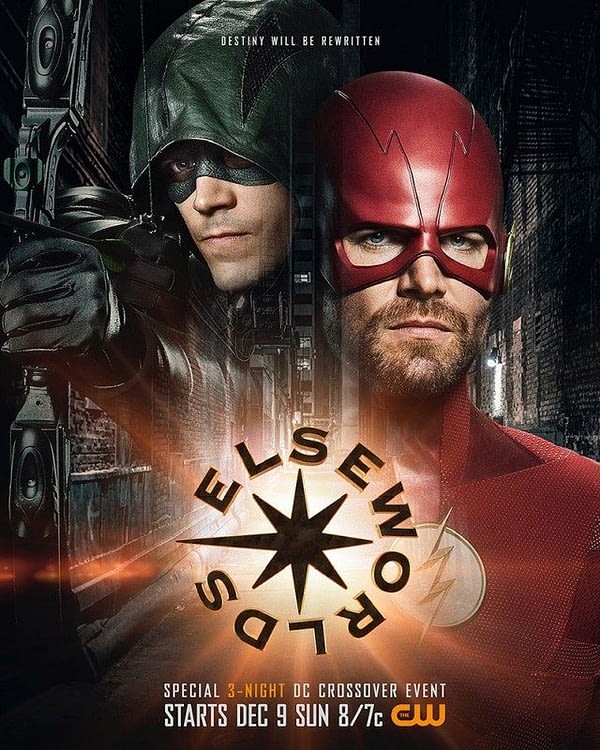 ● So what is it that brings "The Trinity" together? Apparently, Arkham Asylum's (already not a good start) Dr. John Deegan (American God's Jeremy Davies) starts fiddling with reality, resulting in Barry and Oliver swapping lives. So Oliver looks like Gustin and Barry looks like Amell…with each other's powers…and the worst part? They're the only ones who know what's going on.
● For Gustin and Amell, the role-reversals led to some fun, unique opportunities for their characters and for them as actors:
"You're not going to see me playing Oliver Queen's mannerisms, or Stephen playing Barry's mannerisms. It's more being aware that for some reason we've switched lives and destinies. It's more the fun of the situational comedy that we keep finding ourselves in, and less us having a complete role reversal. We get to see Stephen do some of the more goofy speed stuff I have to do on a regular basis, and I get some actual combat as Green Arrow. So, we just see different colors for each of us." – Gustin

"Having superpowers is crazy! Wearing the Flash suit is crazy! The idea is that in order to be the best version of Barry Allen, which I have to be because we face a threat, there are elements of his personality I have to embrace, and there are elements of my personality that he has to embrace." – Amell
● As the only one who can see Barry and Oliver as they truly are, Benoist appreciates the role Kara/Supergirl plays in this crossover as well as the comedic opportunities it presents:
"My initial reaction in reading the scripts this year was that it would be a hoot to film. The comedy just lives in this. Even just seeing them in each other's suits is funny; they're literally putting themselves in each other's shoes! She inevitably becomes kind of a middleman because ultimately there's conflict between the two and they start butting heads."
● Though fans will miss DC's Legends of Tomorrow's invovlement in this year's event, Guggenheim believes this year's storyline gave them the space they needed to focus on the main leads – but fans of the time-and-space travelling team should definitely keep their eyes open during the crossover's third hour:
"The most fun aspect about really focusing on the leads is we really had a chance to tell a story about the troika that we've never really been able to do before. When you have Legends of Tomorrow part of it, and all of the other secondary and supporting characters, the amount of time we had Grant and Stephen and Melissa on screen together was actually pretty minimal in other crossovers compared to this year."

"It's very hard on the crew, it's very hard on the cast, and we wanted this year to just be a little easier. That's why we focused on crossing over mainly the leads of the shows and not including a fourth hour. The hard thing about crossing over with Legends is, because that's an ensemble show, you're crossing over with the entire cast. That said, there is a Legends cameo in hour 3."
● While last year's "Crisis" crossover was structured to feel like a four-hour movie, this year's crossover will return to the episodic format. For Helbing, it's about letting the fans know what to expect:
"I think this year, it feels a lot more like individual [episodes]. Flash kind of feels like a Flash episode, Arrow feels like an Arrow episode, Supergirl feels like a Supergirl episode."