Today, Red Hood embeds himself in a small town community that are secretly trying to kill him. When they aren't feeding him apple pie. Well what could be more all-American than following that with an attempted shooting, a mob kicking him death and…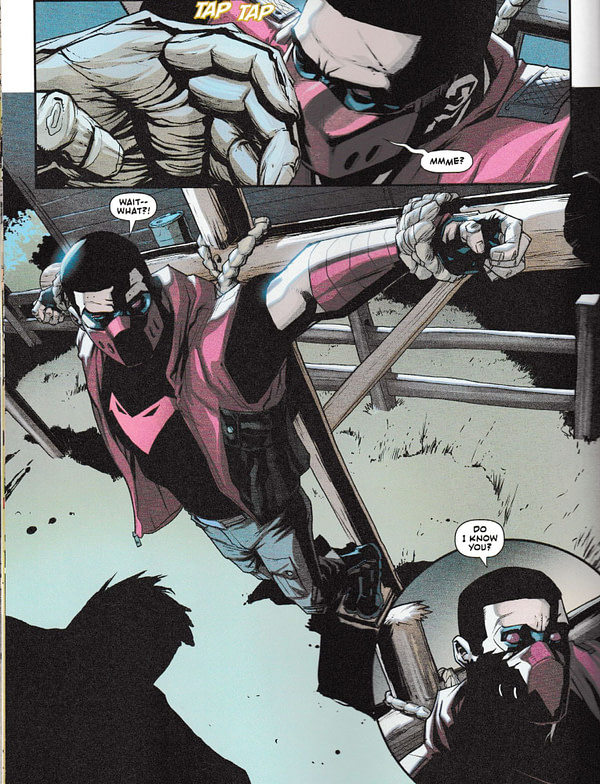 …stringing him up to be crucified?
When Batman: Damned #1 featured an ending with a crucifix made up to look like the joker, Brian Azzarello had DC Comics pull the ending from previews sent out to retailer a) to keep the surprise but also b) to pull what they thought would be the most offensive part of the comic from scaring the horses.
Turns out no one cared. Will Red Hood's own crucifixion moment be similarly nonplussed?
RED HOOD OUTLAW #28
(W) Scott Lobdell (A/CA) Pete Woods
Welcome to the Underlife, Jason Todd-you probably won't survive! Banished from Gotham City and estranged from the Outlaws, Red Hood takes up residence in Appleton, a would-be American town that's a secret haven for the criminal operators. When RH gets his hands on a crowbar and starts handing out some bloody justice, it really stirs up the hornet's nest. And when a new Underlife member is introduced, Jason's gonna get stung by the trouble he caused.In Shops: Nov 14, 2018
SRP: $3.99
Enjoyed this article? Share it!