In Fantastic Four #2, we had a splash page gathering together purporting to be every member of the Fantastic Four who had ever been a part of the team.
But where were the Hulk and the Punisher? And what was Iceman doing there? The question was asked on Quora, if Iceman had ever been a member, to a universal 'NO'.
Well, writer Dan Slott seems to have noticed. And got the Human Torch to notice in Fantastic Four #3, out today.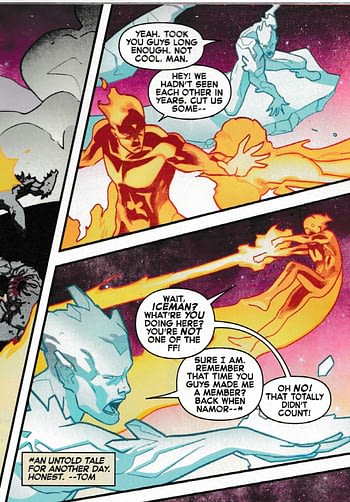 An untold tale. One that has not been told. And as far as the Human Torch is concerned, doesn't count. Not part of his particular continuity. And basically doesn't count. As for as Johnny Storm is concerned, it is 'not canon'. As gets explained to Iceman…
So when will this story be told? Now that it has been shoved in there to explain a certain discrepancy…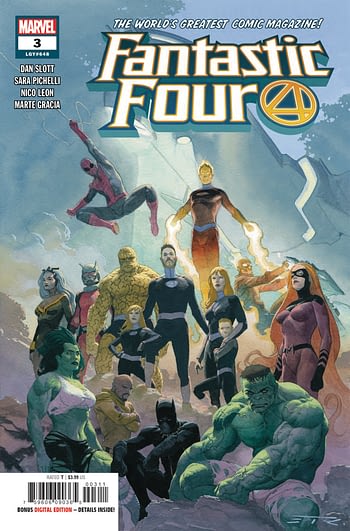 And no news on the Punisher. But for the Bruce Banner Hulk… he made it onto the cover. And for the insides?
He was hiding. Could this have been an amend made as the comic was delayed? Who knows…
And if anyone wants to work out how Crystal and Medusa tie in, taking into consideration The Death Of The Inhumans, feel free.
FANTASTIC FOUR #3
(W) Dan Slott (A) Sara Pichelli, Nico Leon (CA) Esad Ribic
FREE-4-ALL!
•  The Fantastic Four is more than a team. It's a family. And when the fate of the very Multiverse is at stake, that means it's time for the ENTIRE family to have a reunion.
•  Everything you've been waiting for? It's in THIS issue.
•  Guest-starring: Spider-Man, Wolverine, the Hulk, Ghost Rider, Medusa, Crystal, Luke Cage and MORE.
Rated T In Shops: Nov 14, 2018
SRP: $3.99