Kelly Sue DeConnick and Robson Rocha are the new team on Aquaman, starting in December. You may have read about Kelly Sue coming to the title first on Bleeding Cool back in April.
Rumoured changes appear to have been made, including amnesia. He is now an island fisherman, throwing nets into the sea, living in a relatively primitive environment, dealing with superstitious threats and the unknown woman in red now named as Caille…
And he still has his logo on his belt. For all the good that it does him. This is an Aquaman who doesn't know how well he can swim.
We also saw these pages previously as well. A little repetition – but not all.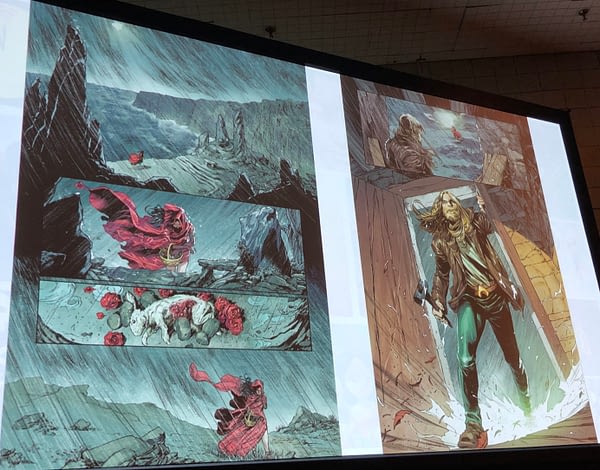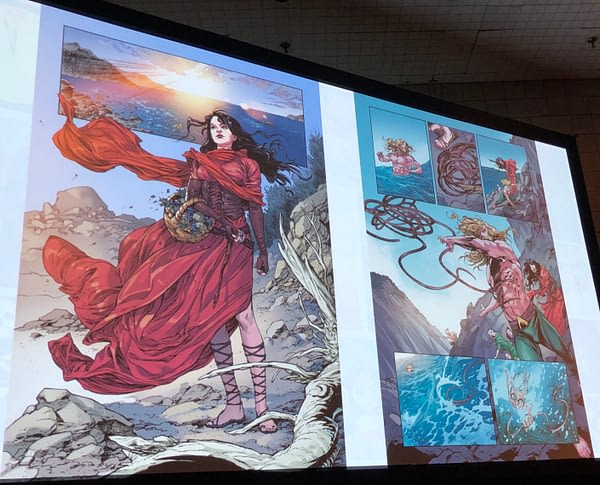 AQUAMAN #43
(W) Kelly Sue DeConnick (A/CA) Robson Rocha, Daniel Henriques
The tides turn for the Sea King with a new creative team! Star scribe Kelly Sue DeConnick (Captain Marvel, Pretty Deadly) and red-hot artist Robson Rocha (TEEN TITANS, SUPERGIRL) take the rudder to steer Aquaman into uncharted waters. In the wake of "Drowned Earth," an amnesiac Arthur washes ashore on a remote island, and ends up being cared for by a young woman named Callie, who's just a little TOO curious for comfort. And as a lifetime of horror movies has taught us, there's something strange going on in this island village. Aquaman needs to come to his senses quickly…or he might wind up sleeping with the fishes instead of chatting with them.In Shops: Dec 19, 2018
Final Orders Due: Nov 26, 2018
SRP: $3.99