Matthew Snyder writes,
Welcome to the Comixology Bestseller list, your guide to see how well your favorite titles are selling digitally. Every week I'll post the ranking of every new title, plus a ranking of the best selling volumes & graphic novels. As always, I hope you find it interesting and informative.
Once again, The Walking Dead and Batman take the top two spots for the first Wednesday of the month. They're not glued to those spots, they're welded. Their  places on this list are as guaranteed as the Golden State Warriors winning another championship. It's as guaranteed as salmon swimming upstream every fall. It's as guaranteed as the President tweeting something crazy. It's as guaranteed as me stubbing my toe on that box of magazines I've asked a certain someone to move a million times. (I know you read this.) The point is unless Saga returns and releases the same week, I don't see either of these two titles budging.
Earlier this year, DC took a risk. They ended Hal Jordan and the Green Lantern Corps, a title that sold well enough to just get into or come close to the Top 10 every weeks. In its place would be The Green Lantern, a monthly comic from the creative team of Grant Morrison and Liam Sharp. Well it looks like the risk paid off, because The Green Lantern has debuted at No. 3, coming right behind Batman and ahead of Justice League. Hal is back with a vengeance, giving DC some much needed help on the first week of each month.
But despite this success, Marvel snapped its winless streak and won the week, taking 5 spots in the Top 10, beating DC (3) and Image (2). It really helps when Marvel releases two event books in a single week.
Poor Deathstroke. Once people heard he was fighting Batman for a six issue story, he got a double digit boost, getting exposure from a brand new audience. But now that Batman's gone, Deathstroke has dropped back down to the numbers it had before the arc. Meaning that Batfans believed the arc was required reading, and ditched Deathstroke once it was over. So I feel bad for Slade, failing to grab any new readers. On the plus side, (SPOILER ALERT) he's off the hook for child support.
And on a personal note, I am delighted people are recognizing the brilliance of Kaijumax. This incredibly underrated series was ranked at No. 81 in June, but has now moved up to No. 63. (In your face, Goblin Slayer Side Story). I know I'm supposed to be impartial and look at these sales objectively, but screw it. Kaijumax doesn't get enough love, and I'll be openly rooting for it every issue.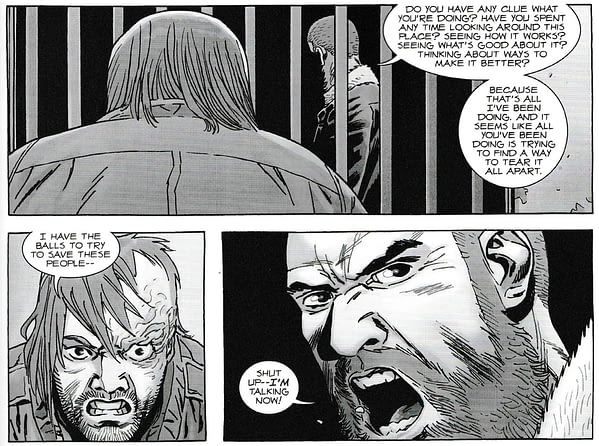 Top 25
The Walking Dead #185
Batman #58
The Green Lantern #1
Justice League #11
Infinity Wars #5
The Wicked + The Divine: The Funnies #1
Star Wars #56
Immortal Hulk #8
X-Men Red #10
Spider-Geddon #3
Heroes in Crisis #2
Nightwing #52
Runaways #12
X-23 #6
Adventures of the Super Sons #4
Doctor Strange #7
The Dreaming #3
Marvel Knights #1
Champions #26
Asgardians of the Galaxy #3
Death of the Inhumans #5
Seven to Eternity #12
Deathstroke #37
Iceman #3
Giant Days #44
New Issue Rankings
The Walking Dead #185
Batman #58
The Green Lantern #1
Justice League #11
Infinity Wars #5
The Wicked + The Divine: The Funnies #1
Star Wars #56
Immortal Hulk #8
X-Men Red #10
Spider-Geddon #3
Nightwing #52
Runaways #12
X-23 #6
Adventures of the Super Sons #4
Doctor Strange #7
The Dreaming #3
Marvel Knights #1
Champions #26
Asgardians of the Galaxy #3
Death of the Inhumans #5
Seven to Eternity #12
Deathstroke #37
Iceman #3
Giant Days #44
Green Arrow #46
Deadpool #6
Sideways Annual #1
Weapon X #25
Umbrella Academy: Hotel Oblivion #2
Shatterstar #2
Kick-Ass #9
Star Wars: Han Solo- Imperial Cadet #1
Border Town #3
Doctor Who: The Thirteenth Doctor #1
Harley Quinn #53
Typhoid Fever: X-Men #1
My Little Pony: Friendship is Magic #72
Outer Darkness #1
Blackbird #2
Cloak and Dagger #6
United States vs. Murder, Inc. #3
James Bond 007 #1
Farmhand #5
Spawn #291
Iron Fist #2 (Marvel Digital Original)
The Unexpected #6
The Curse of Brimstone #8
Crowded #4
Suicide Squad Black Files #1
The Wrong Earth #3
Witchblade #9
Dead Rabbit #2
Deadpool: Secret Agent Deadpool #5 (Comixology Original)
Redlands #8
Leviathan #3
Raven: Year 2 – Love and Revenge #13
Gold Digger #257
The Last Siege #6
Eclipse #12
Elvira: Mistress of the Dark #3
Battlestar Galactica Classic #1
The Empty Man #1
Kaijumax: Season Four #3
Goblin Slayer Side Story: Year One #17
Grimm Fairy Tales #23: Age of Camelot
Cayrels Ring #1
Moth & Whisper #3
Jim Henson's Beneath the Dark Crystal #4
Bully Wars #3
Ask for Mercy #5
Volition #3
Van Helsing: Sword of Heaven #1
Noble #13
Sparrowhawk #2
Road of the Dead: Highway to Hell #1
WWE #22
Death Orb #2
Fearscape #2
Riptide #4
Auntie Agatha's Home For Wayward Rabbits #1
Errand Boys #2
Old Issue Rankings:
Heroes in Crisis #2
The Walking Dead #184
Justice League/Aquaman: Drowned Earth Special #1
Extermination #4
Batman Secret Files #1
The Walking Dead #183
Justice League Dark and Wonder Woman: The Witching Hour #1
Spider-Force #1
X-Men: Black- Emma Frost #1
Tony Stark: Iron Man #5
Heroes in Crisis #1
Die! Die! Die! #3
Hex Wives #1
What If? Magik #1
The Wild Storm #18
Die! Die! Die! #2
Vault of Spiders #1
West Coast Avengers #3
Infinity Wars: Iron Hammer #2
Old Man Logan #50
Wytches: Bad Egg Halloween Special
Marvel Two-In-One #11
Oblivion Song by Kirkman & De Felici #8
Die! Die! Die! #1
Injustice vs. Masters of the Universe #4
Best Selling Collections & Graphic Novels:
Harvey Kurtzman's Marley's Ghost (Comixology Original) (72% off)
Hellboy Omnibus Vol. 1: Seed of Destruction
Hellboy Omnibus Vol. 3: The Wild Hunt
Hellboy Omnibus Vol. 2: Strange Places
Hellboy Omnibus Vol. 4: Hellboy in Hell
Milo Manara's Gullivera (50% off)
52 Vol. 1: New Edition (80% off)
Marvel Knights Spider-Man Vol. 1: Down Among the Dead Men
Marvel Knights Spider-Man Vol. 2: Venomous
The Walking Dead Vol. 30: New World Order (15% off)
Marvel Knights Spider-Man Vol. 3: The Last Stand
Wytches Vol. 1 (50% off)
Marvel Knights X-Men: Haunted
Muse Vol. 1: Celia (50% off)
Marvel Knights Spider-Man (2013): Fight Night
Marvel Knights Spider-Man Vol. 4: Wild Blue Yonder
Oblivion Song by Kirkman & De Felici Vol. 1
Fantastic Four: 1234
Captain America (2002) Vol. 1: The New Deal
Dark Nights: Metal- Deluxe Edition (20% off)
Muse Vol. 2: Coraline (50% off)
Batman: The Long Halloween (12% off)
Hack/Slash Omnibus Vol. 1 (55% off)
Dark Nights: Metal- Dark Knights Rising (20% off)
All-Star Superman (70% off)
Daredevil: Guardian Devil
Seven Soldiers of Victory: Book One (70% off)
Marvel Knights Hulk (2013): Transforme
Seven Soldiers of Victory: Book Two (70% off)
The Man of Steel (2018) (12% off)
Dark Nights: Metal- The Resistance (12% off)
Marvel Knights 4 Vol. 1: A Wolf at the Door
Dark Days: The Road to Metal
The Demon by Jack Kirby (20% off)
Outcast by Kirkman & Azaceta Vol. 6 (15% off)
Marvel Knights 4 Vol. 2: The Stuff of Nightmares
Black Widow: Itsy-Bitsy Spider
Marvel Knights 4 Vol. 3: Divine Time
Zatanna by Paul Dini (13% off)
X-Men: Grand Design – Second Genesis
Batman (2016) Vol. 7: The Wedding (15% off)
Batman & Robin (2009) Vol. 1: Batman Reborn (58% off)
Marvel Knights 4 Vol. 4: Impossible Things Happen Every Day
Elseworlds: Batman Vol. 3 (10% off)
Wonder Woman: Earth One (67% off)
X-Men: The Dark Phoenix Saga (65% off)
Doom Patrol: The Silver Age (8% off)
Saga Vol. 9 (17% off)
Injustice: Gods Among Us Year Three – The Complete Collection (12% off)
Elseworlds: Batman Vol. 2 (12% off)
(Last Updated
November 9, 2018 1:57 pm
)
Related Posts
None found