Toby Johnston writes,
At the Notts Comic Con, a couple of weeks ago, I met Marc Jackson, who, as well as his Goof series, recently released "Grow A Pair," his "first foray into comics for an older audience".  With a unique art style and a glossy black-white-red colour scheme, this rip-roaring comic definitely stood out to me in the Conference Centre, and snapped my radar into gear.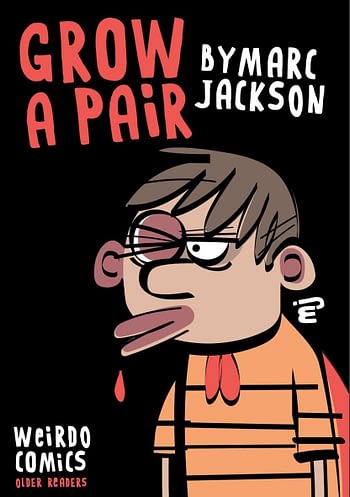 The 40-page comic tells the tale of Dusty Danson, a 13-year-old boy with a certain penchant for getting punched. And kicked. And jumped on as if he was a trampoline. So, you know, fairly standard secondary school. Because of this, he decides, (as you tend to do when you're in trouble) to ask his pin-up poster of a partially naked woman for help.
This leads him to Gene, a somewhat overweight genie in what's either an elaborate cape or the world's weirdest neckwarmer, who grants him 3 wishes, which, Dusty being a 13-year-old boy, range from "Super Punch Powers" to an anchovy pizza (interesting taste there, mate?!)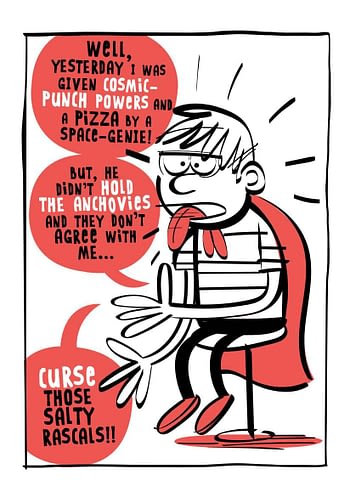 Because of these anchovies, Dusty ends up in the hospital, along with the usual hospital duo —  a mother claiming he's delusional and a doctor with a crocodile mask. Despite the anchovy-related food poisoning, and the slight issue of his mum being thrown out of a window, Dusty decides to use his "Super Punch Powers" to combat evil for the first time, and hand the evil, albeit slightly crocodile-themed, villain over to the police.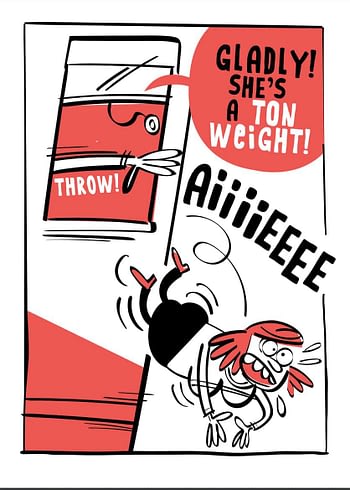 From frantic action and gratuitous violence to the overacting of a Year 8, with a battle cry of "Nobody mocks my mother's metabolism!", this comic hits you "right in the moon units" with laughs, punches, and lots of questions.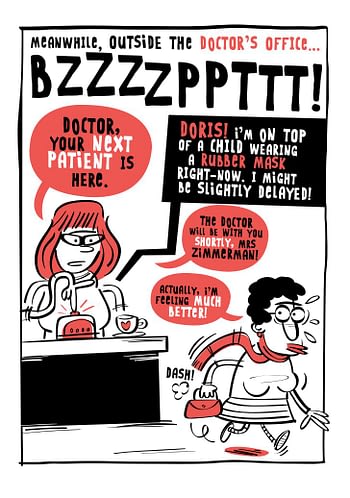 Will Dusty triumph over evil again?
Will Mrs Danson ever walk again?
And, most importantly, whatever happened to that one lady who missed her doctor's appointment?
Find out (hopefully) next time, on Grow A Pair…
Toby Johnston is a student in Nottingham who can only dream of being bitten by a radioactive spider. His exposure to comics, games and geek culture as a whole originated when he met his uncle during his first weeks on the planet. Now, most of his time is spent between trading card games, building some sort of competitive Pokemon team, and devouring as many comics as Uncle Rich can throw at him. He's also finally catching up with Marvel, DC TV, Doctor Who and "classic" sci-fi films, which could take him a while.
Enjoyed this article? Share it!