Walking Dead is famously not about the zombies. It describes the living, trying to survive in a world that has fallen apart and turned against them – and then turning on each other. Well Walking Dead #185 may be a turning point for that as well.
We have seen the community, The Commonwealth, a successful establishment of civilisation, but done so with police suppression and an establishment of a previous status quo of the haves and have nots.
With the idea that Rick Grimes, and others, could mount a rebellion, a resistance movement and change things. And some taking the first steps to help make that happen…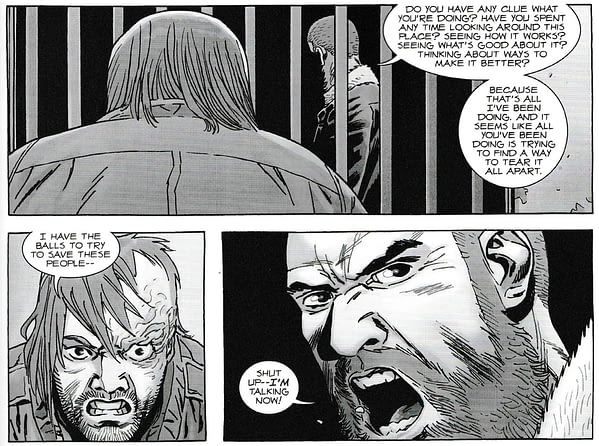 But in Walking Dead #185, Rick places his flag in the sand. He draws the line and says no more. He is not playing this game. And talks about how you oppose an idea that you disagree with, without emboldening or weaponising that idea…
Could this be a moment of change for the book? Not fighting the likes of Negan or the Governor, but finding a different way to oppose a regime you disapprove of?
Could The Walking Dead no longer be a description for these band of folk?
Cerebus famously had quite the notorious #186 and many people flipped on the book after that. Could Walking Dead #186 flip the series for very different reasons and in a different direction?
WALKING DEAD #185 (MR)
(W) Robert Kirkman (A) Stefano Gaudiano, Cliff Rathburn (CA) Dave Stewart (A/CA) Charlie Adlard
On guard. Things are quiet at the Hilltop, but there is a storm brewing on the horizon.In Shops: Nov 07, 2018
SRP: $3.99