Explosive publisher BOOM! Studios has revealed a new variant cover for Buffy the Vampire Slayer #2 by Celia Lowenthal. Matthew Taylor is drawing the regular cover for issue #2, which we saw yesterday, and the book will also feature variants by Kevin Wada, Ryan Inzana, and Audrey Mok.
A press release has the details on the "reimagined" series.
The reimagining of Joss Whedon's groundbreaking series continues as Drusilla, the self-proclaimed Mistress and her pet, Spike, make their debut with their sights set on Buffy! Meanwhile, Giles is determined to teach Buffy about her destiny, responsibility, blah blah…can someone tell him to chill? How bad can it get?

Welcome back to the Hellmouth as Eisner Award-nominated writer Jordie Bellaire (Redlands) and Russ Manning Award-winning artist Dan Mora (Klaus, Saban's Go Go Power Rangers), along with series creator and story consultant Joss Whedon (the visionary writer/director behind Firefly, Marvel's The Avengers, and more), reimagine the groundbreaking pop culture phenomenon from the very beginning.
Here's Lowenthal's cover.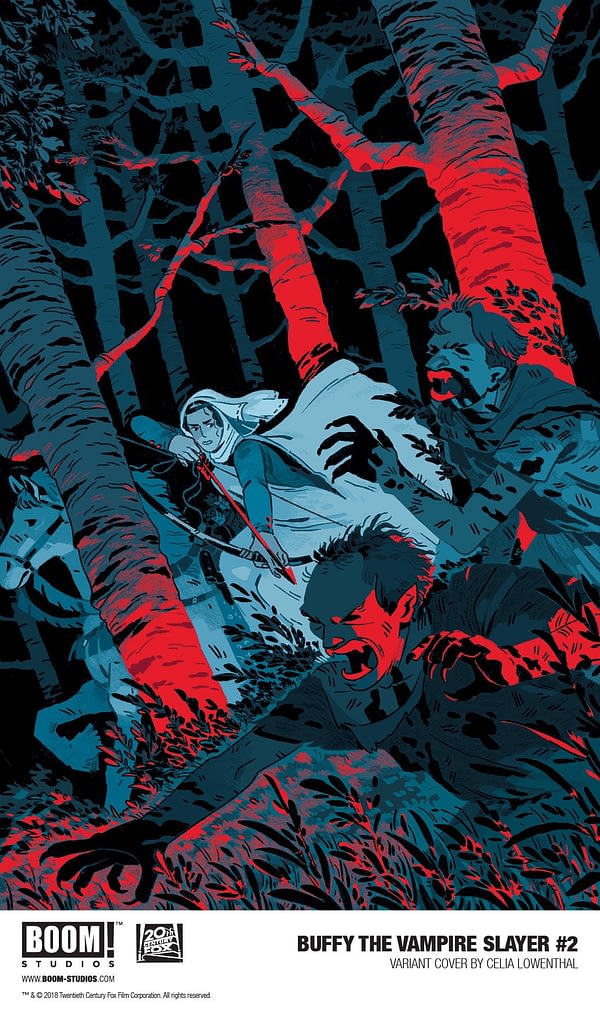 BOOM! Executive Editor Jeanine Schaefer gushes:
We're excited to have Celia join us for a variant cover for the second issue of Jordie and Dan's incredible vision for Buffy and the gang, and to bring her unique point of view to the story. We're treating each issue of this series like an event – so if you think Spike and Drusilla are the end of our big reveals, just wait till you get to the last page.
Surely, nothing will be the same again.
Before we get to Buffy #2, we'll need to start with Buffy #1, which is in stores in January. February's issue has not yet been solicited, but will hit stores on February 13th.
BUFFY THE VAMPIRE SLAYER #1
(W) Jordie Bellaire (A) Dan Mora
• Go back to the beginning as the critically acclaimed pop culture phenomenon Buffy The Vampire Slayer is reimagined under the guidance of series creator Joss Whedon.
• This is the Buffy Summers you know, who wants what every average teenager wants: friends at her new school, decent grades, and to escape her imposed destiny as the next in a long line of vampire slayers tasked with defeating the forces of evil.
• But her world looks a lot more like the one outside your window, as Eisner Award-Nominated writer Jordie Bellaire (Redlands) and Russ Manning Award-Winner Dan Mora (Saban's Go Go Power Rangers) bring Buffy into a new era with new challenges, new friends…and a few enemies you might already recognize. But the more things change, the more they stay the same, as the Gang faces brand new Big Bads, and the threat lurking beneath the perfectly manicured exterior of Sunnydale High confirms what every teenager has always known: high school truly is hell.
• WELCOME BACK TO THE HELLMOUTH, FOR THE FIRST TIME! In Shops: Jan 09, 2019 SRP: $3.99
(Last Updated
November 7, 2018 3:03 pm
)
Related Posts
None found