Andrew Lincoln's Rick Grimes is gone. We were told it would happen. It happened. We've had a week to deal with it. Now it's time for us to move on…which was made a wee easier by two things. First, the fact that they were able to "kill off" Rick on Walking Dead while not actually killing off Rick (more on that here); and second…c'mon, how great is Cailey Fleming's Judith Grimes already?!?! Am I right?!?
Sorry – did a bit of digressing there…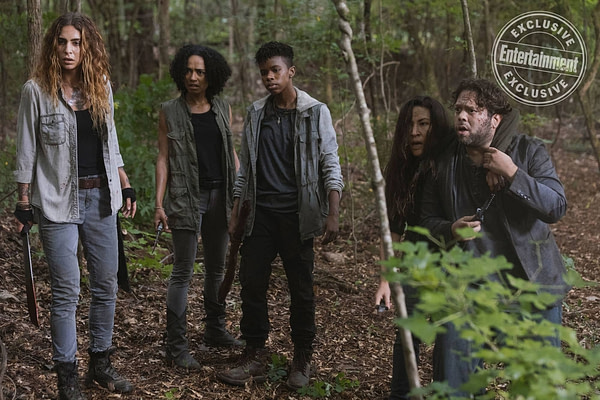 The six-year time jump also introduces us to a new group of survivors who will have a huge impact on this season and (if they all live that long) in seasons to follow. While showrunner Angela Kang spoke about the new additions to the series earlier, our friends at Entertainment Weekly are giving us exclusive images of Nadia Hilker as Magna; Angel Theory as Kelly; Lauren Ridloff as Kelly's sister Connie (first deaf character in the series); Eleanor Matsura as Yumiko; and Dan Fogler as Luke.
Here's a look at the Magna's survivors, as well as some background on the characters from the actors themselves: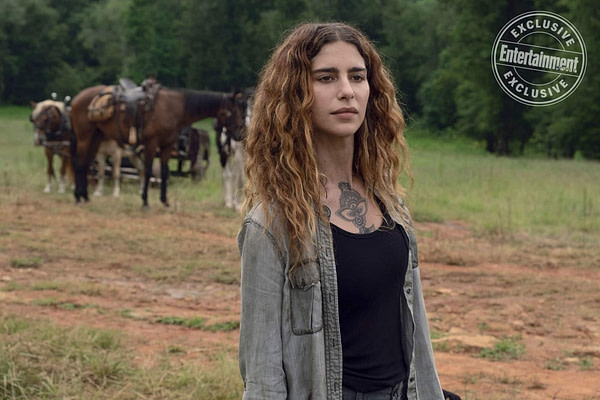 Magna (Nadia Hilker – The 100)
A tough as nails survivor who has been living on the road, Magna's weapon of choice is the knife.
"I would want Magna to like me and probably try to impress her with no success. She's an unpredictable animal — dangerous but also caring. No one should ever feel too comfortable around her, nor believe they figured her out. She loves her people and would, without a doubt, do anything for her group. Yumiko brings more a motherly type of energy to the group and Magna more fatherly."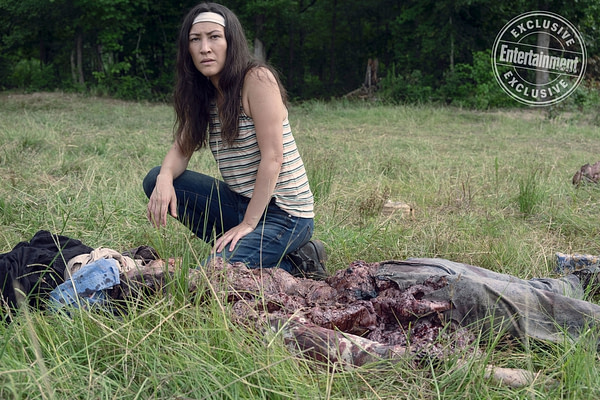 Yumiko (Eleanor Matsuura – Into the Badlands, Wonder Woman)
One of the weary, yet capable, warriors in a group of survivors, Yumiko is fearless and kind, and skilled at the bow.
"Yumiko is a fighter and a protector, but she's thoughtful and knows how to keep a level head. She is fiercely loyal to her girlfriend Magna and the rest of her group whom she considers family. We've been surviving on the road together for a long time and I would do anything for them in order to keep them safe, including putting myself on the firing line and breaking the rules once in a while."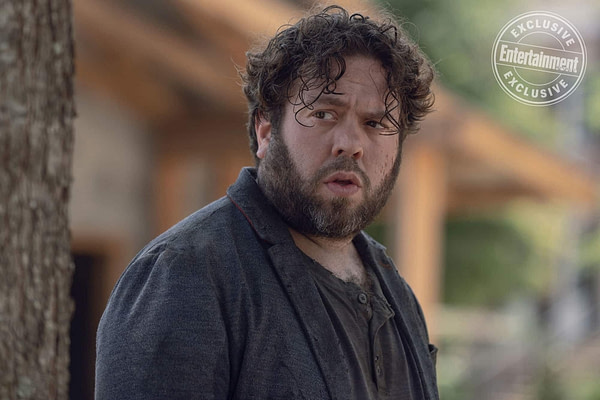 Luke (Dan Fogler – Fantastic Beasts and Where to Find Them)
A fatigued survivor who understands there is safety in numbers. He values what is beautiful and hopeful and makes us uniquely human.
"Luke is part of Magna's tight knit motley family of survivors. They all probably wouldn't make it out of the proverbial lifeboat alive without each other. He's more on the artist's spectrum of personality — preaching the love of music as a necessity to maintain humanity during chaotic times."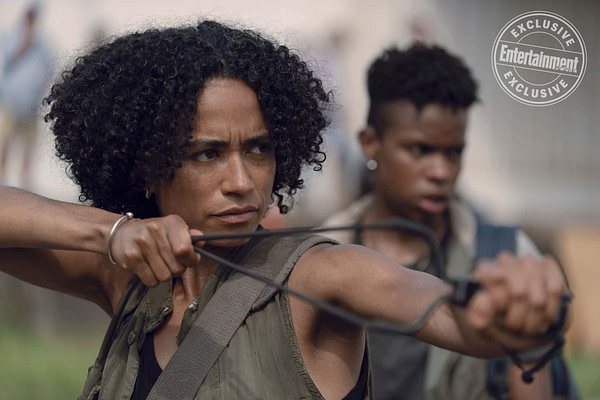 Connie (Lauren Ridloff – Broadway's Children of a Lesser God)
A seasoned survivor deft at using her senses to read people, situations, and trouble. Connie is deaf and uses American Sign Language (ASL) to communicate, as does Lauren in real life.
"Connie is a survivor. She's deaf. She uses sign language and other methods to communicate, but because this is a wild frontier, she uses her inability to engage in small talk as a strength. Her deafness is an advantage — she is the one who stays on guard. She is her group's eyes. But as Connie's story unfolds, we see how independent and intelligent she is, partly from who she was before the apocalypse and who she connects with in season 9."

"With one less sense, her other senses are heightened. Don't you think walkers would be pretty fragrant? It could just take a breeze to catch a whiff of who's coming. Connie also picks up on other things — shadows, movement, vibrations. Because she's not engaged in chitchat most of the time, she's on guard, sharply aware of her surroundings and keeps one step ahead. Most of the time. And she's got excellent aim. Her group moves like a pack of wolves — they travel together and fight together so they help one another."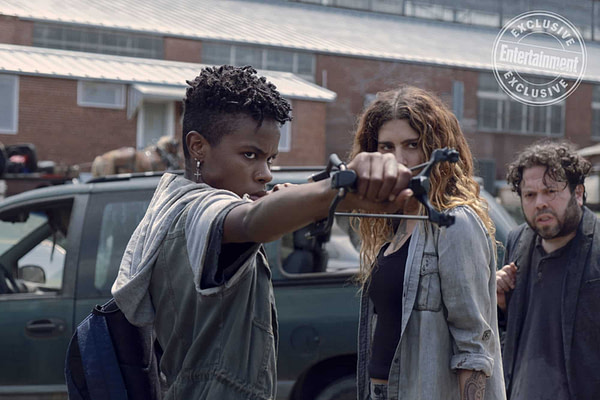 Kelly (Angel Theory – professional dancer)
Connie's ever-alert and ever-protective sister.
"The meaning of the name Kelly is warrior. But she is also compassionate, protective, a fighter, quick on her feet, stubborn at times, but knows when to listen — especially when it comes to her big sister's opinion. In the group, she's a bridge between the hearing and deaf. Kelly is hard-of-hearing, but is able to act as an interpreter while still kicking ass. Kelly is her sister Connie's keeper, making sure she always in the loop. I relate to Kelly in so many ways. I feel that she brings balance to the group. She doesn't always fit in because the youngest isn't listened to all the time — especially when most of the words she says are not her own, and Connie tries to make all of the big decisions for Kelly's safety. She is a force, I just don't think she knows it yet."
The Walking Dead Season 9, Episode 6 'Who Are You Now": The Survivors encounter unfamiliar faces outside the safety of their community's walls and must decide whether or not this new group can be trusted.

The Walking Dead Season 9, Episode 7 'Stradivarius': Carol seeks out an old friend living alone in a wilderness teeming with walkers; survivors make the perilous trek to a new home.

The Walking Dead Season 9, Episode 8 'Evolution': A small rescue mission braves a dangerous herd in their hunt for a missing comrade, only to discover a surprising threat that could doom them all.