What does anyone really KNOW about HBO's Game of Thrones 8th and final season? Okay well, we know it's….the….final season?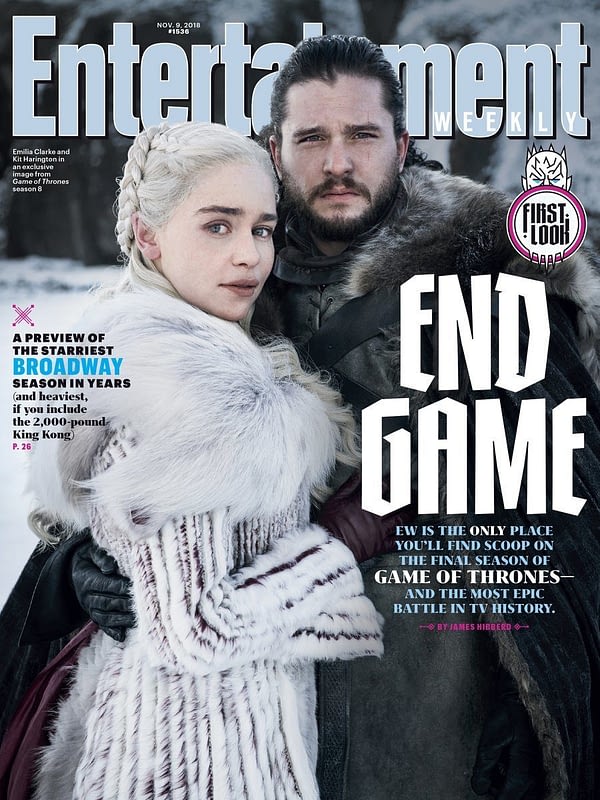 According to Entertainment Weekly, there are certainly some things viewers can expect to see when we return to Westeros sometime in 2019.
Season 8 opens at Winterfell with an episode that contains plenty of callbacks to the show's pilot. Instead of King Robert's procession arriving, it's Daenerys and her army. What follows is a thrilling and tense intermingling of characters — some of whom have never previously met, many who have messy histories — as they all prepare to face the inevitable invasion of the Army of the Dead.
So, we're going to see Dany (Emilia Clarke) at Winterfell, meeting the rest of the Starks. This could go…interestingly, considering her newfound connection with Jon Snow (Kit Harington). There's no telling how long the time jump has been between the end of season 7, when Jon and Dany found comfort in each other's arms after the terrible battle with the Others.
But Jon and Arya (Maisie Williams)! The reunion we've all been waiting for!
This ALSO MEANS that we'll more than likely getting Tyrion (Peter Dinklage) and Sansa (Sophie Turner) seeing each other for the first time since The Purple Wedding. It's been a long road for them both, and that conversation will no doubt be…interesting.
Reportedly, Sansa will NOT be happy about Jon and Dany- probably the sleeping together part, but more specifically Jon's bending the Northern knee to the Dragon Queen without consulting her.
Game of Thrones Co-Executive Producer Bryan Cogman commented to EW that season 8 is:
"It's about all of these disparate characters coming together to face a common enemy, dealing with their own past, and defining the person they want to be in the face of certain death. It's an incredibly emotional, haunting, bittersweet final season, and I think it honors very much what George set out to do — which is flipping this kind of story on its head."
Small nuggets of information will more than likely continue to make their way to the public in this manor, no true "spoilers" since we know how hardcore HBO is about those things.
Game of Thrones 8th and final season is expected to hit sometime in the first half of 2019.
Enjoyed this article? Share it!