X-Men Red has been all about Jean Grey sending a message of hope and optimism, but it seems she's doing a major about-face in next week's X-Men Red #10. As a preview of the issue shows, Jean is now sending a message of "@#$% you, humanity," along with a rant about how mutants have played nice while humans royally screwed up the world, and since the carrot hasn't been working, it's time to try the stick. And the stick is the extinction of the human race.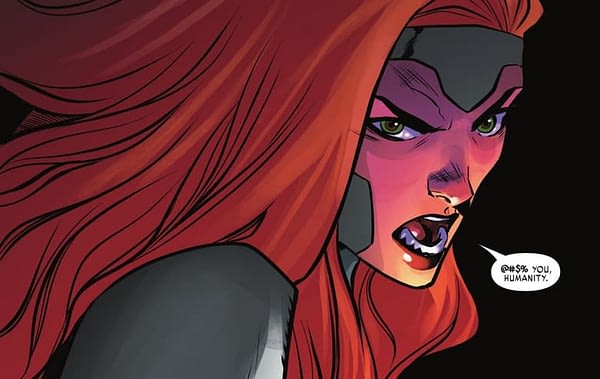 So what do you think of the new Jean Grey? Well, okay, if we're being honest, that's probably some kind of trick by Cassandra Nova… but really, could we blame Jean if she'd finally had enough?
X-Men Red #10, the penultimate issue of the series, hits stores on Wednesday.
X-Men Red #10
(W) Tom Taylor (A) Paolo Villanelli (CA) Jenny Frison
In the aftermath of a showdown between Jean Grey and Cassandra Nova, the rules have changed – and the battle is nowhere near over! It's all hands on deck as the building wave of hatred against mutants crashes down on the X-Men!
Rated T+
In Shops: Nov 07, 2018
SRP: $3.99