Okay, so I was told yesterday that we don't see Poison Ivy die in today's Heroes In Crisis #2. And that's true. Now reading the comic this morning, we don't see anyone die. However…
We do hear about it, courtesy of Booster Gold. Who lists the names of the dead to Barry Allen…
…admittedly you know the name he'll mention next will get a bigger reaction from Barry. But the fans have sat with Wally West, and Arsenal for a month.
But that is the first confirmation that Poison Ivy died in the attack on Sanctuary. It's just a word but it is followed up by Harley mourning… well who else could it be?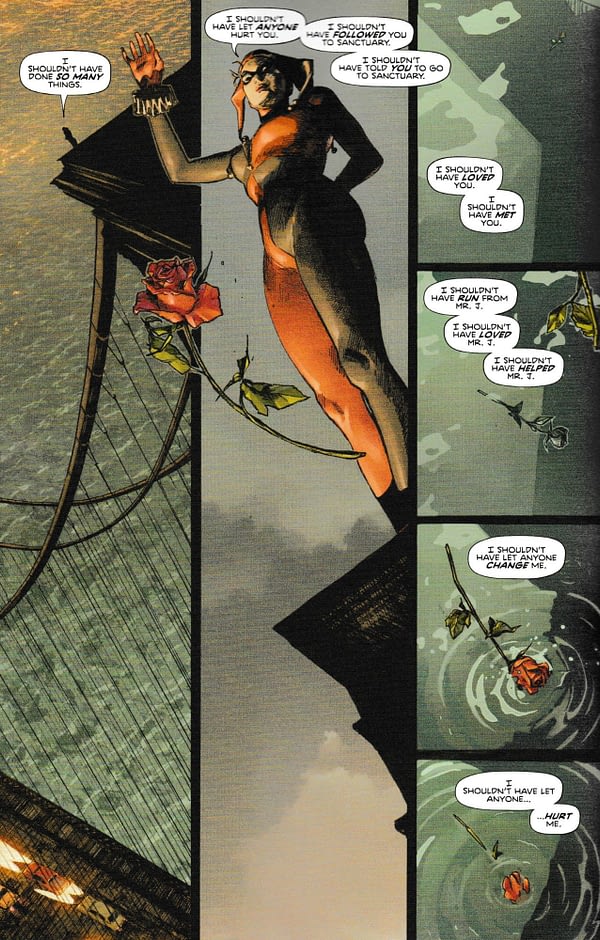 The edge that Poison Ivy fans may choose to cling to is this. Both Wally West…
…and for that matter, Harley Quinn…
…could both be regarded as unreliable narrators. And that Wally West did it. Remember, we have yet to see a body…
…unless that was hers back in issue 1. Um. Your call.
HEROES IN CRISIS #2 (OF 9)
(W) Tom King (A/CA) Clay Mann
Suspected of murder, [REDACTED] and [REDACTED] find themselves on the run from the super-hospital called Sanctuary -with each thinking the other one is the real killer! It's up to Batman to solve this heinous crime, but suspicion falls on him when Superman and Wonder Woman ponder just how much Sanctuary's A.I. is telling them. Meanwhile, [REDACTED] tries to make a shady deal to hide from the Trinity, while [REDACTED] searches out an old friend to help him out of this mess-and only gets deeper in trouble.In Shops: Oct 31, 2018
SRP: $3.99

HEROES IN CRISIS #3 (OF 9)
(W) Tom King (A/CA) Clay Mann
The Man of Steel versus…Booster Gold?! Superman finds out the hard way that Booster can be a formidable opponent when his back's against the wall. Of course, being the prime suspect in a superhero massacre and exposing a secret trauma hospital for metahumans will do just that. Meanwhile, Batman and the Flash combine their detective skills to investigate what went awry at Sanctuary and uncover a serious glitch in the system-not to mention an explosive, spoiler-ific secret!In Shops: Nov 28, 2018
Final Orders Due: Nov 05, 2018
SRP: $3.99

HEROES IN CRISIS #4 (OF 9)
(W) Tom King (A/CA) Clay Mann
Wonder Woman versus…Booster Gold?! Diana finds out the hard way that Booster can be a formidable opponent when his back's against the wall. Of course, being the prime suspect in a superhero massacre and exposing a secret trauma hospital for metahumans will do just that. Meanwhile, Batman and the Flash combine their detective skills to investigate what went awry at Sanctuary and uncover a serious glitch in the system-not to mention an explosive, spoiler-ific secret!  In Shops: Jan 02, 2019
SRP: $3.99

HEROES IN CRISIS #5 (OF 9)
(W) Tom King (A) Clay Mann (CA) Trevor Hairsine
The secrets of the DC Universe are hacked! Sanctuary wasn't supposed to keep records, but now that the A.I. is compromised, superhero secrets are leaking all over the 'Net. Booster and Harley set aside their differences to focus on who they believe is the real killer (assuming one of them isn't lying, that is). Meanwhile, Batman and the Flash continue to investigate the mysterious murderer. The answer can be found in Sanctuary…but is it safe to go digging in the crime scene?In Shops: Jan 30, 2019
SRP: $3.99
(Last Updated
October 31, 2018 7:39 am
)
Related Posts
None found