Those darn "if this gets X amount of retweets" things can sometimes be pretty awesome, like the newest one to feature David Harbour and weddings. The last time, it was a fan of Stranger Things, who wanted Sheriff Hopper (who Harbour plays on the Netflix series) to officiate his wedding, which happened. The NEW one of these involves a decidedly more devilish plan- a wedding officiated by none other than Big Red himself, Hellboy.
David, you may remember we met last year on the set of Hellboy (I was the one with the BPRD tattoo that was literally days old). I'm getting married in March to @carlylane, how many RTs for you to officiate as Hellboy.

— Spencer Perry (@TheSpencerPerry) September 25, 2018
Just this weekend, Harbour responded to the request, saying he'd do it in full Hellboy kit if the tweet hit 666k.
666k
Of this tweet.
Big Red officiates. Full Gear. In his saintly best.
Impossible number?
Think of how difficult it will be for me to get this character ordained by a Christian church😈🙄
(P.S. – I'll knock off 500k if you can get @artofmmignola to read a poem at the service) https://t.co/cnzHrcnsOo

— David Harbour (@DavidKHarbour) October 6, 2018
He did however offer to knock that number down if Hellboy creator Mike Mignola were to agree to read a poem at the nuptials.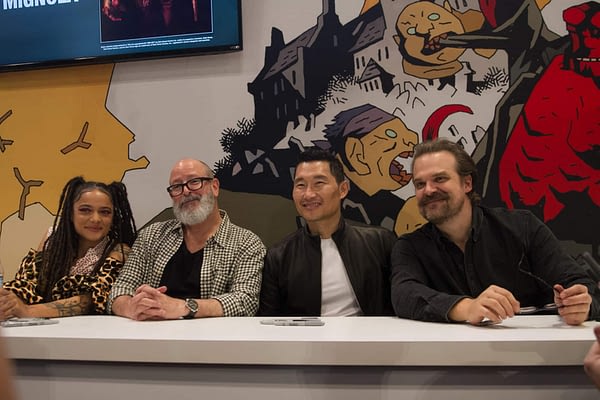 Here's hoping it happens, sure would be fun to see.
Hellboy starring David Harbour is set to hit theaters on April 12th, 2019.