You'll have a chance to get some gaming in during the college football season as Nintendo is taking Super Smash Bros. Ultimate on the road. The company is partnering with the Wendy's College Tailgate Tour to bring college football fans a taste of the next installment of the Super Smash Bros. series to a stadium parking lot near you. Ten stops have been chosen, of which we have them for you below, followed by what will probably be a bowl appearance on January 1st.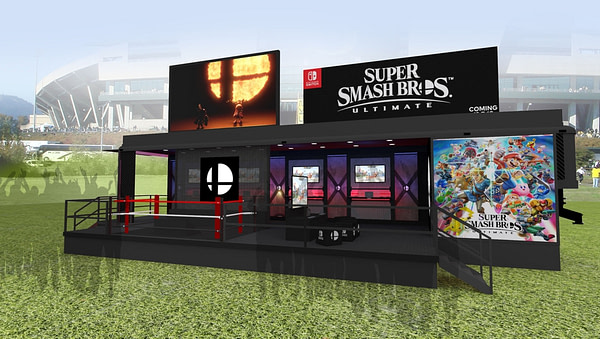 "Many of our biggest fans are now in college and have memories growing up playing one of the games in the Super Smash Bros. series," said Doug Bowser, Nintendo of America's Senior Vice President of Sales and Marketing. "We want to bring Super Smash Bros. Ultimate directly to longtime and first-time players, and what better way than to combine two of college students' favorite pastimes: video games and football."

Wendy's College Tailgate Tour will kick off on Sept. 22 at the Stanford @ Oregon game. The complete schedule is as follows:

Sept. 22 – Stanford @ Oregon
Oct. 6 – Alabama @ Arkansas
Oct. 13 – Wisconsin @ Michigan
Oct. 20 – Oklahoma @ TCU
Oct. 27 – Clemson @ FSU
Nov. 3 – South Carolina @ Ole Miss
Nov. 10 – TCU @ West Virginia
Nov. 17 – Miami @ Virginia Tech
Nov. 24 – Michigan @ Ohio State
Dec. 7 – The launch of Super Smash Bros. Ultimate!
Jan. 1, 2019 – Teams and location to be determined

When visiting the tour, fans will be treated to a cool setup in the parking lot that will host multiple Super Smash Bros. Ultimate impromptu competitions. Fans that play will not only have the chance to demo Super Smash Bros. Ultimate before it launches, but they will also earn bragging rights if they emerge victorious (and, really, isn't that the most important thing?). The setup itself will be highly visual and perfect for photo ops, so even fans that decide not to play will have fun pics to share on their social media channels. Players who outplay their opponents in mini competitions will receive Super Smash Bros. Ultimate branded promotional items (while supplies last). Admission is free and there is no age restriction.