Double Fine Presents and Beau Blyth announced this morning that Samurai Gunn 2 will be coming in 2019 to PC and Nintendo Switch. The press release this morning comes on the heels of the game being added to Nintendo's booth at PAX West this year, so people can try the game out in advance. Here's a snippet of the release as well as the teaser video.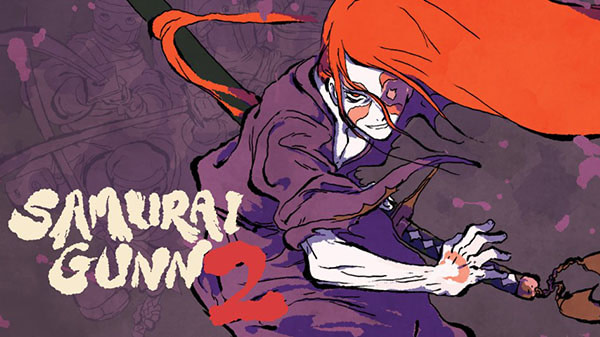 Samurai Gunn 2 will feature a new, expansive adventure mode and an updated versus mode. Players will venture with a friend through a medieval metropolis on the brink of crisis, armed with only a sword, a  gunn, and three bullets per life. They'll have to fight or fly past their foes to discover the mystery behind Gunn City's ghostly threat… or battle together with a group of two to four friends in versus mode with improved controls, new levels and new characters. Every decision matters, since one hit is all that separates victory from defeat.

The original Samurai Gunn was prized for its simplicity and depth. Samurai Gunn 2 expands on that depth with a new mechanic that makes every encounter even more exciting. Crush a bullet between your teeth to send yourself flying in a plume of smoke. "Good design means the player always has a meaningful choice to make," said Beau Blyth. "The game immediately became so much more fun when the gunnpowder dash was added. There's a Rock-Paper-Scissors effect now. Sword beats Gun beats Dash beats Sword."

Samurai Gunn 2 will feature Trigger Soul, a full-length graphic novel by acclaimed French comic creator Valentin Seiche in collaboration with PEOW Studio. It will also feature a new soundtrack composed by legendary rapper/producer/poet Adam "Doseone" Drucker (Samurai Gunn, Enter the Gungeon, Gang Beasts).

"We're huge fans of the original Samurai Gunn and Beau, so having this opportunity to work with the team on this sequel has been amazing," said Greg Rice, Double Fine's Vice President of Business. "We can't wait for everyone to check out the game and Samurai it up!"