The BBC has announced a bunch of writers and directors for the upcoming new Doctor Who season, starring Jodie Whittaker as The Doctor and showrun by Chris Chibnall. And, just as everyone else on the screen is new to Doctor Who — so are they.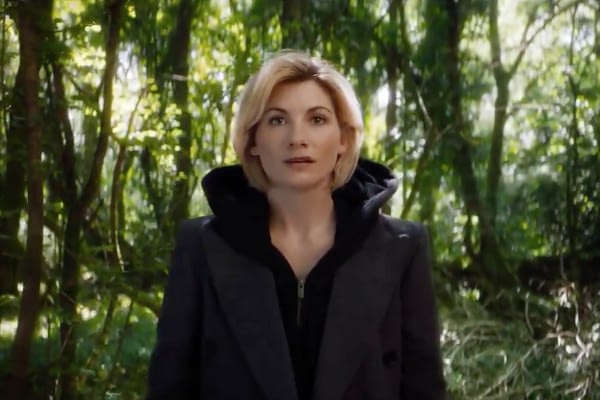 Former Children's Laureate Malorie Blackman has written over 60 books for children and young adults including the Noughts and Crosses series of novels, and her book Pig-Heart Boy, which was adapted into a BAFTA-winning six-part TV serial. Malorie says:
"I've always loved Doctor Who. Getting the chance to write for this series has definitely been a dream come true."
Ed Hime was nominated for a Craft BAFTA for his first episode of Skins and won the Prix Italia for his radio play The Incomplete Recorded Works of a Dead Body. Ed says:
"Writing for this series comes down to the adventure really, and telling emotionally engaging stories to bring everyone along with you."
Playwright and screenwriter Vinay Patel's television debut, Murdered By My Father, won the 2016 Royal Television Society Award for Best Single Drama and was nominated for three BAFTAs. Vinay says:
"I grew up watching shows like Star Trek and Quantum Leap on the edge of my dad's bed, and I loved how they managed to capture the imagination of a kid like me as well as acting as a moral compass. I never imagined that I'd get to write for Doctor Who – I was pretty thrilled."
Pete McTighe is the originating writer of Wentworth, the female prison drama that has sold to over 150 countries. He's written over a hundred hours of TV drama and been nominated for five Writers Guild Awards. Pete says:
"My entire television career has quite literally been an elaborate plan to get to write Doctor Who – and no one is more shocked than me that it paid off. I've been having the time of my life working with Chris, and writing for Jodie and the new team, and can't wait for everyone to see what we've been up to."
Joy Wilkinson has been selected as a Screen International Star of Tomorrow and has had two screenplays featured on the Brit List. Her TV scripts include the critically-acclaimed BBC five-parter The Life and Adventures of Nick Nickleby, while her theatre work has won prizes including the Verity Bargate Award. Joy says:
"I loved the show and felt like it might be a good fit for me, but I knew it was really hard to get onto. So quite frankly I'm still pinching myself to be here!"
With directors including Sallie Aprahamian who has been directing television for over two decades with critically acclaimed shows including: Extremely Dangerous, The Sins, Real Men, The Lakes, Teachers and This Life. Sallie's memories of Doctor Who go right back to the 1960s, when William Hartnell created the role. She says:
"I watched the First Doctor from behind the sofa through my fingers, frightened and exhilarated. I was really delighted, as a fan and as a director, to be invited to work on the first female Doctor's series. What a brilliant time to be on the show!"
Jamie Childs, who directed Jodie Whittaker's reveal as the new Doctor, returns for the opening episode of the new series. Jamie says Doctor Who represents an important part of our television landscape.
"We tend to avoid making many shows in Britain that really allow the audience to properly escape, and Doctor Who has been doing this for decades. So yes, sign me up – I've always wanted to be part of that! There really aren't many shows made over here that allow the viewer to travel to another universe."
Jennifer Perrott wrote, directed, produced and executive produced her award-winning 35mm short film The Ravens. Since finishing Doctor Who she has been directing Gentleman Jack, a forthcoming BBC One/HBO historical drama series created by Sally Wainwright. Jennifer says:
"Doctor Who is an iconic show and one I'd loved as a child, especially when Tom Baker was the Doctor. Space travel has become more a part of modern life and this has opened the door for more human stories to be told amidst the escapist fantasy of saving the world from alien invasion. The aliens are now as emotionally complex as the humans, and I was really excited by that."
Mark Tonderai went to school in Zimbabwe and architecture school in Kingston, before landing a job at the BBC as a trainee presenter. Mark has directed the full season of The Five, Impulse, Lucifer, Gotham, Black Lightning, George RR Martin's Nightflyers and Jennifer Lawrence thriller House at the End of the Street. Mark says:
"What was really crucial in my decision to direct the show was Chris Chibnall. I'm a huge fan of his and I like the way he sees the world. He has this ability to entertain and also deliver truths – questions, too – about who we are. And he does it all with a hint of a smile."
Doctor Who season 13 starts this autumn. She's on her way…
(Last Updated
August 20, 2018 1:04 pm
)
Related Posts
None found