We knew that Batman, like Superman, is returning to the underwear-outside-the-trousers look.
Originating in the skintight shirt and leggings with boots, cape and trunks of the professional show wrestler of the twenties and thirties, when that inspiration went away, the classic superhero look did not. And its increasing oddness led to the underwear charge.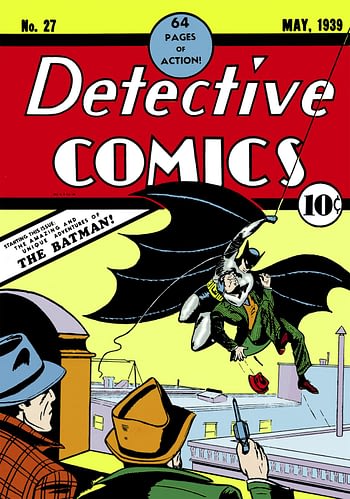 But as Batman's costume slipped and tripped through the decades, as ears shrunk and lengthened, as chest logos became garish and then knocked back, as capes began to billow like clouds, it would be Michael Keaton as Batman who would finally drop the trunks for an all-over rubber look.
And just six years later, so would Batman courtesy of Kelly Jones. An all-black one-piece costume.
This wouldn't last long. But it was the New 52 relaunch in 2011 that did for them for a much longer period. As everyone got high collars, Batman and Superman lost their underwear.
Seven years later with Action Comics #1000, Superman got them back.
But Batman didn't have to wait until Detective Comics #1000 for the same.
At San Diego Comic-Con, they showed off this upcoming cover of Batman #56 by Tony S Daniel… though it seemed to suggest this could be a flashback.
But this image by Lee Weeks also shown off seemed to suggest the trunks were coming back good and proper.
While the future-set Doomsday Clock has a trunkless Batman…
The in-continuity Batman Damned does appear to give the man some trunks.
And in today's Batman #53? In the conclusion of the trial against Mister Freeze – which ends up as a plaintive plea from Bruce Wayne – he makes a demand of Alfred.
And catches up with that previewed artwork. So Batman's back in the trunks. And it's all Catwoman's fault, apparently. But it's not the only change that Batman is going through today. Over in Justice League #6…
…his costume now appears to have a seam going down the back. Something worth unpicking?
BATMAN #53
(W) Tom King (A/CA) Lee Weeks
"Cold Days" continues! The jury in the Mr. Freeze trial is hopelessly deadlocked because one man won't vote guilty-and that man is Bruce Wayne. Freeze's defense is that Batman used excessive force, making his arrest illegal, and Bruce is the one man who actually knows for sure what went down between Batman and his ice-cold nemesis. And if Bruce is right, that means everything he's devoted himself to as the Caped Crusader is a lie; he is hurting more than helping. With Dick Grayson putting the Batsuit back on to keep Gotham City safe while Bruce is sequestered, could this be the out Bruce needs to discard the cape and cowl forever?
The Eisner Award-nominated team of Tom King and Lee Weeks reexamine the relationship between hero and foe, as Batman relives not just that one violent night when he took down the King of Cold, but every time the two have come to blows. In Shops: Aug 15, 2018 SRP: $3.99
(Last Updated
August 15, 2018 10:57 am
)
Related Posts
None found