A few Marvel Omnibuses lined up for 2019 — okay, the Jeph Loeb/Tim Sale Four Colors Omnibus is just before, but it's as good as…
Earth X Trilogy Omnibus: Omega – Mar 19, 2019
Alex Ross' dark vision of the Marvel Universe's future concludes! Captain Marvel led a charge against Death -and killed her! Now no one will ever die again. They may writhe in pain, their bodies broken beyond repair…they may cry out for their suffering to end…but they will not perish. Death is truly dead. What has Mar-Vell done?! Now, the remaining heroes of Earth X must band together to end the torment of the paradise they helped create. Will their desperate quest to restore death succeed? Collecting the full epic climax of the Earth X Trilogy -plus the story behind Nighthawk's demonic visions, starring Daredevil and Mephisto! And an enormous and comprehensive array of sketches and background material!
COLLECTING: PARADISE X: HERALDS 1-3; PARADISE X 0-12, XEN, DEVILS, A, X, SPECIAL EDITION; PARADISE X: RAGNAROK 1-2; NIGHTHAWK (1998) 1-3
Conan the Barbarian: The Original Marvel Years Omnibus Vol. 1 – Jan 29, 2019
by Roy Thomas and John Jakes
The greatest saga in sword-and-sorcery history begins – the saga of Conan! Born on a battlefi eld in the frozen lands of Cimmeria, Conan fights his way through the untamed Hyborian kingdoms, sparing no man, woman or wizard his wrath. His adventures will become legend. He will become king. Roy Thomas and Barry Windsor-Smith brought Robert E. Howard's iconic creation to four-color life with work that set new standards for comic book storytelling. Marvel is honored to present each story, each cover and each letters page – all painstakingly restored to match the majesty of the original editions. In these early exploits, Conan ventures from his homeland for the fi rst time, honing his skills as a thief, mercenary, pirate and above all, warrior!
COLLECTING: CONAN THE BARBARIAN (1970) 1-26; MATERIAL FROM CHAMBER OF DARKNESS (1969) 4; SAVAGE TALES (1971) 1, 4
Spider-Man: Ben Reilly Omnibus Vol. 1 – Jan 15, 2019
by Tom Defalco and Todd Dezago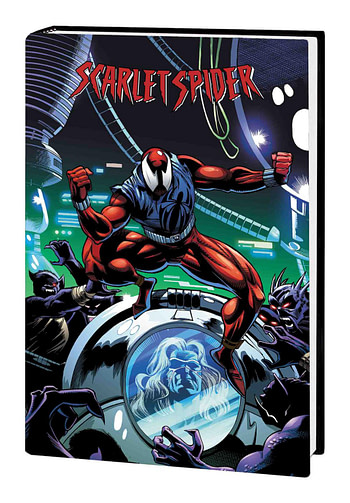 There's a new wall-crawler in town! Meet Ben Reilly, the Scarlet Spider, who recently learned he's not a clone of Peter Parker after all — he's the original! And when Pete decides to hang up his web-shooters, Ben retakes the job…as Spider-Man! There's no shortage of foes to fight — including the new Doctor Octopus, Venom, Mysterio, Tombstone, Sandman, Kaine, Carnage and more! But while Ben wears the revamped red-and-blues as Spider-Man, what does that ol' Parker luck have in store for Peter and Mary Jane?
Collecting: WEB OF SCARLET SPIDER #1-4, AMAZING SCARLET SPIDER #1-2, SCARLET SPIDER (1995) #1-2, SPECTACULAR SCARLET SPIDER #1-2, SCARLET SPIDER UNLIMITED #1, GREEN GOBLIN #3, SENSATIONAL SPIDER-MAN (1996) #0-3 and WIZARD MINI-COMIC, AMAZING SPIDER-MAN (1963) #407-410 and ANNUAL '96, SPIDER-MAN (1990) #64-67, NEW WARRIORS (1990) #67, SPECTACULAR SPIDER-MAN (1976) #230-233, SPIDER-MAN/PUNISHER: FAMILY PLOT #1-2, SPIDER-MAN HOLIDAY SPECIAL 1995, SPIDER-MAN: THE FINAL ADVENTURE #1-4, SPIDER-MAN UNLIMITED (1993) #11, SPIDER-MAN TEAM-UP #2-3 and material from VENOM: ALONG CAME A SPIDER #1-4.
Guardians of the Galaxy: Tomorrow's Heroes Omnibus – Jan 15, 2019
by Arnold Drake and Steve Gerber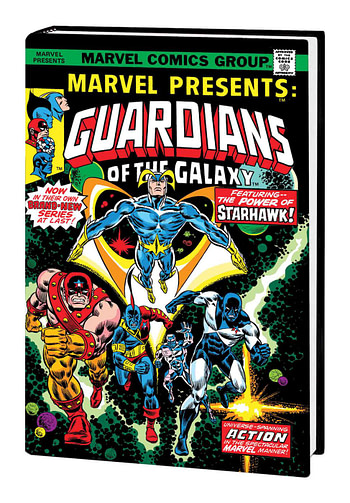 A thousand years from now, Vance Astro, Yondu, Martinex and Charlie-27 will rise to free the enslaved planet Earth — as the Guardians of the Galaxy! Soon, Captain America, Doctor Strange, the Thing, the Hulk and more join the time-spanning heroes in the war to reclaim the future! Threats arise from other worlds — as well as new allies Nikki and the uncanny Starhawk! But when Guardians and Avengers join forces in the present day, will even the combined might of two millennia be enough to stop the deranged demigod Michael Korvac? Plus: the Silver Surfer, Ms. Marvel, Spider-Man and Adam Warlock!
Collecting: MARVEL SUPER-HEROES (1967) #18; MARVEL TWO-IN-ONE (1974) #4-5, #61-63 and #69; GIANT-SIZE DEFENDERS #5; DEFENDERS (1972) #26-29; MARVEL PRESENTS #3-12; THOR ANNUAL #6; AVENGERS (1963) #167-168, #170-177 and #181; MS. MARVEL(1977) #23; and MARVEL TEAM-UP (1972) #86.
Marvel Universe by Frank Miller Omnibus – Jan 1, 2019
by Frank Miller and Chris Claremont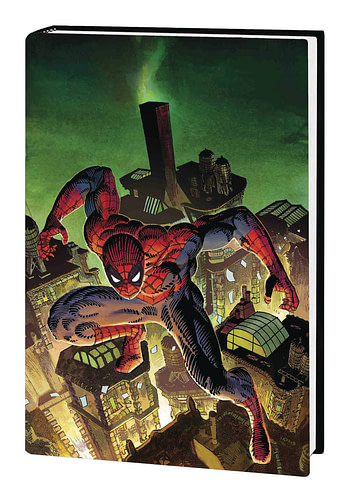 Frank Miller took the comics industry by storm, redefining iconic characters, obliterating creative boundaries and inspiring a generation of readers and creators. While most know Miller as the man who remade Daredevil and created Elektra, he contributed his talents to many Marvel titles — and this incomparable Omnibus brings those stories together in one complete collection! From Miller's first Marvel work to his extensive array of covers and rare pinups, this painstakingly restored collection is the Millerphile's be-all and end-all. Featuring Miller's iconoclastic takes on Spider-Man, Captain America, Wolverine, the Thing, Doc Samson, Captain Marvel, Karma, Power Man and Iron Fist and more!
Collecting: PETER PARKER, THE SPECTACULAR SPIDER-MAN (1976) #27-28;MARVEL TWO-IN-ONE (1974) #51; MARVEL SPOTLIGHT (1979) #8; AMAZING SPIDER-MAN ANNUAL #14-15; MARVEL TEAM-UP ANNUAL #4; WOLVERINE (1982)#1-4; MARVEL FANFARE (1982) #18 — and material from MARVEL PREVIEW #23; MARVEL TEAM-UP (1972) #100; POWER MAN AND IRON FIST (1978) #76; INCREDIBLE HULK ANNUAL #11; and OFFICIAL HANDBOOK OF THE MARVEL UNIVERSE (1983) #2-6, #8 and #10.
Jeph Loeb & Tim Sale: Yellow, Blue, Gray & White Omnibus – Dec 18, 2018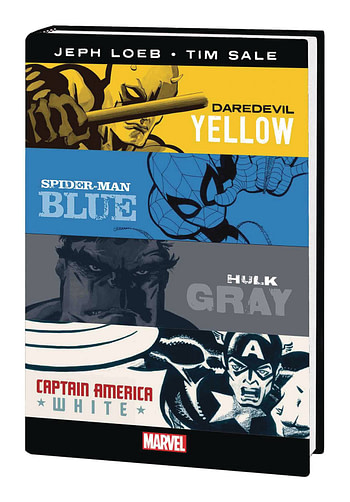 All four of Jeph Loeb and Tim Sale's classic "color" masterpieces in one atmospheric hardcover! Blind acrobat Daredevil was inspired to heroism by the example of his prizefighter father – but Matt Murdock is a young man in love with Karen Page. Relive Daredevil's heartwarming, heartbreaking debut! Then, Peter Parker and Gwen Stacy want to spend the rest of their lives together – but first, Spider-Man must run a gauntlet of his greatest foes. No matter how powerful the Incredible Hulk becomes, his heart can still be shattered by Betty Ross – the daughter of his greatest enemy! And Captain America battles beside his best friend Bucky behind enemy lines in World War II! Touching and insightful tales of super heroism from an Eisner Award-winning team!
COLLECTING: DAREDEVIL: YELLOW 1-6, SPIDER-MAN: BLUE 1-6, HULK: GRAY 1-6, CAPTAIN AMERICA: WHITE 0-5