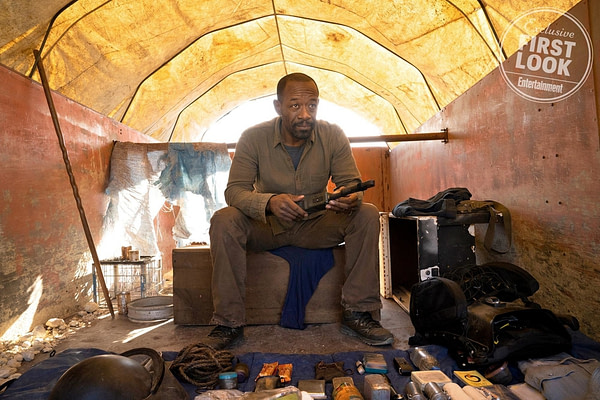 With less than a month before the series returns for the second-half of its fourth season and four days before it descends upon San Diego Comic-Con (SDCC), AMC's Fear the Walking Dead is giving fans both a sneak preview of what they can expect and a look behind the cameras at the show's production. In the images below, we see Jenna Elfman, Maggie Grace, Lennie James, and Alycia Debnam-Carey between takes; as well as Garret Dillahunt, Danay Garcia, Colman Domingo, and Alexa Nisenson in various situations that should get fans' speculating brains percolating on high-heat.
The first half of season four began with one figure huddled around a campfire, and ended with nine. Characters who started their journeys in isolation collided with each other in unexpected ways and found themselves in one of the last places they ever expected to be…together. In the back half of the season they will explore who they are now – as individuals and as part of the greater group – and how they will forge ahead. They will find themselves pitted against new adversaries – human, walker, and even nature itself. Theirs will be a journey wrought with danger, love, heartbreak, loss, and ultimately, hope.

The series is executive produced by Scott M. Gimple, showrunners Andrew Chambliss and Ian Goldberg, as well as Robert Kirkman, David Alpert, Gale Anne Hurd and Greg Nicotero, and produced by AMC Studios. The series stars Lennie James, Alycia Debnam-Carey, Colman Domingo, Danay Garcia, Garret Dillahunt, Maggie Grace, Jenna Elfman, and Alexa Nisenson.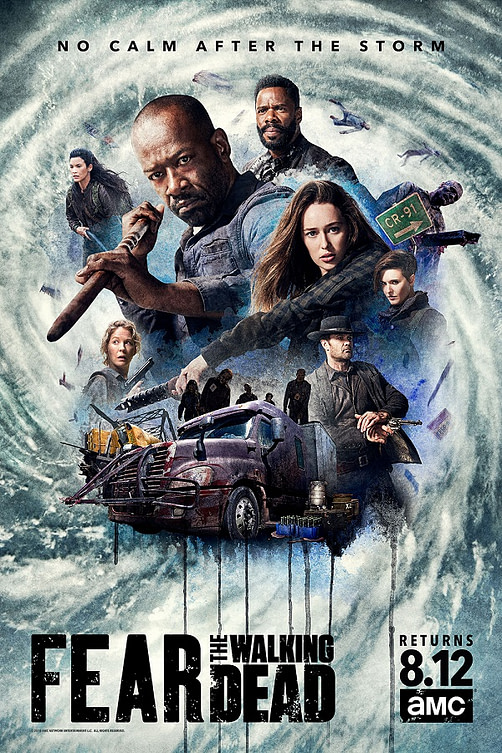 Fear the Walking Dead will be hosting a panel at this year's SDCC on Friday, July 20th from 11:15 a.m. – 12:15 p.m. PT in famed Hall H. With Yvette Nicole Brown serving as host/moderator, the panel includes Colman Domingo, Alycia Debnam-Carey, Lennie James, Danay Garcia, Garret Dillahunt, Maggie Grace, and Jenna Elfman; executive producers/showrunners Andrew Chambliss and Ian Goldberg; and executive producers Scott M. Gimple, Robert Kirkman, Gale Anne Hurd, Greg Nicotero, and David Alpert.