Matthew Snyder writes,
Welcome to the Comixology Bestseller list, your guide to see how well your favorite titles are selling digitally. Every week I'll post the ranking of every new title, plus a ranking of the best selling volumes & graphic novels. As always, I hope you find it interesting and informative.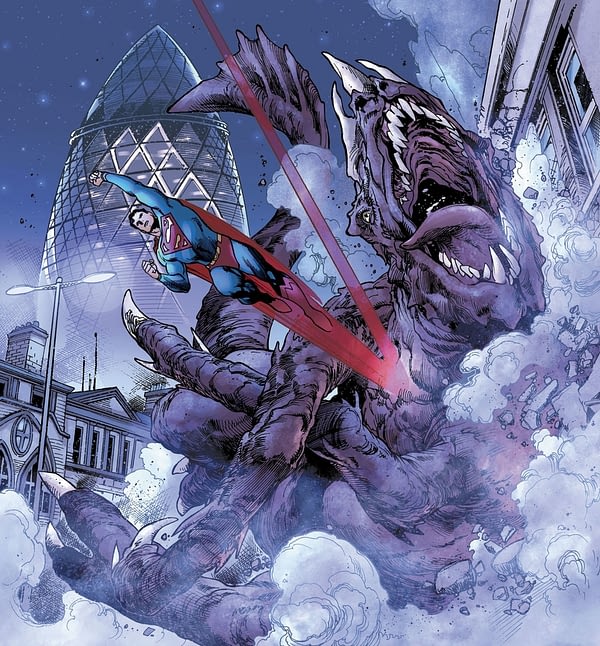 Brian Michael Bendis's Superman takes the top spot this week, building off the momentum of Man of Steel. The Bendis era of Superman is already off to a great start, with Action Comics #1001 debuting in two weeks. (Although that will be very unlikely to hit No. 1, as it's going up against Saga).
Joshua Williamson's The Flash had its best ranking yet this week, with the 50th Issue hitting No. 2 on the chart. It's been slowly climbing since the beginning of the year, taking the following spots on the New Title Rankings: 7, 6, 6, 6, 6, 6, 4, 5, 5, 3, 4, 3, 2. It appears some new and lapsed readers came on board for Flash War.
Spidey hits his highest ranking of the year at No. 3 with Nick Spencer's Amazing Spider-Man. ASM couldn't get into the Top 10 at the beginning of the year, but with the buildup to issue #800 and a new #1, it's back into the elite tier of digital comics sales.
Dan Abnett's Titans is back this month and it didn't miss a beat, hitting its usual Top 10 spot. With a new team roster, a publisher might be tempted to renumber. But it looks like it didn't need it. It's refreshing in day and age to see a publisher not go straight for the reset button.
Remember when The Immortal Men was able to crack the Top 10 in April? 3 months later and it's fallen to No. 31 in the New Title Rankings, with no signs of stopping the bleeding. In my humble opinion, perhaps it wasn't the best idea for DC to launch 8 brand new series in such a short amount of time. Perhaps the New Age of Heroes books would be more successful if they debuted throughout the year. But that's just speculation stemming from hindsight.
Robert Kirkman's new surprise book Die!Die!Die! (German for The!The!The!) debuted at No. 36 in the New Title Rankings, far below the No. 20 debut of Kirkman's Oblivion Song. I know digital wasn't Image's focus and Kirkman really wanted a surprise launch, but the sudden announcement may have killed the hype a new Kirkman book would've garnered. You never know with these things. We'll see what the retailers have to say in Rich's Sunday Bestseller List. (On a personal note, I think it already looks like another great Image title and I would definitely recommend it).
Top 25 Overall:
Superman #1
The Flash #50
Amazing Spider-Man #1
Darth Vader #18
Detective Comics #984
Injustice 2 #66 (99 digital first)
Titans #23
Batman #50
Wonder Woman #50
Hal Jordan and the Green Lantern Corps #48
Justice League #3
X-Men Blue #31
Captain America #1
Hawkman #2
Ms. Marvel #32
Rat Queens #10
Hunt for Wolverine: The Adamantium Agenda #3
Plastic Man #2
X-23 #1
Monstress #18
Domino #4
Star Wars: Thrawn #6
Red Hood and the Outlaws #24
Champions #22
Man of Steel #6
New Issue Rankings:
Superman #1
The Flash #50
Amazing Spider-Man #1
Darth Vader #18
Detective Comics #984
Injustice 2 #66 (99 digital first)
Titans #23
Wonder Woman #50
Hal Jordan and the Green Lantern Corps #48
X-Men Blue #31
Hawkman #2
Ms. Marvel #32
Rat Queens #10
Hunt for Wolverine: The Adamantium Agenda #3
Plastic Man #2
X-23 #1
Monstress #18
Domino #4
Star Wars: Thrawn #6
Red Hood and the Outlaws #24
Champions #22
Old Man Logan #43
Daredevil #605
Exiles #5
Oblivion Song by Kirkman #5
The Unbeatable Squirrel Girl #34
Archie #32
Black Science #37
Infinity Countdown: Darkhawk #4
New Mutants: Dead Souls #5
The Immortal Men #4
Suicide Squad #44
Amazing Spider-Man: Renew Your Vows #21
Sideways #6
The Punisher #227
Die!Die!Die! #1
The Wild Storm: Michael Cray #9
Quicksilver: No Surrender #3
Isola #4
Farmhand #1
Scooby Apocalypse #27
Eternity Girl #5
Deadpool: Assassin #3
Bloodshot Salvation #11
The Dead Hand #4
Aliens: Dust to Dust #2
Nancy Drew #2
Mech Cadet Yu #10
G.I. Joe: A Real American Hero #253
She Could Fly #1
Doctor Who: The Road to the Thirteenth Doctor #1: Tenth Doctor Special
Savage Dragon #235
Red Sonja #18
Relay #1
Raven Year 2- Love and Revenge #10
Port of Earth #7
Outpost Zero #1
Coda #3
RuinWorld #1
Disney/Pixar The Incredibles 2 #1: Crisis in Mid-Life & Other Stories
Resident Alien: An Alien in New York #4
RoboCop: Citizens Arrest #4
Teenage Mutant Ninja Turtles: Urban Legends #3
Elsewhere #8
Teen Titans Go! #57 (99 cent digital first)
Dejah Thoris #6
Tomb Raider: Inferno #2
World of Tanks: Citadel #3
Sheena: Queen if the Jungle #10
Bethrothed #5
Jirni #5
Real Science Adventures: The Nicodemus Job #1
Rick Veitch's The One #6
Grimm Tales of Terror #5
Xena: Warrior Princess #6
The Crow: Memento Mori #4
Charismagic #6
Old Issue Rankings:
Batman #50
Justice League #3
Captain America #1
Man of Steel #6
The Walking Dead #181
Avengers #4
Catwoman #1
The Immortal Hulk #2
Cosmic Ghost Rider #1
Astonishing X-Men #13
X-Men Gold #31
Doctor Strange #3
Star Wars #50
Injustice 2 #65 (99 cent digital first)
Man of Steel #5
Death of the Inhumans #1
Hunt for Wolverine: Weapon Lost #3
Black Hammer: Age of Doom #3
Saga #53
Deathstroke #33
Deadpool #2
Justice League #2
Batman #49
Infinity Countdown: Champions #2
Green Lanterns #50
Best Selling Collections & Graphic Novels:
Batman (2016) Vol. 5: The Rules of Engagement
Sleeper: Book One (71% off)
Green Lantern: Earth One Vol. 1 (71% off)
Star Wars: Darth Vader (2017) Vol. 2: Legacy's End
Black Hammer Vol. 2: The Event
Black Hammer Vol. 1: Secret Origins
The Unstoppable Wasp Vol. 1: Unstoppable!
Batman (2016) Vol. 3: I Am Bane (23% off)
Batman (2016) Vol. 4: The War of Jokes and Riddles (4% off)
Batman (2016) Vol. 1: I Am Gotham (62% off)
Batman (2016) Vol. 2: I Am Suicide (15% off)
The Unstoppable Wasp Vol. 2: Agents of G.I.R.L.
The Sheriff of Babylon Vol. 1: Bang. Bang. Bang. (58% off)
Phoenix Resurrection: The Return of Jean Grey
Marvel 1602
Mass Effect Omnibus Vol. 1
Batman: The Complete Hush (12% off)
Catwoman: When in Rome (17% off)
Mass Effect Omnibus Vol. 2
Civil War II
Catwoman (2002) Vol. 1: Trial of the Catwoman (75% off)
All-New Wolverine Vol. 6: Old Woman Laura
Aliens: Dead Orbit
Star Wars: Darth Vader (2017) Vol. 1: Imperial Machine
Powers (2004) Vol. 1: Who Killed Retro Girl? (62% off)
Batman: The Long Halloween (12% off)
Secret Invasion
The Unworthy Thor
Eternals by Neil Gaiman
The Astonishing Ant-Man Vol. 3: The Trial of Ant-Man
The Astonishing Ant-Man Vol. 2: Small-Time Criminal
Eternity (60% off)
Catwoman: A Celebration of 75 Years
Ultimatum
Spider-Men
Star Wars: Doctor Aphra Vol. 3: Remastered
Batman: The Heart of Hush (33% off)
The Sandman Vol. 1: Preludes and Nocturnes (62% off)
X-O Manowar (2017) Vol. 4: Visigoth Vol. 4 (60% off)
Wonder Woman by John Byrne Vol. 1 (83% off)
Ant-Man (2015) Vol. 1: Second Chance Man
Batman: Dark Victory (New Edition) (12% off)
Marvels
Neil Gaiman's A Study in Emerald
Alan Moore's The Courtyard (80% off)
Scarlet: Book 2 (54% off)
Batman: Year One (58% off)
Scarlet: Book 1 (62% off)
Scalped: Book One (41% off)
100 Bullets: Book One (41% off)