The end of the first season of the X-Men TV show The Gifted saw the Mutant Underground split in two very different directions. It's the type of idealogical difference that we've seen play out in various iterations of the X-Men for years but this one is with different characters. Entertainment Weekly has shared a first look at the second season of the Fox and Marvel TV show. Polaris aka Lorna Dane (Emma Dumont) is pregnant and the baby was making her even more powerful. Now six months have passed and she's getting ready to go into labor.
"We saw at the end of last season that the baby really affected her powers and made her stronger," Dumont says. "We don't know what this labor will do."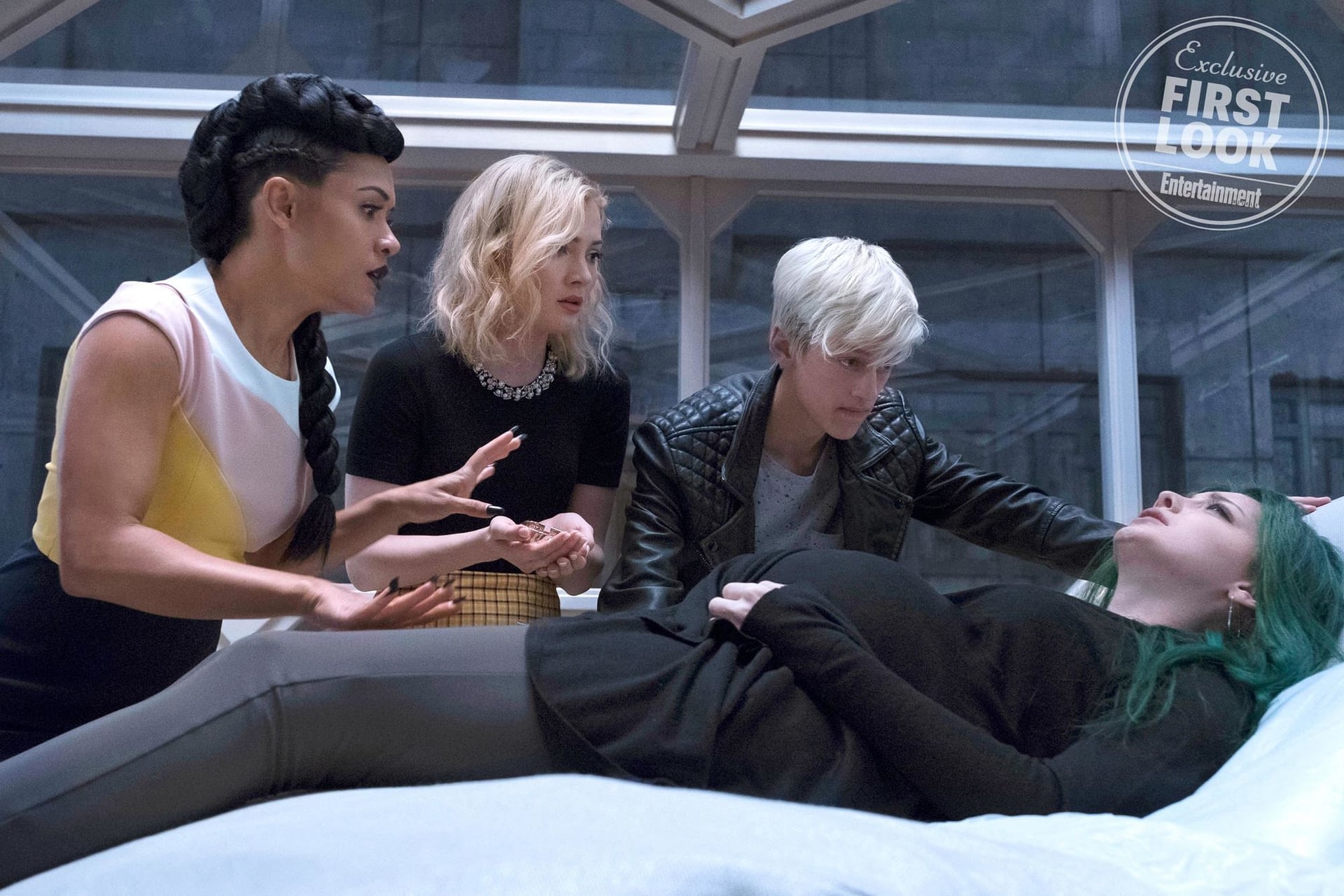 Labor is bad enough without throwing super powers and lack of proper medical care but Lorna has a new friend looking out for her.
At least she's got Reeva Payge (Empire's Grace Byers), a new mutant introduced this season. Reeva, who can produce sonic blasts that scramble minds, reigns over a group called the Inner Circle and is hell(fire)-bent on making sure Polaris survives. "They have big plans, and Polaris is a big part of those plans," creator Matt Nix explains.
While Lorna might have people around her that want to help make sure her and the baby survive that doesn't mean that they are looking out for Lorna's best interests either.
"When you get two alphas in the same space, there will be tension," Dumont teases. "Reeva makes Polaris look mild."
This isn't just with the new characters but with the Frost triplets (Skyler Samuels whose been bumped up to series regular) as well. She does, however, still have Andy Strucker to fall back on as he really looks up to her.
"The triplets and Polaris are not friends," Dumont says — but Andy Strucker (Percy Hynes White) and his new hairdo has become an unlikely ally. "Polaris has actually grown really close with Andy," Dumont explains. "They see each other as the only people they can trust in this situation… Polaris definitely takes on a mentorship role with Andy."
Dumont went on to say that we haven't seen a mutant give birth in any of the television shows or movies yet so this is sort of a big deal.
"We've never seen in any Marvel media, and sort of show or TV, a mutant pregnancy and then a mutant delivery," she says. "This is kind of a pinnacle moment. I feel very honored to be part of Marvel history in this way. It's super cool!"
Lorna's pregnancy wasn't exactly beloved by fans who were worried that this was an easy way for the writers to sideline a powerful woman but it sounds like they're jumping right into the baby being born in the second season. Whether or not the baby turns out to be a new iteration of a familiar X-men character has yet to be seen.
Summary: In a world where mutated humans are treated with distrust and fear, an institute for mutants battles to achieve peaceful co-existence with humanity.
The Gifted, created by Matt Nix, stars Stephen Moyer, Amy Acker, Natalie Alyn Lind, Percey Hynes White, Sean Teale, Emma Dumont, Jamie Chung, and Blair Redford. It will return on September 25th.
Enjoyed this article? Share it!