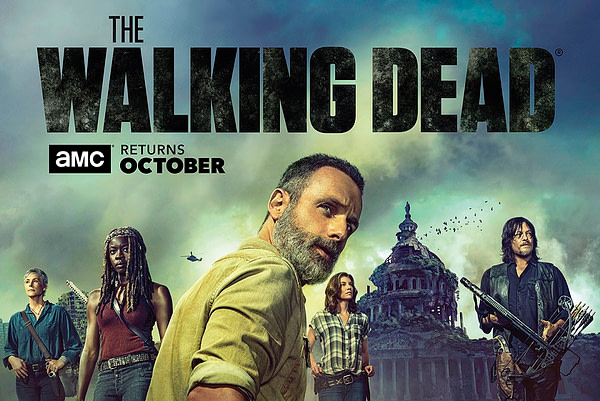 Though The Walking Dead fans still have a few months to go before the AMC series' expected ninth-season return in October, it's never too early to hear from executive producer Angela Kang about what viewers can expect. Taking over showrunning responsibilities from a promoted Scott M. Gimple, Kang also offered viewers an official "first look" at the upcoming season (courtesy of Entertainment Weekly).
In the image, we see an almost numb-looking Michonne (Danai Gurira) on horseback alongside Sydney Park's Cyndie, Callan McAuliffe's Alden, and others. We've been told to expect a time jump — so does the vibe in the image below have anything to do with something that happened during the "jump"?
Here are some additonal highlights from the interview:
● While walkers will alway remain a clear and present danger to our heroes for the foreseeable future, the growing community will be facing another crisis — a man-made one: "We'll explore what happened as man made objects and structures break down. Infrastructure like roads and bridges are changing and crumbling. And we'll also explore what happens as resources are getting low."
● Beyond just being a very cool visual, the released image also demonstrates how the survivors are going to have to deal with things falling apart literally before they can build back up:
"There's a fun Western vibe that has emerged. We are going into a period where a lot of the things that we've seen in previous seasons have broken down, so they've got these horses and carriages that are being drawn around instead of cars. Things are lit with oil lamps. People are using different kinds of weaponry. There's a real grittiness to it that I think will be fun and fresh for the viewers."
● So will Rick (Andrew Lincoln), Maggie (Lauren Cohan), Daryl (Norman Reedus), Carol (Melissa McBride) and the others finally get the community they've fought eight seasons for? Did you really think Kang was going to give you a straight answer? But we do get this tease:
"We'll see our group together working in unity in a lot of ways, but you'll also see some changes in the way that they deal with each other. In some ways, you'll see that the vision has succeeded beyond anybody's wildest imagination. But you'll also see the cracks in that."
Fans attending this year's Comic-Con International (SDCC) might be in for even more revelations, as The Walking Dead makes its way to San Diego for a pre-season panel presentation:
The Walking Dead (Friday, July 20: 12:15 p.m. – 1:15 p.m. – Hall H)
Panelists (M: Yvette Nicole Brown): Andrew Lincoln, Norman Reedus, Lauren Cohan, Danai Gurira, Melissa McBride, and Jeffrey Dean Morgan; executive producer/showrunner Angela Kang; executive producers Scott M. Gimple, Robert Kirkman, Gale Anne Hurd, and David Alpert; and executive producer/director/special effects make-up supervisor Greg Nicotero.
Based on the comic book series written by Robert Kirkman and published by Image Comics, "The Walking Dead" reigns as television's most watched drama for adults 18-49 for a record-breaking six consecutive years. "The Walking Dead" tells the story of the months and years that follow after a zombie apocalypse, and follows a group of survivors, led by police officer Rick Grimes, who travel in search of a safe and secure home. The series is executive produced by chief content officer Scott M. Gimple, showrunner Angela Kang, Robert Kirkman, Gale Anne Hurd, David Alpert, Greg Nicotero, Tom Luse and Denise Huth.