There is a scene in the final issue of Alan Moore and John Totleben's Miracleman, where the titular "hero", with the aid of the Qys and the Warpsmiths, takes over the Earth. Imposes their will to make it a better place — hell, a wondrous place. But an imposed solution; a liberal fantasy, but utterly fascist in that delivery. It's the kind of political solution Alan Moore would explore with Ozymandias in Watchmen.
And for some reason, Miracleman is surprised that his wife, Liz Moran, wants no part in it.
It can be seen as the temptation of power, the natural outcome of the superhero fantasy that restricts itself to a superhero who maintains the status quo but doesn't think of changing the cause of problems rather than mopping up solutions.
When it has been brought up in Superman comics, it has been dismissed as Superman not wanting to interfere with the natural progression of humanity — that it must make its own mistakes and learn from them rather than have a super-nanny.
But, in his first issues, Brian Michael Bendis is playing with that very notion. And the Martian Manhunter is the instigator, even as their conversation is interrupted by Superman's many mercy missions drawn in beautiful detail and scope by Ivan Reis, Joe Prado, and Alex Sinclair…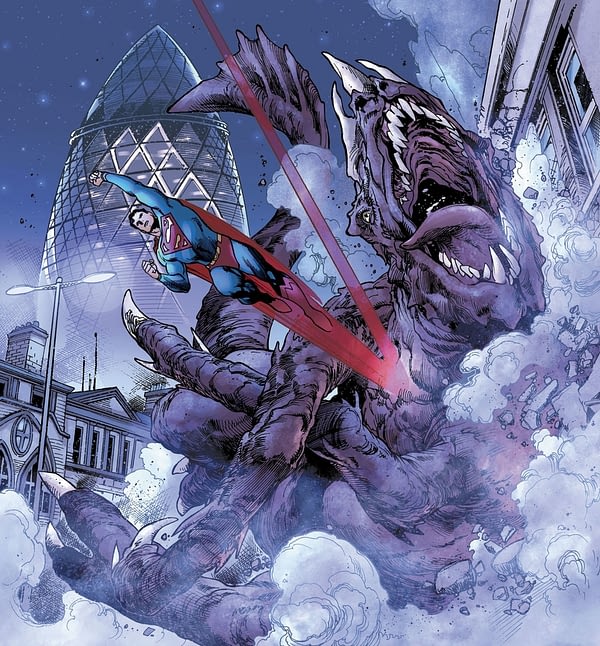 …that appears to be the London Gherkin at risk there…
… so the idea of Superman leading humanity towards a galactic destiny is raised by J'onn J'onnz. Who almost paraphrases Miracleman and humanity's new alien overlords from a comic published 33 years ago.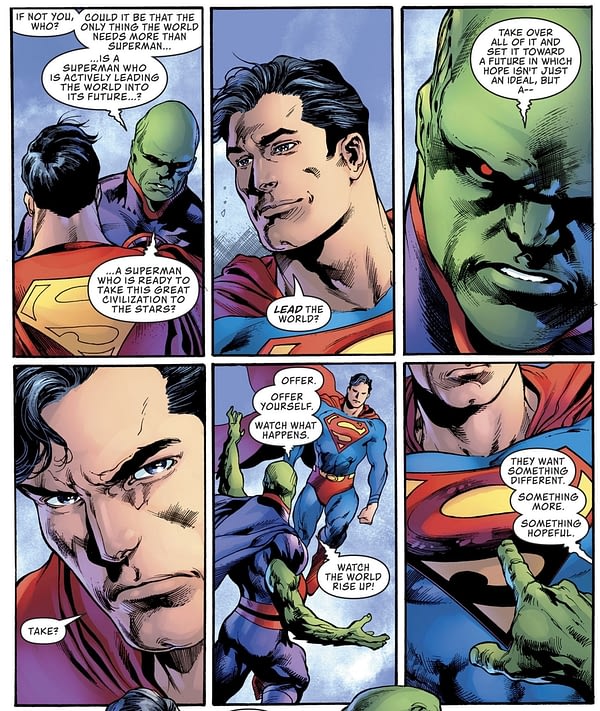 The Martian Manhunter is the tempting snake in the Garden of Metropolis. What else may happen to persuade Superman that this is the right course? And will not having the tempering presence of Lois Lane and Jonathan Kent in his life contribute to that shift in attitude? That does seem to be where the new Bendis-direction may be heading. After all, Liz Moran gave Miracleman cause to reflect, even when the Golden Age had been achieved…
Superman #1 is published by DC Comics today. And everyone who likes superhero comics owes it to themselves to read Miracleman, now published by Marvel Comics, especially that 16th issue.
SUPERMAN #1
(W) Brian Michael Bendis (A/CA) Joe Prado, Ivan Reis
A bold new chapter for the greatest superhero of all time begins here as the superstar team of writer Brian Michael Bendis and artist Ivan Reis begin their run on the all-new SUPERMAN! The fallout from the Man of Steel miniseries has Clark Kent looking at the world through new eyes… with new ideas about what Superman could and should do for the city of Metropolis and the planet Earth. His first job? Getting the planet back out of the Phantom Zone! In Shops: Jul 11, 2018
SRP: $3.99
MIRACLEMAN #16
(W) Alan Moore (A/CA) John Totleben
• Miracleman's existence has been revealed in a shocking fashion! Confronted with this new reality, he chooses to take action and realize his destiny.
•  From the ashes of great tragedy, the world will be reborn. The sick will be healed. Military powers will be disarmed. The planet will be restored. Poverty will be abolished. Every day shall be a day of miracles…a new dawn for humankind!
•  The original Miracleman opus comes to its majestic close in "Olympus"!
•  Including material originally presented in MIRACLEMAN (1985) #16, plus bonus content.
MatureIn Shops: Mar 04, 2015
SRP: $5.99