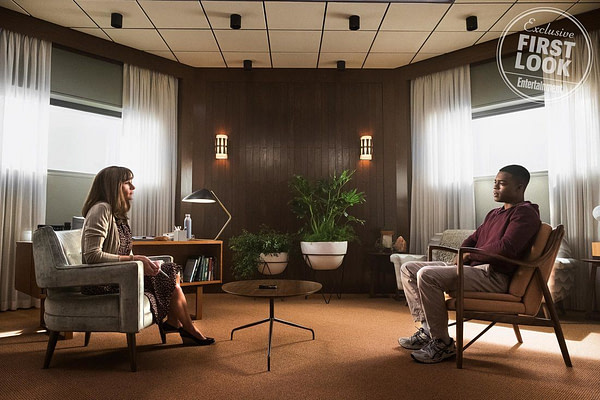 After a steady flow of casting announcements over the past few months, Amazon Studios is giving us our first look at Academy Award winner Julia Roberts' half-hour drama Homecoming from Universal Cable Productions, Mr. Robot creator Sam Esmail, and Anonymous Content. Based on Gimlet Media's breakout fictional podcast from Eli Horowitz and Micah Bloomberg, the series has a two-season commitment from the streaming service and is set to premiere this fall. Horowitz and Bloomberg serve as the series' writers, with Esmail directing all ten episodes of the first season. The preview images come courtesy of our friends at Entertainment Weekly (posted throughout the article).
In the television Homecoming, Roberts plays Heidi Bergman, a caseworker at the Homecoming Transitional Support Center. The center is a Geist Group facility helping soldiers transition back to civilian life. Walter Cruz (Stephan James) is one of these soldiers, eager to begin the next phase of his life. Overseeing Heidi and the facility is Colin Belfast (Bobby Cannavale), an ambitious company man whose manic demands point to questionable motives.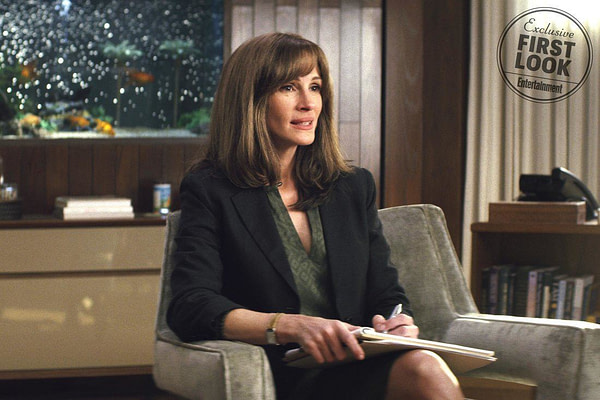 Four years later, Heidi has started a new life, living with her mother (Sissy Spacek) and working as a small-town waitress, when a Department of Defense auditor (Shea Whigham) comes to her with questions about why she left the Homecoming facility. Heidi begins to realize that there's a whole other story behind the story she's been telling herself.
Homecoming also stars Jeremy Allen White, Alex Karpovsky, Dermot Mulroney, Hong Chau, and Sydney Tamiia Poitier.
"To me, there's something about these old-school thrillers. I'm talking about the Hitchcock thrillers where it was just about people and not about CGI. It wasn't about spectacle, but about flawed people doing flawed things and going down a road you didn't think you were gonna go down, and being surprised at every turn. That is what we hope this show does." – Esmail
Homecoming is produced by Esmail through his production company Esmail Corp; as well as Chad Hamilton of Anonymous Content; Horowitz and Bloomberg; Alicia Van Couvering; and Chris Giliberti, Alex Blumberg, and Matt Lieber of Gimlet Media. Roberts also will serve as executive producer through her production company RedOm, with her partners Lisa Gillan and Marisa Gill set to co-executive produce. Amazon Studios will have global rights to broadcast the television series, which will premiere exclusively on Amazon Prime Video.
Enjoyed this article? Share it!