Two new creator-owned titles launch in September from AfterShock Comics, the crime drama Patience Conviction Revenge by Patrick Kindlon and Marco Ferrari and the genderfluid action adventure Moth & Whisper by Ted Anderson and Jen Hickman.
PATIENCE CONVICTION REVENGE #1 CVR A FERRARI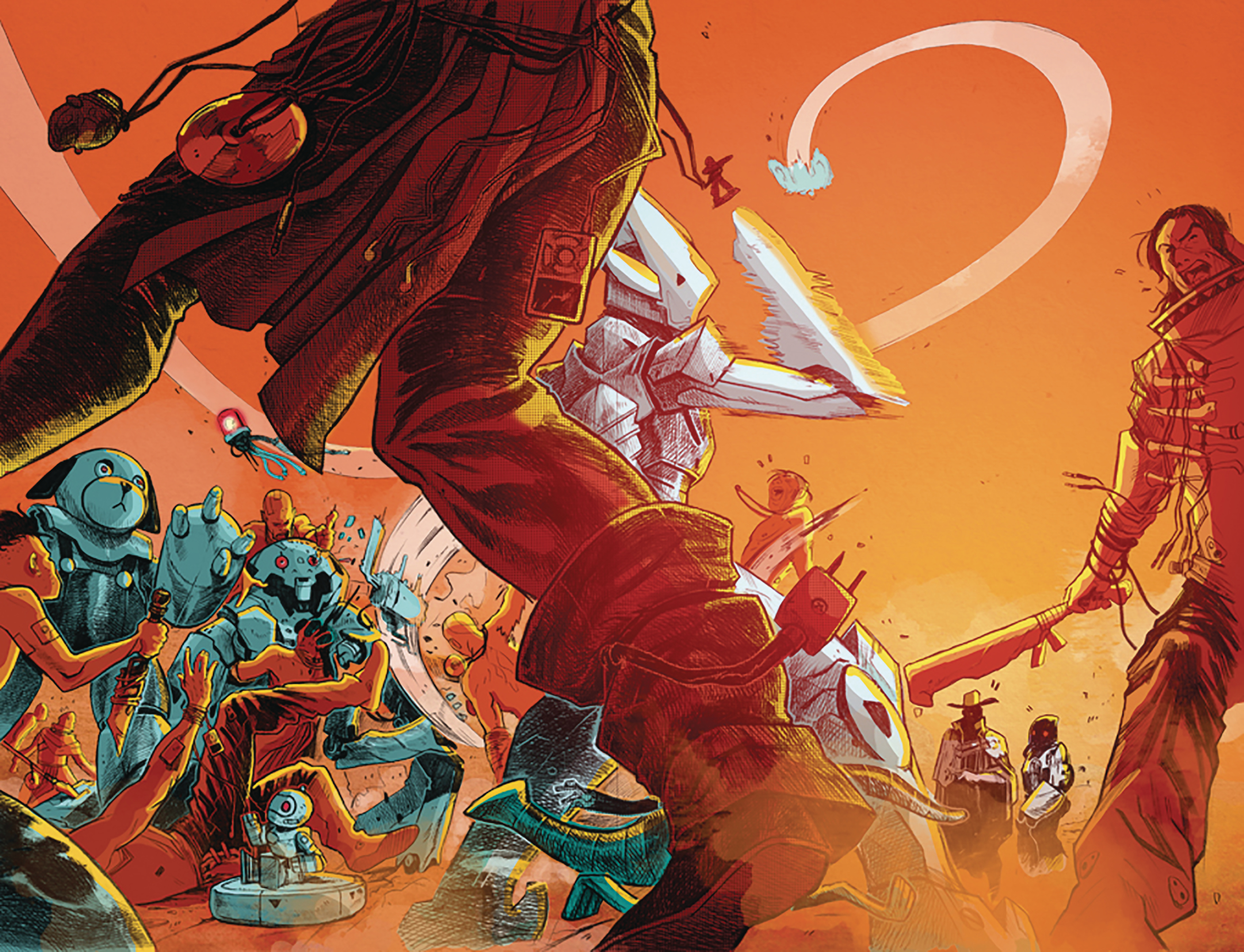 JUL181502
(W) Patrick Kindlon (A/CA) Marco Ferrari
NEW SERIES!
Disregarded, disrespected and dismissed, Renny has a chip on his shoulder.
Once an equal partner in a criminal syndicate that rules Las Vegas, he now finds himself living in a shack in the desert. But the shack has a workshop, and Renny's been busy. It's time to march his robot army into the neon hell of a cyberpunk Vegas and retake his seat at the table. Or take the wood from the table and build enough caskets for the whole syndicate.
Old friends better run, because Operation PATIENCE! CONVICTION! REVENGE! is underway.
Like an Elmore Leonard novel set in the world of Blade Runner, PATIENCE! CONVICTION! REVENGE! is offbeat and often funny, but all about the dark corners of cities and minds. A violent criminal genius with a bad case of monomania makes for the most fun you'll have with a comic this year.
Written by Patrick Kindlon (There's Nothing There, We Can Never Go Home) and drawn by Marco Ferrari (Famous Monsters Presents) PATIENCE! CONVICTION! REVENGE! continues Kindlon's exploration of difficult characters and irreverent themes. Having broken the chains of good taste, Kindlon goes all-in and writes a vengeance-obsessed lunatic as if he's riding beside him-all wrapped in a gangster tale like no other, and that HAD to be told at AfterShock!
In Shops: Sep 19, 2018
SRP: $3.99
PATIENCE CONVICTION REVENGE #1 CVR B HACK
MOTH & WHISPER #1 CVR A HICKMAN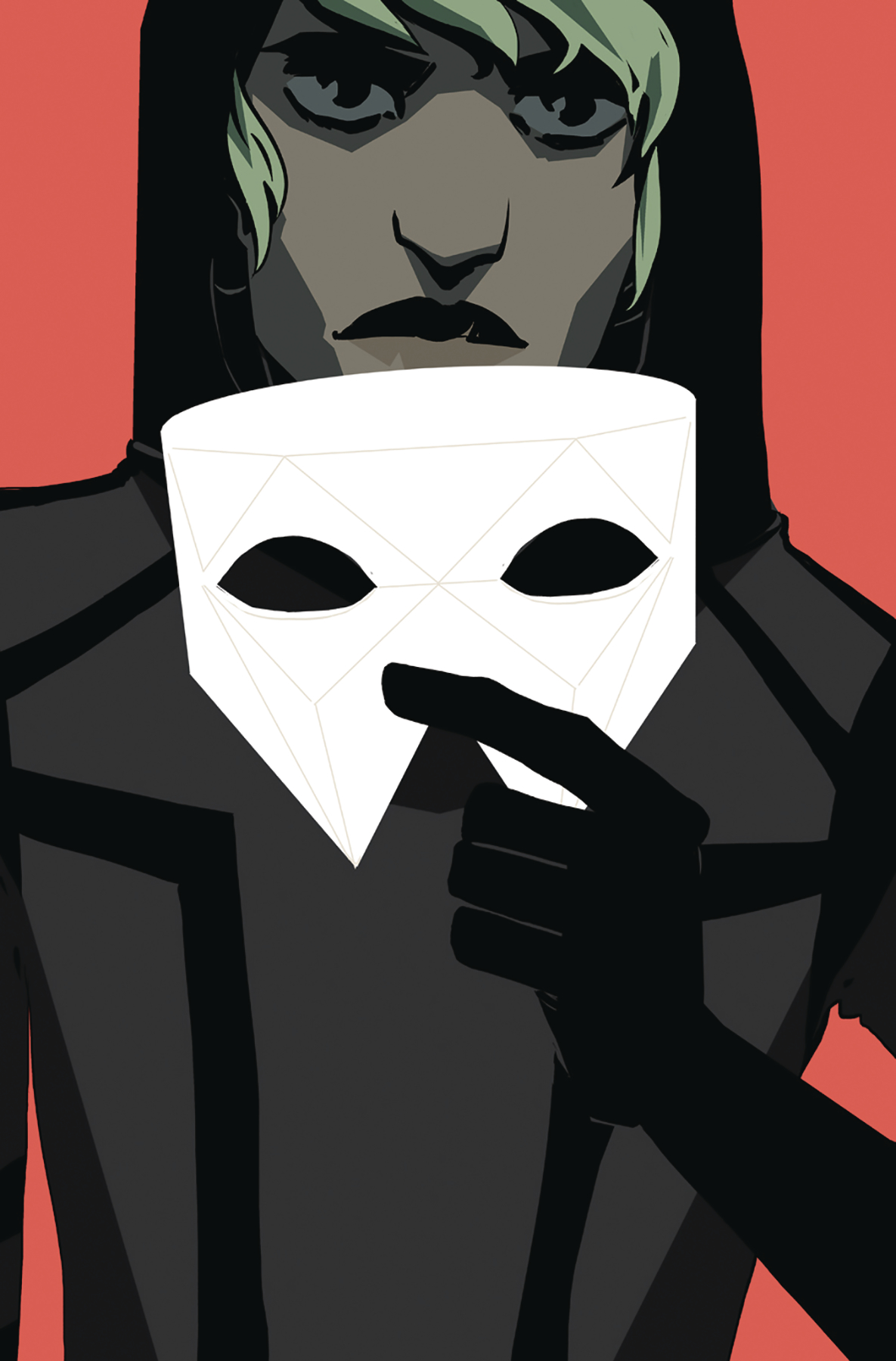 JUL181504
(W) Ted Anderson (A/CA) Jen Hickman
NEW SERIES!
Everyone knows that the two greatest thieves in the city are the Moth and the Whisper. Very few know that the Moth and the Whisper disappeared six months ago. And what nobody knows is that the new Moth and Whisper are actually one person pretending to be both of them. One supremely skilled but uncertain young genderfluid thief: Niki, the child of the Moth and the Whisper.
Niki has been trained by their parents in the arts of stealth and infiltration, but they're still just a teenager, and now they're alone, searching for their parents in a hostile cyberpunk dystopia. Corporations run the streets while crime lords like Ambrose Wolfe run the alleys-identity is a commodity and privacy is impossible. The truth about Niki's parents and their disappearance is out there, but can Niki survive long enough to find it?
A YA cyberpunk thriller starring a genderqueer super-thief, MOTH & WHISPER is the brainchild of Ted Anderson (My Little Pony, Adventure Time) and Jen Hickman (Jem and the Holograms, The Dead), that just HAD to be told at AfterShock!
In Shops: Sep 12, 2018
SRP: $3.99
MOTH & WHISPER #1 CVR B CORONA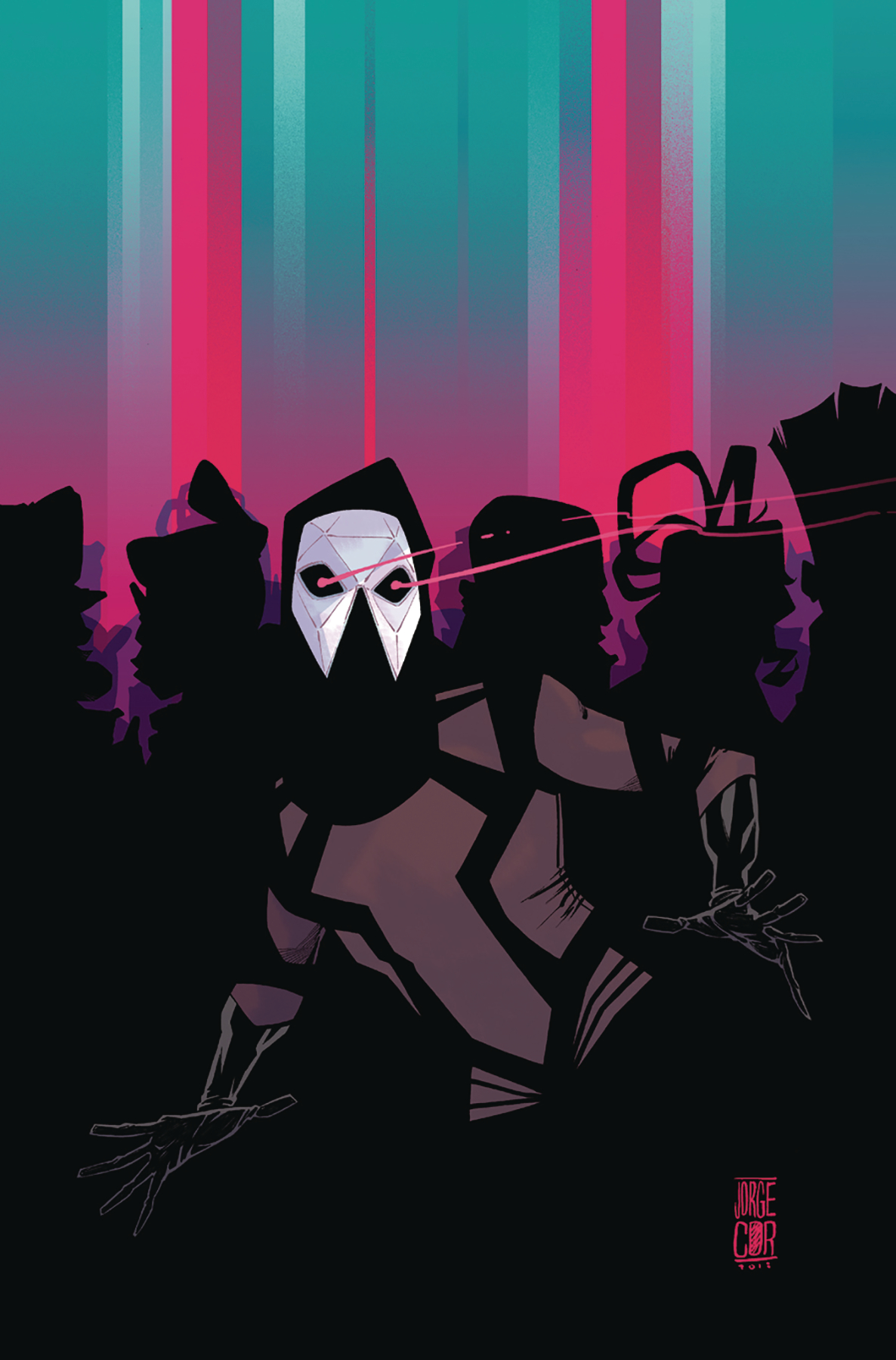 SRP: $3.99
RELAY #3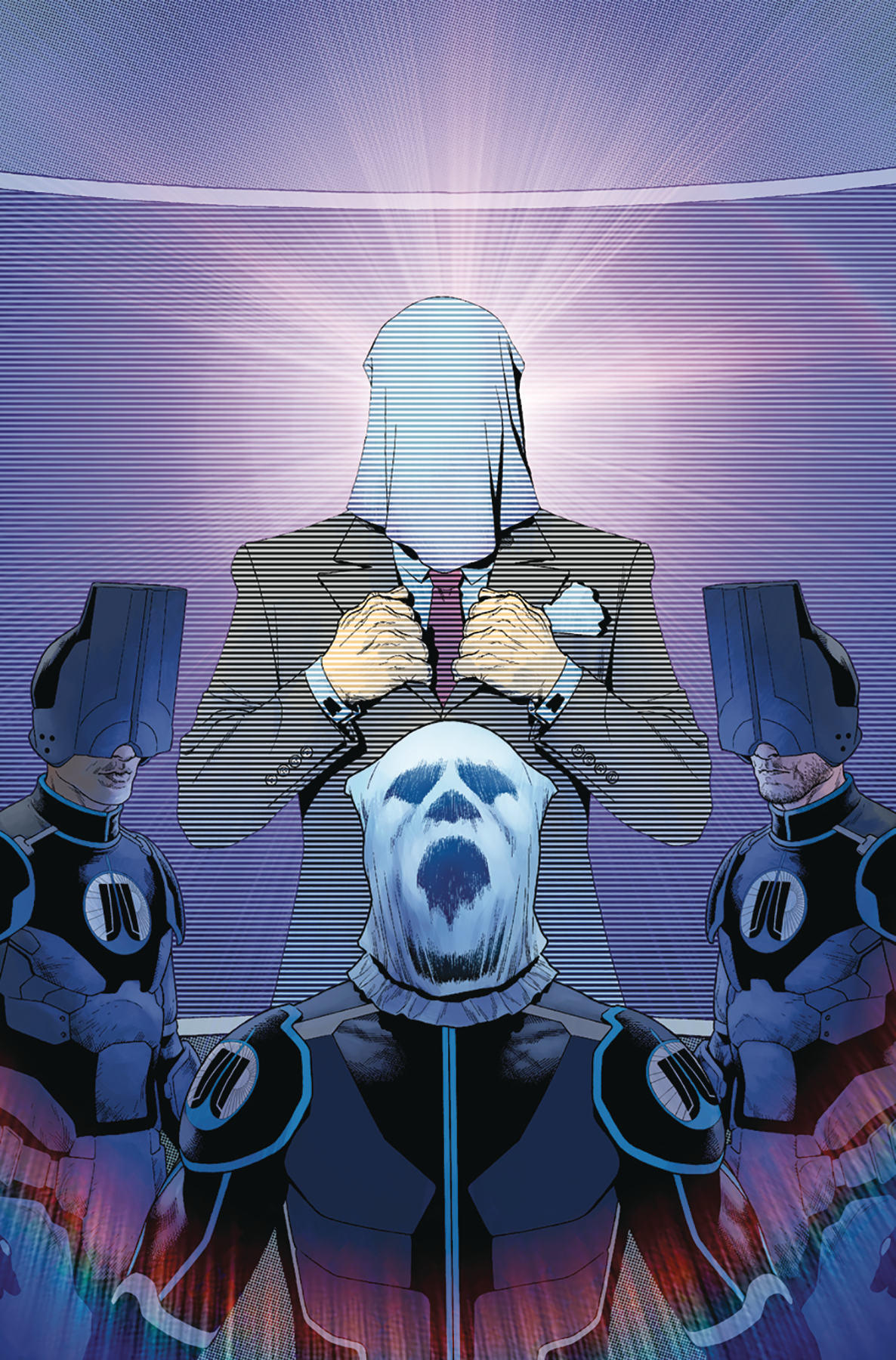 JUL181506
(W) Zac Thompson, Eric Bromberg, Donny Cates (CA) Dan Brown (A/CA) Andy Clarke
In the future, the galaxy is united under a monolith known as the Galactic Relay. Although the towering monument is meant to inspire conformity of ideas, technology, and progress, it is not without its enemies and many have begun to resent the foreign structure. And now, Jad Carter, a Relay employee, has found the Relay's mythological creator.
An interstellar mug causes a complete breakdown of reality. Jad travels inside the Monolith but it raises more questions than answers.
Written by Zac Thompson (The Dregs) and art by Andy Clarke (REPLICA, Batman). Story by Zac Thompson and Donny Cates (BABYTEETH, Venom, Thanos, Dr. Strange, God Country).
In Shops: Sep 05, 2018
SRP: $3.99
ANIMOSITY #17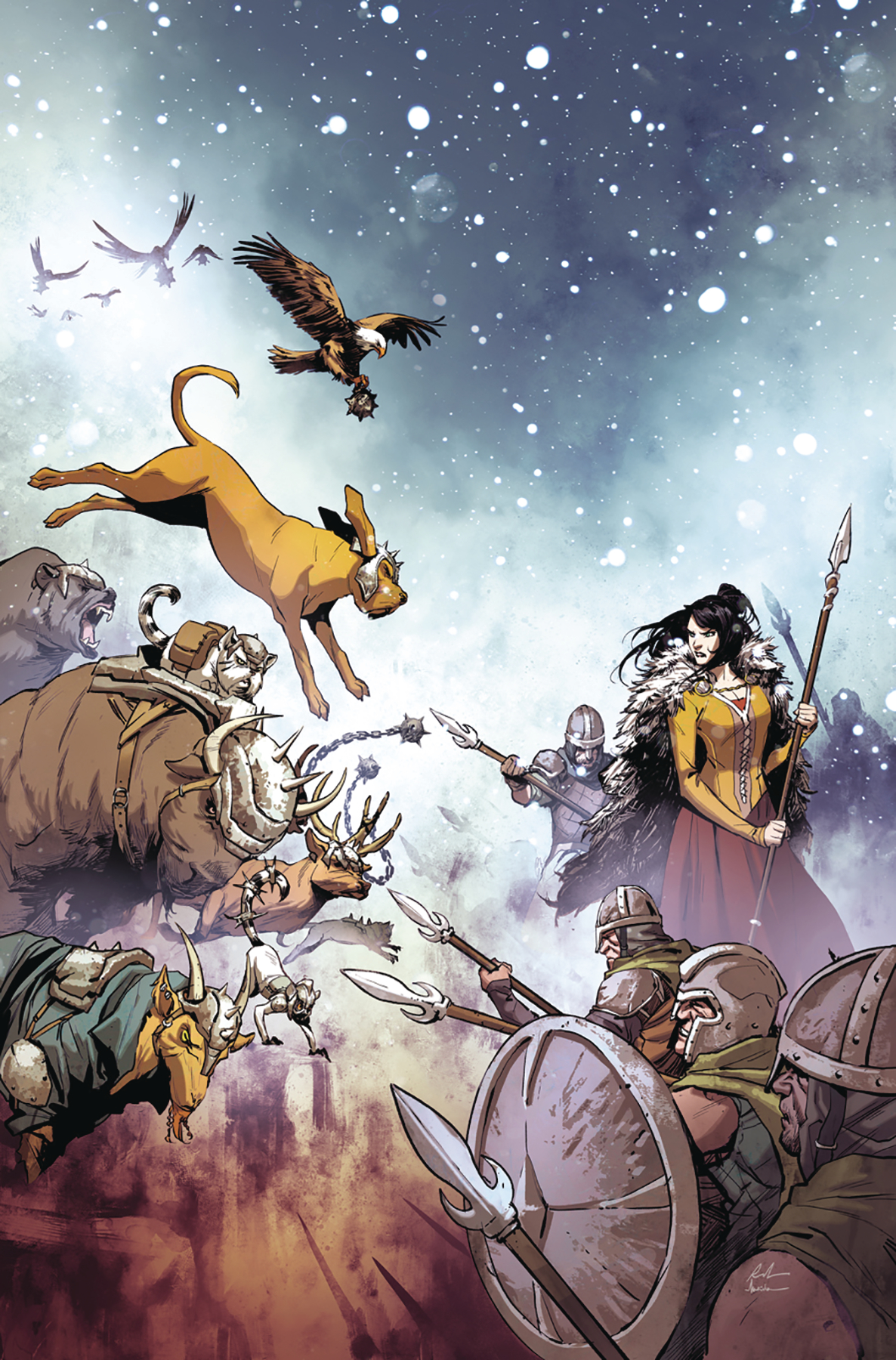 JUL181507
(W) Marguerite Bennett (CA) Marcelo Maiolo (A/CA) Rafael de Latorre
WAR! As Sandor and the Animals assault the Walled City from without, Jesse begins her campaign of sabotage from within to burn the Walled City to the ground…
From creator/writer Marguerite Bennett (INSEXTS, Bombshells and Batwoman) with artwork by Rafael De Latorre (SUPERZERO).
"Animosity looks to be AfterShock's first true classic, the book that'll put them on the map." – Tara Giovannini of IGN
In Shops: Sep 19, 2018
SRP: $3.99
BEYONDERS #2
JUL181508
(W) Paul Jenkins (A/CA) Wesley St. Claire
With his one-eyed, genetically enhanced Welsh Corgi in tow, Jake finally confronts the secretive underground resistance known as the Beyonders. And as the global conspiracy to end all conspiracies begins to unfold, Jake finds himself unraveling a mystery thousands of years in the making, with a long-hidden prize waiting to be found.
National Treasure meets the Da Vinci Code-BEYONDERS is a story of the greatest, most epic treasure hunt of all time…and it contains its very own treasure hunt!
From Paul Jenkins (ALTERS, Wolverine: Origin, Sentry) and Wesley St. Claire (FU JITSU, Teen Titans) comes the mystery series that HAD to be told at AfterShock!
In Shops: Sep 26, 2018
SRP: $3.99
HOT LUNCH SPECIAL #2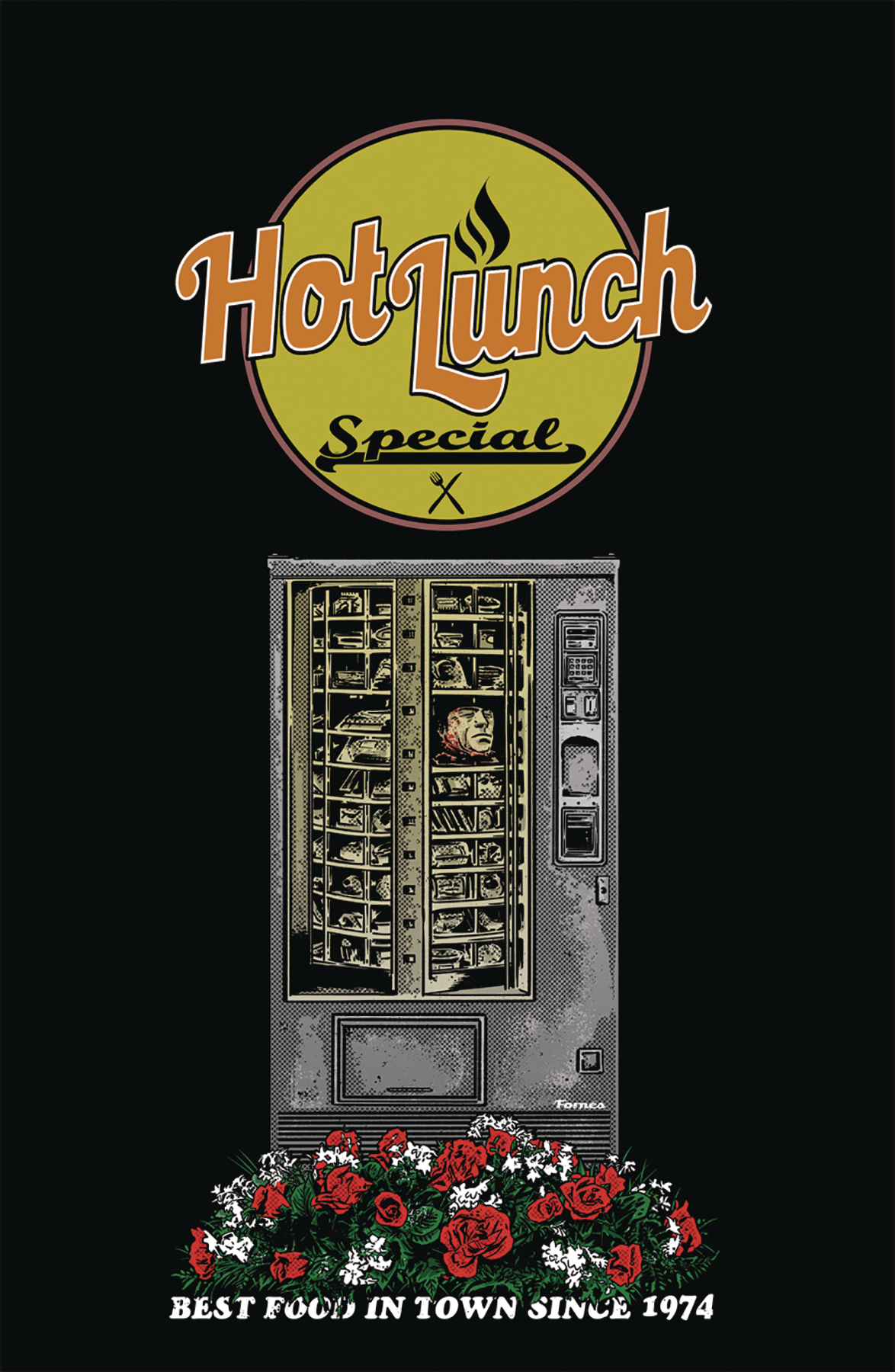 JUL181509
(W) Eliot Rahal (A/CA) Jorge Fornes
A midwestern noir series set in the harsh landscape of the northern Minnesota Iron Range-Hot Lunch Special is all about family, food and the fight for survival. Only one question is worth asking…is blood thicker than sandwiches?
Liam Moran, the son of notorious Irish Mobster "Big Jim" Moran, was only supposed to send a warning. A machine gun message to the Jordan Khoury: Pay up or pay the price. Unfortunately, things went sideways, and now…someone is dead. Broken hearts and bitter questions are left in the wake of his untimely murder. But before they can be addressed, it's time for a fractious Khoury family funeral.
An outcast son will return home, a mother will mourn, and a guilty grieving grandfather will finally reveal his dark criminal secret.
In Shops: Sep 12, 2018
SRP: $3.99
VOLITION #2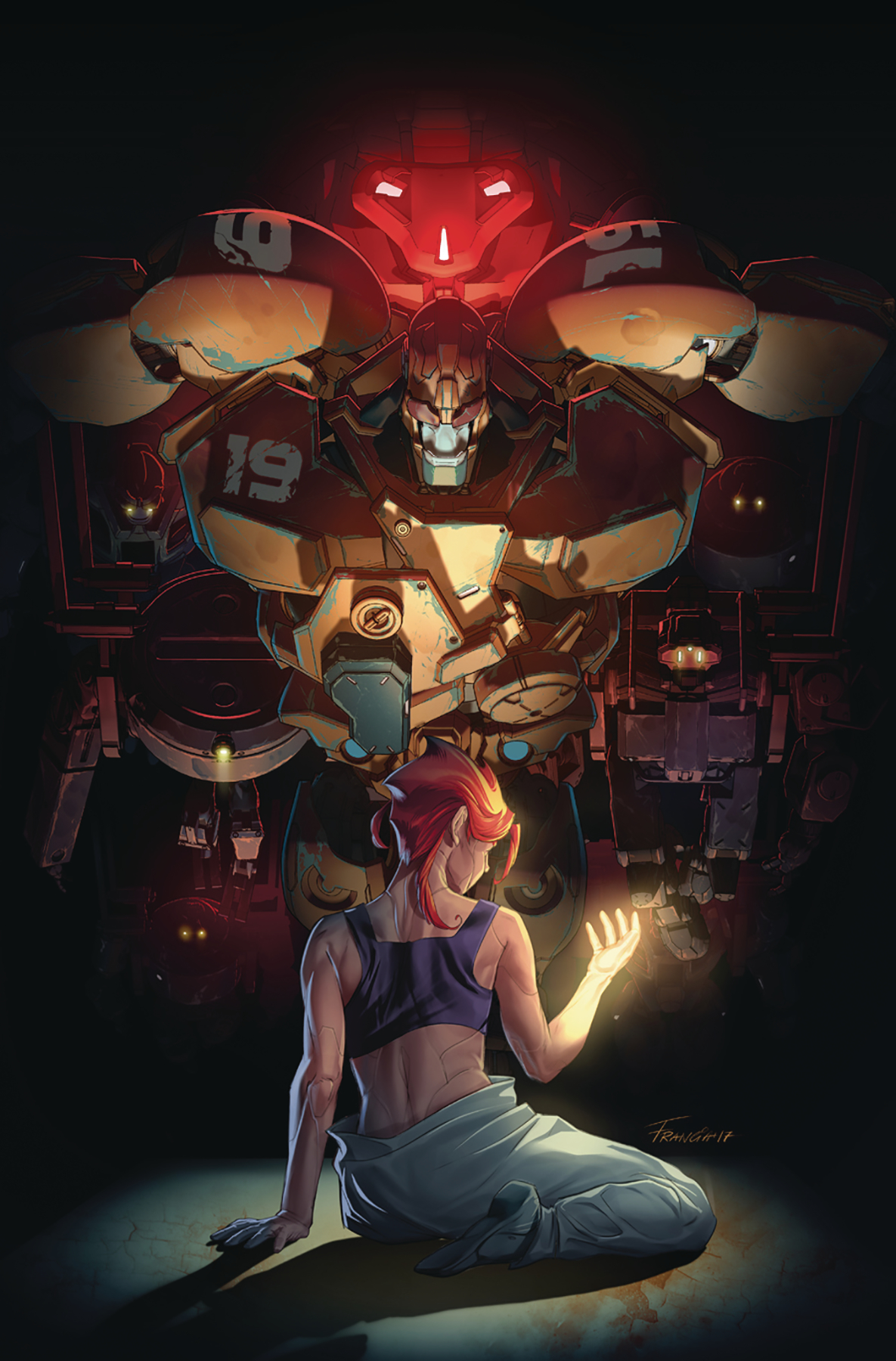 JUL181510
(W) Ryan Parrott (A/CA) Omar Francia
In the not-too-distant future, robots are fighting for their equal rights. And when a mysterious and deadly disease known as "Rust" threatens all artificial life, salvations lies in the unlikeliest of heroes-with an obsolete construction worker known as HALE-19 and with AMBER-7T, a caregiver.
After awakening in a decommission facility, AMBER-7T is forced to rely on the dangerous and unapologetic HALE-19 in order to escape. Can these two contradictions find a way to escape or will they turn on one another to survive? Meanwhile, Art Detectives Drivas and Lawton find themselves saddled with the case of their lives and a pair of dangerous new adversaries enter the game.
From writer Ryan Parrott (Mighty Morphin Power Rangers, Star Trek, Batman: The Gates of Gotham) and new artist sensation Omar Francia (Star Wars, Mass Effect) comes the next chapter in AfterShock's bold new sci-fi adventure series.
In Shops: Sep 12, 2018
SRP: $3.99
LOST CITY EXPLORERS #4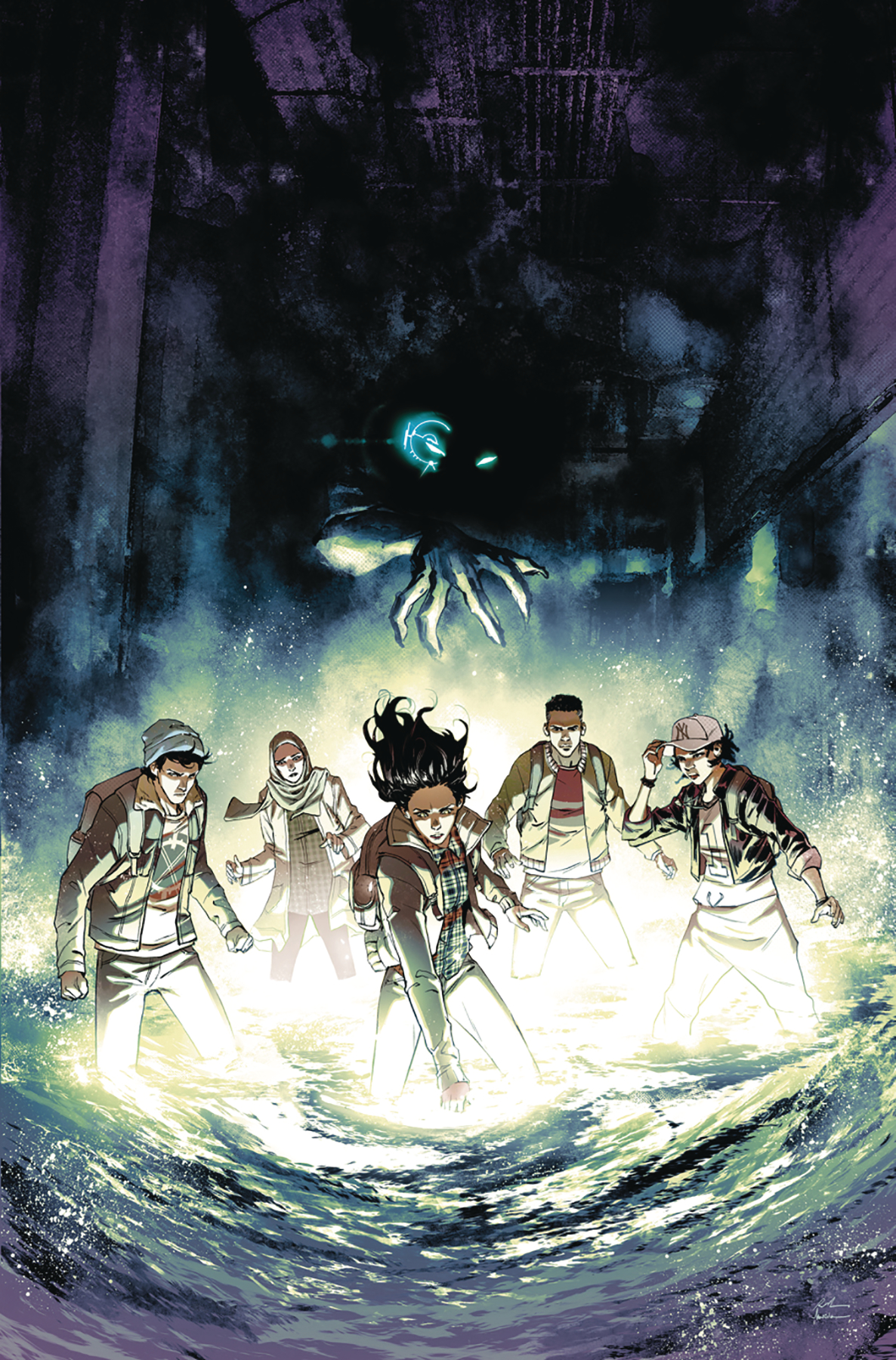 JUL181511
(W) Zack Kaplan (A) Alvaro Sarreseca (CA) Rafael La Torre
Hel Coates, her brother and our teenage urban explorers have journeyed through underground New York City and discovered the site where Hel's father disappeared, but in order to find answers and unlock the doorway to the mythical Lost City of Atlantis, they must first deal with the deadly supernatural guardian.
Explore science fiction and archaeology in this new adventure series by Zack Kaplan (Eclipse, Port of Earth) and Alvaro Sarraseca (Magnus, Turok) that HAD to be told at AfterShock.
In Shops: Sep 19, 2018
SRP: $3.99
WALK THROUGH HELL #5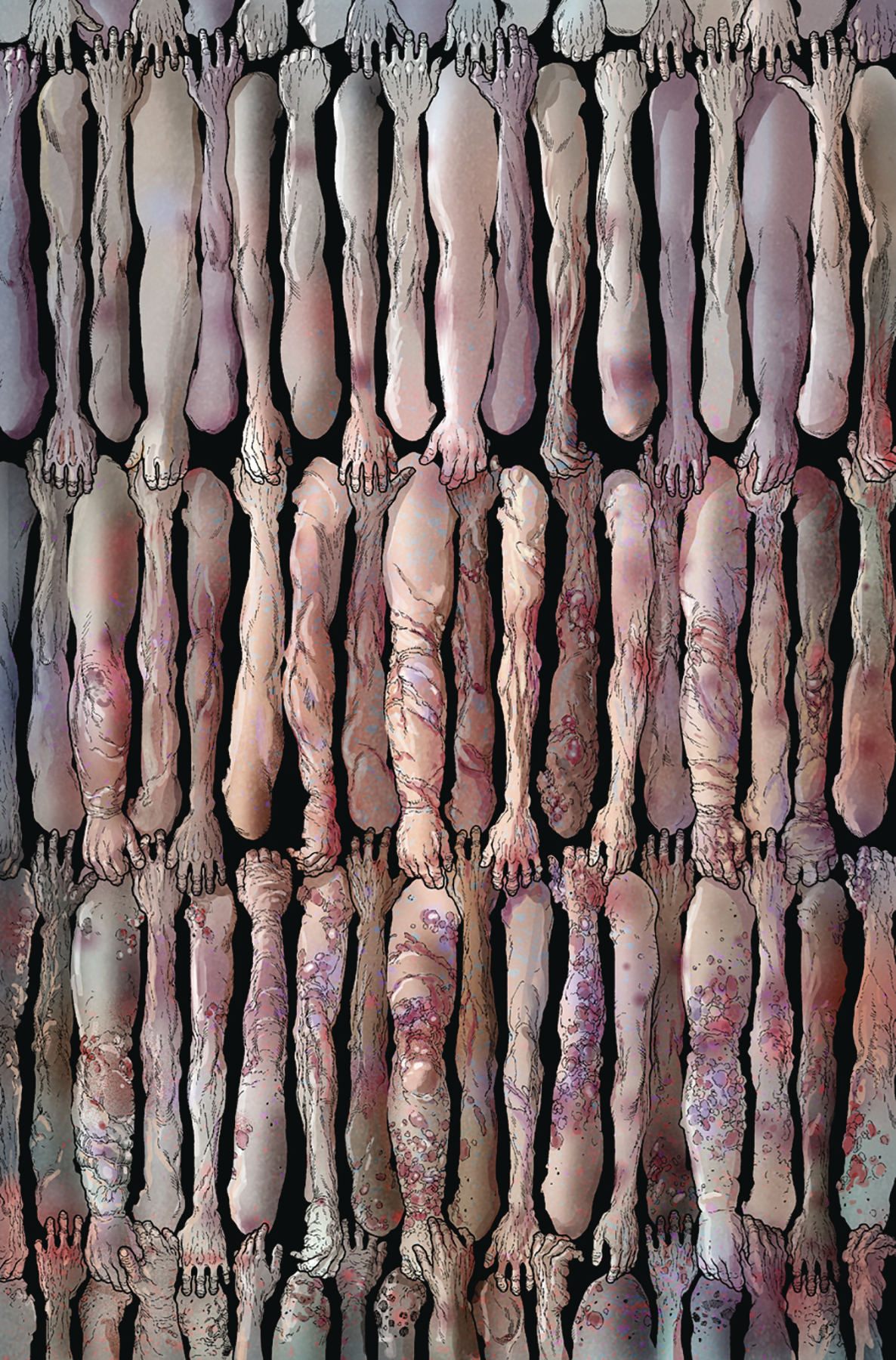 JUL181512
(W) Garth Ennis (A) Goran Sudzuka (CA) Andy Clarke
Shaw finally comes clean, and now McGregor knows what's gotten them trapped in a world of constant nightmare. But with understanding comes determination, and the pair begin their attempt to climb back towards the light. The missing agent Goss, meanwhile, discovers a particular horror all his own-and suffers what may the worst fate of all.
A new kind of horror story for modern America, written by Garth Ennis (JIMMY'S BASTARDS, Preacher, The Boys) and drawn by Goran Sudzuka (Y: The Last Man, Hellblazer) that HAD to be told at AfterShock!
In Shops: Sep 26, 2018
SRP: $3.99
WALK THROUGH HELL #1 2ND PTG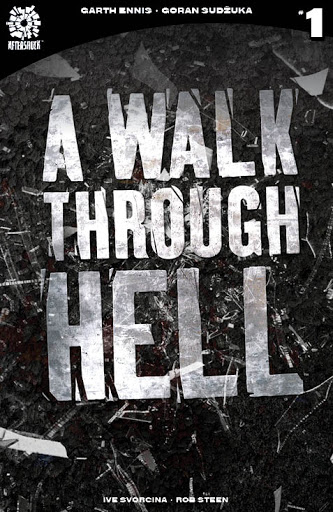 APR188575
(W) Garth Ennis (A) Goran Sudzuka
Second Printing !
So these two FBI agents walk into a warehouse…
Special Agents Shaw and McGregor handle the routine cases nowadays, which is just the way Shaw likes it. She's pushing 40, a borderline burnout, the ghastly memories of her last investigation still clinging like shadows. McGregor is younger, more dedicated, hanging onto some measure of idealism whatever the world might throw at him.
When two fellow agents go missing inside a Long Beach warehouse, Shaw and McGregor are sent to investigate. But what they find waiting is far from routine, as the local police have already discovered to their cost. Before the night is out, our heroes will encounter terror beyond their most appalling nightmares-in a place where the night may never end at all.
A new kind of horror story for modern America, written by Garth Ennis (Preacher, The Boys, Crossed) and drawn by Goran Sudzuka (Y: The Last Man, Hellblazer)
In Shops: Jun 20, 2018
SRP: $3.99
PESTILENCE STORY OF SATAN #5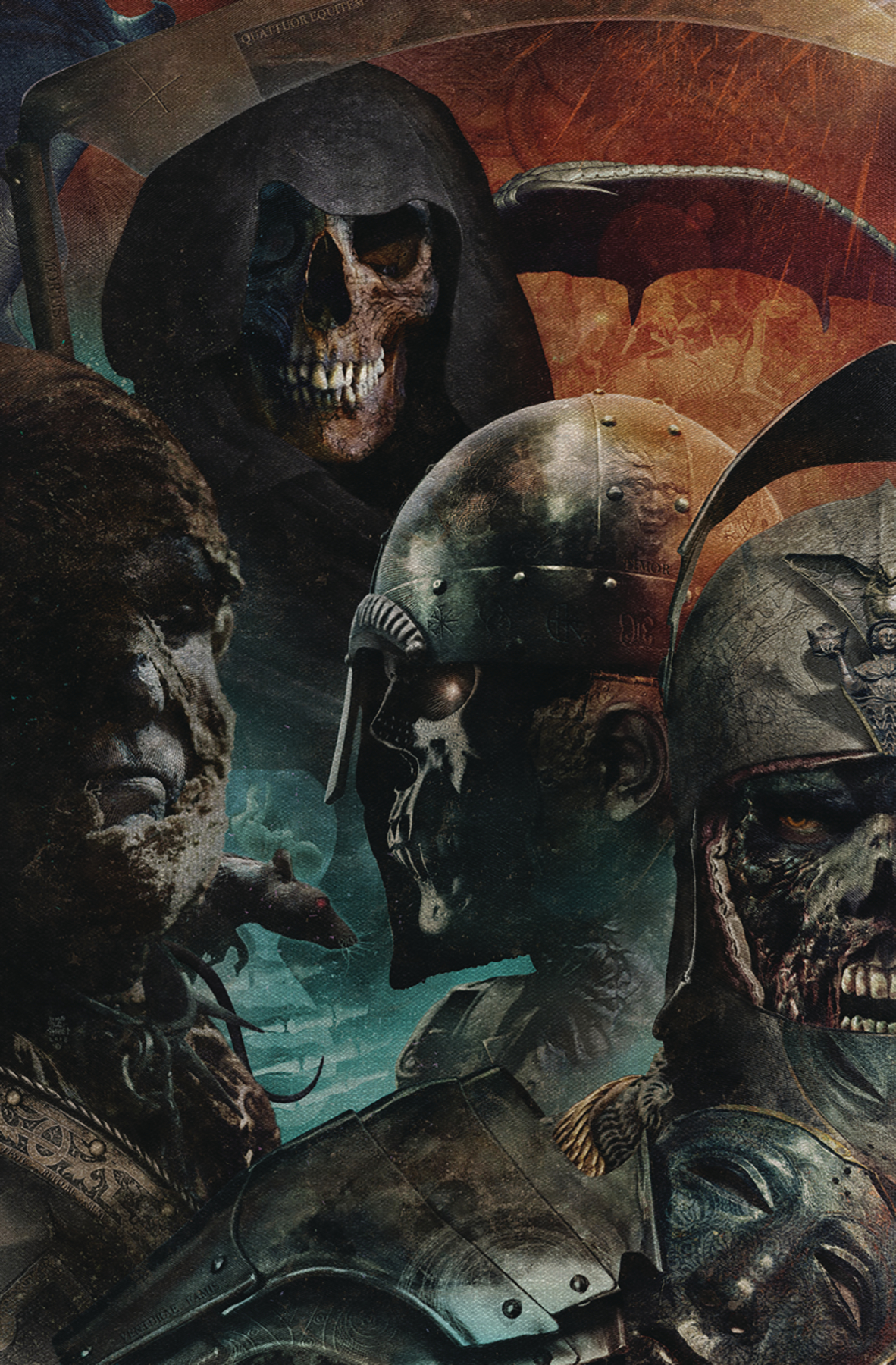 JUL181514
(W) Frank Tieri (A) Oleg Okunev (CA) Tim Bradstreet
This is it! The final confrontation between Roderick Helms & his group and Satan! Will the former members of Fiat Lux be able to stop the Dark Lord and his Black Plague…or will Satan's demonic forces march upon the Earth forevermore?
Find out in our startling conclusion–and watch as a member of Roderick's team makes the ultimate sacrifice.
Written by the master of violence, gore, and mayhem, Frank Tieri (Harley Quinn, Marvel vs Capcom, Wolverine, Deadpool), with spectacular art from illustrator Oleg Okunev, and covers by Eisner Award-nominated artist Tim Bradstreet (The Punisher, Hellblazer) comes the series that HAD to be told at AfterShock Comics!
"The truth about the Crusades is finally told and you'd be dead wrong to miss it. Great characters and detailed art make this a must read." -Patrick Hayes of SciFiPulse
In Shops: Sep 26, 2018
SRP: $3.99
CLANKILLERS #3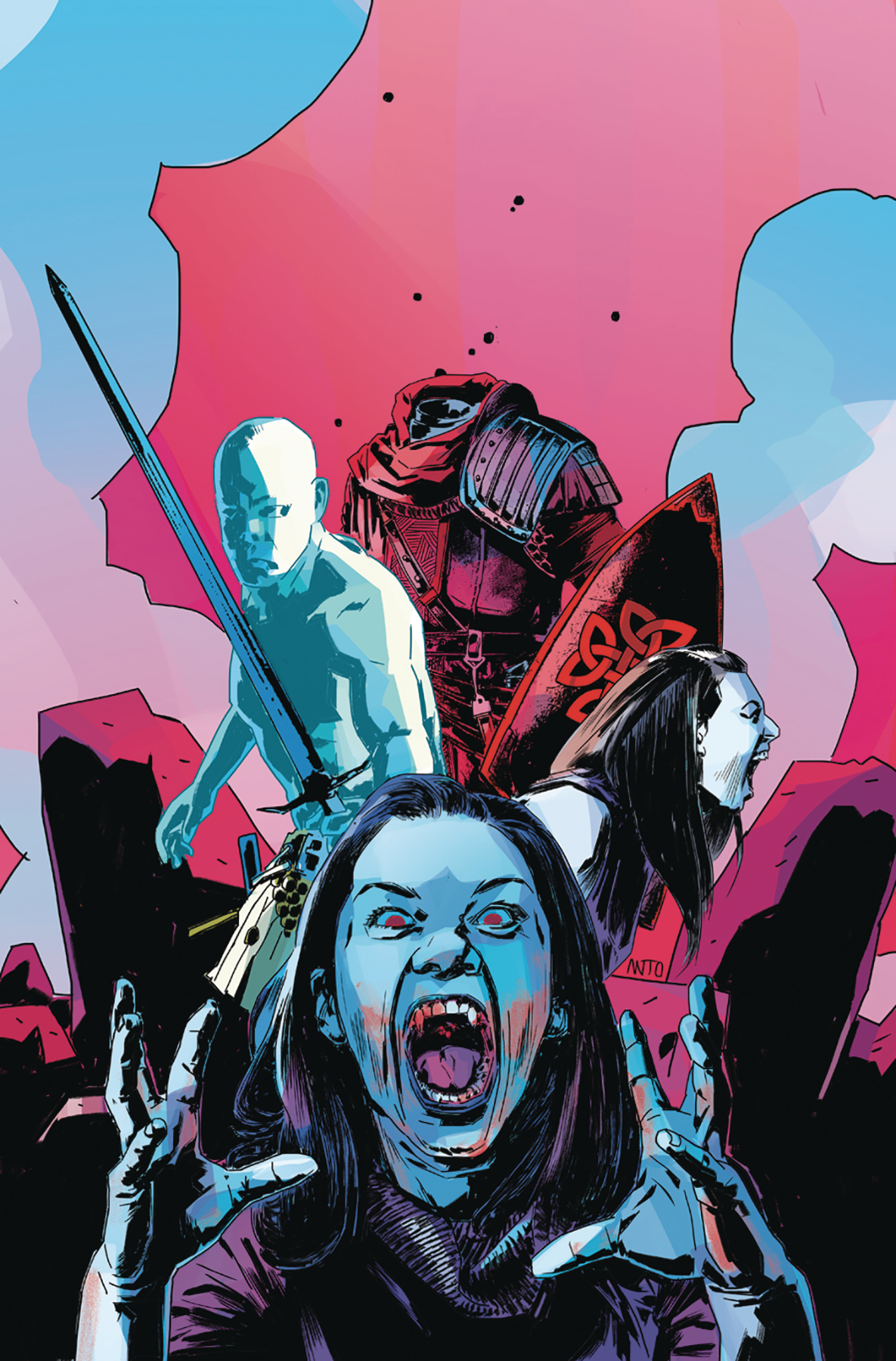 JUL181515
(W) Sean Lewis (A/CA) Antonio Fuso
Like the demented stepchild of Game of Thrones, Braveheart and Mark Millar's Kick Ass, CLANKILLERS brings readers into an ancient Ireland filled with clans, mystics, warriors and monsters of mythic proportion!
Your favorite medieval pair get into darker musings as Finola and Cillian find themselves face-to-face with the Ancient Dearg of Celtic myth. These powerful forefathers to Vampires do not take kindly to strangers, and especially not strangers who want to murder them dead. Meanwhile, Valor's whispers continue to play on Padraig the Grotesque as his daughters and kingdom wonder how long they can live in fear of a madman.
From writer Sean Lewis (BETROTHED, The Few) and artist Antonio Fuso (James Bond, G.I. Joe) comes a revenge thriller that's sure to become a fan-favorite.
In Shops: Sep 05, 2018
SRP: $3.99
DARK ARK #10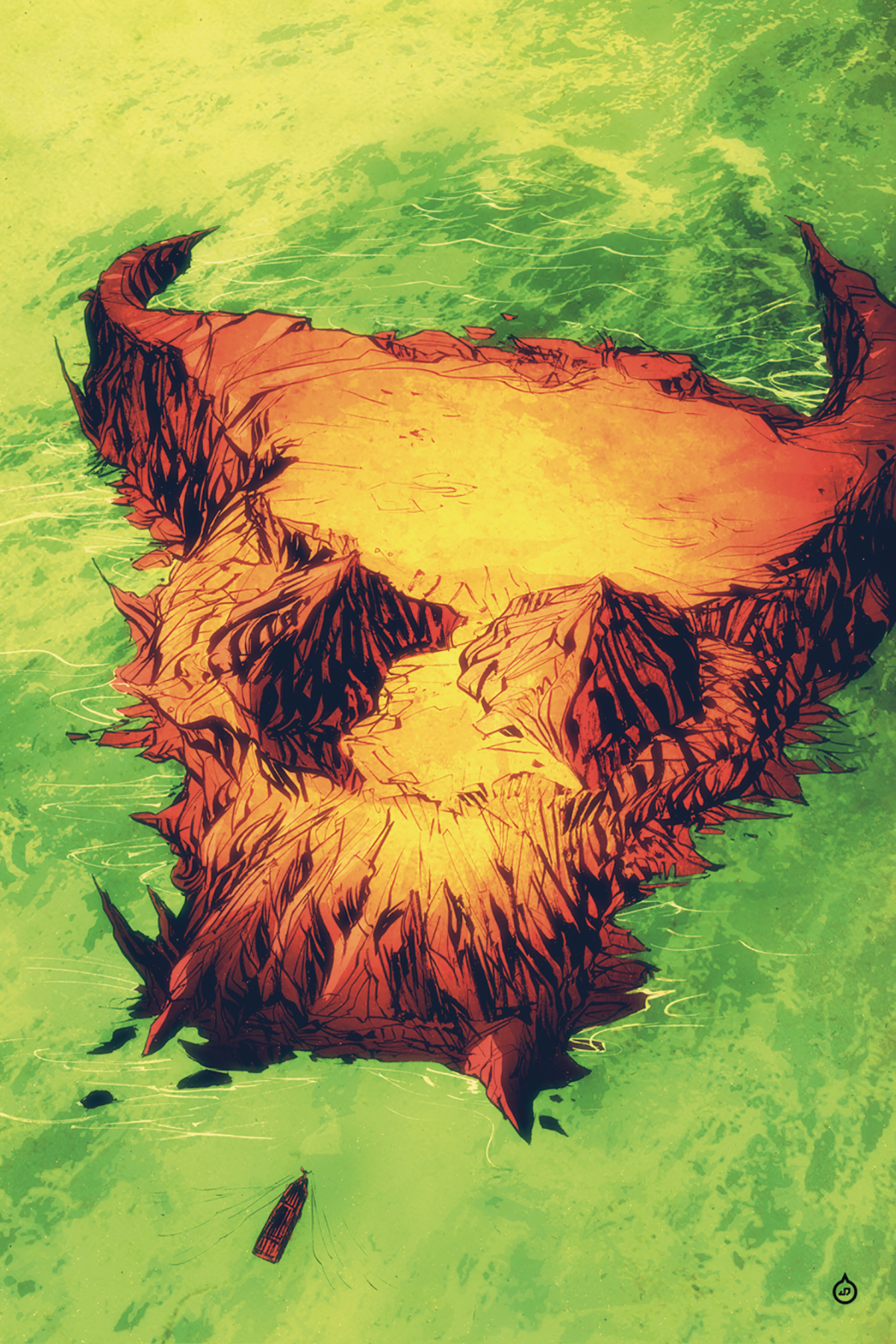 JUL181516
(W) Cullen Bunn (A/CA) Juan Doe
Echidna, the Mother of Monsters, rages against Shrae. Even as their battle draws to a deadly end, new life-both human and monster-is welcomed into the world. But what's that on the horizon? Could it be…land?
From writer Cullen Bunn (UNHOLY GRAIL, X-Men Blue, Deadpool, Venom) and artist Juan Doe (ANIMOSITY: THE RISE, AMERICAN MONSTER, WORLD READER) comes a sinister tale of biblical proportions that HAD to be told at AfterShock Comics!
  "Bunn, Doe, and Hill are a dream team, each contributing mightily to making this a fantastic book!" -Grant Stoye, Court of Nerds
In Shops: Sep 05, 2018
SRP: $3.99
MONSTRO MECHANICA TP VOL 01 FEB188095
(W) Paul Allor (A/CA) Chris Evenhuis
"Poor is the pupil who does not surpass his master." – Leonardo da Vinci
At the height of the Renaissance, warring factions vie for control of Leonardo da Vinci's destructive arsenal. The only thing standing in their way is Leonardo's young apprentice and her nine-foot tall mechanical bodyguard. Together, Isabel and the Machine must navigate a world of wicked men and war machines, determined to save Leonardo from the world-and the world from Leonardo.
From creators Paul Allor (Teenage Mutant Ninja Turtles) and Chris Evenhuis (Wynona Earp) comes this swashbuckling adventure story about war, identity and the birth of the modern world!
MONSTRO MECHANICA Volume One contains the entire adventurous first arc, issues 1-5.
"Writer Paul Allor and artist Chris Evenhuis take some liberties with the life of Leonardo da Vinci…but their sci-fi-tinged slant on Renaissance Italy truly pays off, with some gorgeous artwork and a compelling heroine making this a comic worth reading." – David Pepose, NEWSARAMA
In Shops: Sep 12, 2018
SRP: $14.99
COLD WAR TP VOL 01 FEB188093
(W) Christopher Sebela (A/CA) Hayden Sherman
Panacea Cryonics promised a life after death, by freezing the heads of their clients and reviving them in the near future, when technology would guarantee them a life free of disease and trouble. However, as clients are finally revived, they learn this corporate pitch was too good to be true-instead of stepping into a life of their dreams, they awaken into a never-ending nightmare.
The world is at war-and this recently revived group of every day people are handed a gun, body armor and an ultimatum. They must fight in this war, against unknown opponents and horrors, in order to secure their place in a brave new world that doesn't want them around.
And as these normal people survive wave after wave of technologically advanced horrors, they soon realize the answers to their questions are no comfort, and the future that they wanted might never be in sight.
From Christopher Sebela (Blue Beetle, Kiss/Vampirella, Evolution) and Hayden Sherman (The Few, John Carter: The End) comes an uncompromising science-fiction epic, as violent as it is beautiful. COLD WAR Vol 1 contains the entire pulse-pounding first arc, issues 1-5.
"Sebela turns the common tropes of war fiction on their head and, in the surreal and unsettling future built by Hayden Sherman's art, creates a core cast of characters made relatable by their discomfort and their longing for the world and families they've left behind." – C.K. Stewart, NEWSARAMA
In Shops: Sep 05, 2018
SRP: $14.99
(Last Updated
June 20, 2018 10:48 am
)
Related Posts
None found