When we got wind that Survios would have a demo of Creed: Rise to Glory available to try out at E3 in the Indie Cade area this year, we were stoked! VR boxing games are nothing new and have been around about as long as VR has, but the idea of getting about as close to an officially licensed Rocky game in VR is kinda cool.
In fact, the moment we put on the gear, we were transported to the gym where the Italian Stallion himself served as our trainer. You do a few workouts to get your skills up before diving into the ring. The game takes place after the film, so you're already used to boxing and the spotlight, you're now training to become better.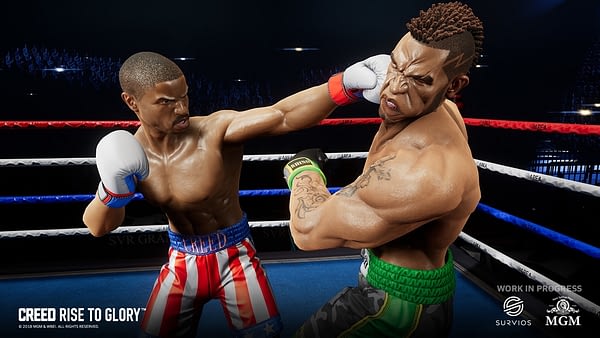 The demo we had put us against the Irish boxer you see in the gallery below. I myself have had some fight training, so I had an idea of what to do in the match. However, the AI is trained to look for a weakness in your patterns so even though we got this game's version of Glass Joe, we weren't knocking him out in 30-seconds. You have to do a combination of body blows, blocking, short jabs and times upper-cuts when you get an opening to make your opponent go down. We got our win in 1:03, just three seconds shy of scoring a free t-shirt, but that's okay. Creed: Rise to Glory is a damn fine demo on PSVR, but we're kinda curious to see how the full game will play out when it comes to Vive and Oculus later this year.
Enjoyed this article? Share it!