In my process of saying goodbye to author and personality Anthony Bourdain, I decided to rewatch all of his various travel shows and create a list of what I believe to be the essential viewing guide for his episodes. First on the list was A Cook's Tour, a series that aired on the Food Network for two seasons between 2002-2003.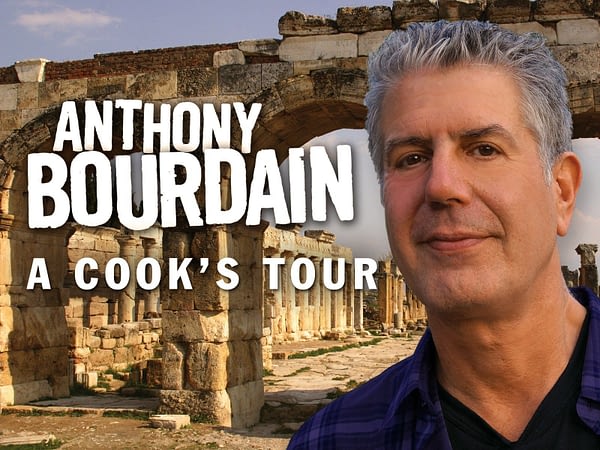 (I'll be splitting this series up into volumes of five episodes each, as the seasons are 20+. You can read about vol. 1 here.)
A Cook's Tour Season 1, Vol 2: Episodes 6-10
Epi 6- Cambodia and Japan:
*Anthony Bourdain heads to a village on the border of Cambodia and Thailand, because he wants to reenact his obsession with Apocalypse Now.
*They head to a Khmer Rouge 'stronghold' area, with a casino
*The boat makes a stop, and picks up some mysterious men in olive drab
*Tony calls them questionable
*Finally off the river, traveling overland results in so so many warnings of mines
*They reach Pailin, and Tony compares it to an old west saloon.
*Deeply disappointed with what they find at the hotel/casino, the crew heads back to Japan
*Soba- Tony watches a master make soba dough, and waxes poetic about the delicacy
*At a restaurant, a group of Japanese business folks bring Tony into their dinner group, and the change in his mood is almost immediate. He talks of the saki pouring being able to break down social barriers, and this is the type of scene he becomes famous for.
Semi-essential: Tony is bitter and focused in the first part episode, but you again see some of the hints of what his future presenter self will be. Wait until later soba-centric episodes to really see the appreciation of the dish. What's important in this one is what happens on the street in Japan — the business people pulling Tony into their group, drinking and eating. He really comes alive in scenes like this, surrounded by locals bringing him into their experience.
Epi 7- Portugal
*Tony asks his boss Jose what makes Portugal different than any other country.  The answer-
fish, nose to tail cooking, and focus.
*Jose takes Tony El Porto, "a very old city"
*The pair start with a fish head dish, at a working-class lunch place where Jose's cousin has his own table
*bacalhau (salt cod), bacalhau everywhere
*The difference in Tony's mood from Cambodia to here is night and day- he can really play off someone else's excitement and passion, like he does here with Jose
*Jose is working hard to bring Tony over to the world of tripe- which we know Tony doesn't like (yet)
*"I would be a full-blown tripe fan if I had been eating it like this," Tony says
*The city of El Porto is where port wine comes from, they talk about the history of the sweet wine
*While sharing a fabulous meal of octopus and sheep's milk cheese, Tony launches into one of his famous tirades against vegans, saying they should be hunted down and not allowed to pass on their genes to another generation
*"It's because if you can't enjoy a nice stinky runny cheese like this, you might as well kill yourself."
*A big storm hits, but the tour of wine country continues
*The meal they have at the end of the episode is just fabulous, and Tony says himself how much better he understands his boss now.
Essential: This episode, more than others in this first season, sets so much in motion for who Tony becomes. His boss's passion for his native food ultimately bringing Tony into the cult of offal, and allows him to be… more happy about food.
Epi 8- Basque Region, Spain
*The episode begins with Tony meeting Luis Irizar and his daughters at a cooking school, specializing in Basque cooking
*Luis takes Tony to an all-male gastro society
*Oh hey, even MORE bacalhau
*Seeing Tony in a kitchen that isn't his is pretty funny- his height comedic
*Soooo much hard cider, and then the singing
*Tony goes to a three star traditional Basque restaurant, Arzak
*Such gorgeous plating, really need to see a woman in such a position in a kitchen
*That egg dish, I need it.
*Few things in the world Tony enjoys more than black pudding, and hearing him talk about foie is great
*Can we please have chocolat and churros for breakfast all the time?
Not essential: While enjoyable and with a few moments of lightness in Tony's otherwise serious demeanor, this episode doesn't have quite the punch of the others.
Epi 9- Arcachon, France
*Rather than going to Paris, Tony goes to Arcachon, familial homeland of the Bourdains.
*Tony's father grew up in Arcachon, where Tony and his brother spent many a summer
*This city is important, because it's where Tony had his very first oyster, a moment that's stayed with him
*Joined by his brother Chris, the Bourdains revisit their childhoods. The pair haven't been in Arcachon in 25 years.
*"I'm not jumping immediately back into my past, I'm easing in."
*The nostalgia trip is going strong, the brothers visiting the home owned by their aunt when they were kids
*Nothing I can say can really present this episode better than it already does.
Essential: Absolutely essential. Maybe watch this episode before anything else, since Tony talks so much about his formative experience of his first oyster, the bite that sent him on his culinary career. His deep love of family, dedication to keeping traditions alive, and youthful lust for fun.
Epi 10- Portugal and Southwestern France
*Jose has joined Tony again for another part of Portugal for Jose's family's traditional "pork feast"
*Fireworks begin the feast, "A warning to vegetarians to stay away."
*Tony talks a lot in this episode about how protected he is in New York from the slaughter of the meat he uses, and how it was important to him to see where it comes from, the process
*Complete nose to tail cooking
*Mmm, prochutto making
*The feast of offal, completing the transformation from Tony's aversion of the lesser cuts of pig into delicious morsels
*Oh god and now the foie
*"I've been ordering this stuff for years, it's only fair I see the process."
*Tony's brother Chris joins him again, and they tackle veal head
Essential: More of the building blocks of Tony's personality, his first experience with the slaughter of an animal and the nose-to-tail use of the animal. For all his gruff and angry exterior, anytime you put Tony with a family, with a group of people who love each other, he really does come to life.
The guide will continue with Anthony Bourdain's A Cook's Tour season 1, vol. 3.
Enjoyed this article? Share it!