After a couple of months being in the dark, it appears we finally have a tentative release window for Pocket Rumble to come out on the Nintendo Switch. Today, a new video was loaded by Cardboard Robot Games about when Chucklefish will officially publish the game. Right now, it appears we'll be getting the game sometime in late July. You can check out the video below to hear about the problems they were addressing with the port as we patiently wait for an official release date to come.
Meanwhile, for those who haven't seen the game or are interested in the Switch version, here's a description.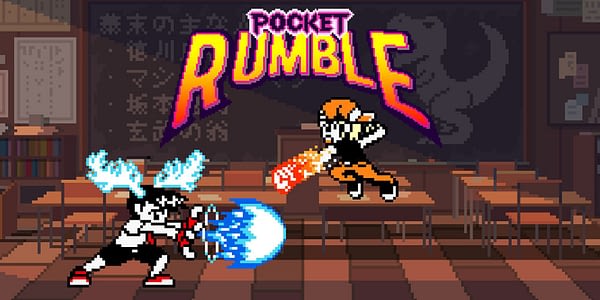 Pocket Rumble is a streamlined, beginner-friendly 2D fighting game inspired by SNK's classic fighters for the Neo Geo Pocket Color. It retains all the gameplay elements that make traditional Street Fighter-style fighters great, but reduces the level of execution and memorization necessary to the bare minimum. Experienced players can learn the game fast and be able to focus on deeper elements of strategy and mindgames, new players can learn the ins and outs of fighting games without being overwhelmed!

Simple, 2-button controls and universal, easy special move inputs with no complex joystick motions
On-screen frame data bar and visual indicators for properties like invulnerability help players understand fighting game mechanics and how individual moves work
Near-flawless online multiplayer with GGPO netcode
HD rumble support is a console specific feature
Enjoyed this article? Share it!