Tonight is the season 4 finale of The Flash, and the big question has been: how exactly do they defeat The Thinker, aka Clifford DeVoe (Neil Sandilands), in a way that he hasn't already thought of and planned for? That's been the problem all season. From the very beginning, ever since he figured out how to force Cisco (Carlos Valdes) and the rest of Team Flash to bring back Barry (Grant Gustin) from inside the Speed Force, he has been prepared. He knew exactly who to have on the bus, and where and when to create the perfect situation that would lead to his Enlightenment. Tonight is the culmination of that plan, and we have two sneak peeks into the episode… spoilers ahead.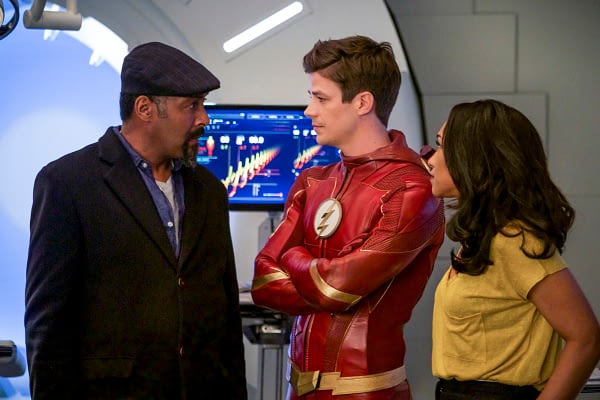 In the first clip we see that Marlize (Kim Engelbrecht) explains to the team that DeVoe chose all of the 12 metas to not only make his plan happen, but to have the powers no matter who Barry might call for help. She is convinced the only way to stop her husband is to go into his mind and find the good that was in him before it was warped by dark matter. And this wasn't something he should be able to prepare for, because he couldn't have foreseen Cecile (Danielle Nicolet) getting her psychic abilities… or could he? The second clip gives us the idea that he did indeed see all of it coming.
The Flash season finale airs tonight at 8 p.m. ET on the CW.
https://youtu.be/PmsXxD1wM9A
(Last Updated
May 22, 2018 6:30 pm
)
Related Posts
None found