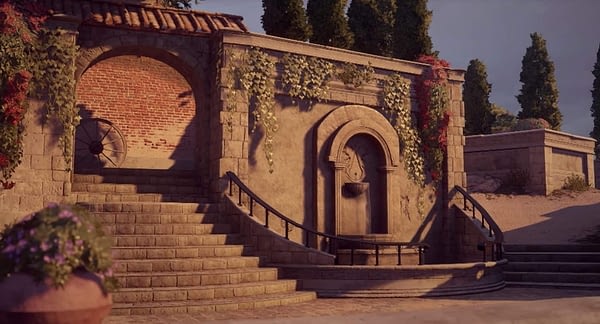 A new map coming to Tom Clancy's Rainbow Six Siege appears to make reference to one of Ubisoft's other mainstay franchises, Assassin's Creed. The Villa map comes with a water fountain that looks pretty familiar.
If you take a look at that water fountain, above the basin is a strikingly familiar logo. But the Assassin's Creed similarities don't end there. The Villa map is part of Rainbow Six's Year Three, Season Two update Operation Para Bellum, and features narrow tunnels, secret hatches, wide staircases, and destructible floors that can leave players fully exposed. The villa is owned by the Vinciguerra crime family. So yes, an Italian villa with secret passage ways and areas of complete open exposure? Seems like the R6Siege development team is re-playing Assassin's Creed II.
As IGN points out, at this point it is unclear whether the map will feature a larger nod to AC or if this is just a one-off easter egg.
However, the official map description might give us some clues, slim though they are:
The land belongs to the Vinciguerra, a dangerous crime family known for their smuggling activities. The house is their retreat, where they lead a lavish lifestyle and collect rare art pieces. Now we catch the villa in a snapshot of time: Vinciguerras are burning documents and transporting their holdings before the big raid. But they've got wind of Operation Para Bellum and fled, leaving everything in disarray with vital information ready for the taking.
You can check out the brand new trailer for Rainbow Six Siege, which includes the new Villa map, below.
Enjoyed this article? Share it!