Once upon a time, there was an artist called Todd McFarlane. Called upon to design the character of Venom, the black Spider-Man symbiotic alien suit now bonded with a new host Eddie Brock, he created a nightmare vision. Bigger, stronger, wide-mouthed, with successive appearances he became more and more extreme, something the likes of Erik Larsen and Sam Kieth would take on as well.
He left Marvel (along with Erik Larsen and others) and set up Image Comics, publishing the series Spawn. And there were definitely some noted similarities between Spawn and Venom, the fluidity and the sentience of his costume, black, with large white eye spaces, and the host/symbiote relationship preserved, given a supernatural rather than a science-fiction origin. But there was more to the character than that – especially when McFarlane hired comics writers to help flesh things out.
That included Alan Moore who gave him the idea of there being many Spawns and Neil Gaiman who brought one of them to life, Medieval Spawn, showing a richer legacy to the character going back centuries.
And with Venom #1, Marvel looks like they are bringing some of that back to their comics.
The origin of the symbiote came from Marvel Super-Heroes Secret Wars in the eighties, an alien costume found by Spider-Man that bonded to him, created webs and, on returning to Earth, having a mind of its own. The recent Deadpool's Secret Secret Wars revealed that its peculiar mindset may have come from having been bonded briefly with Deadpool first.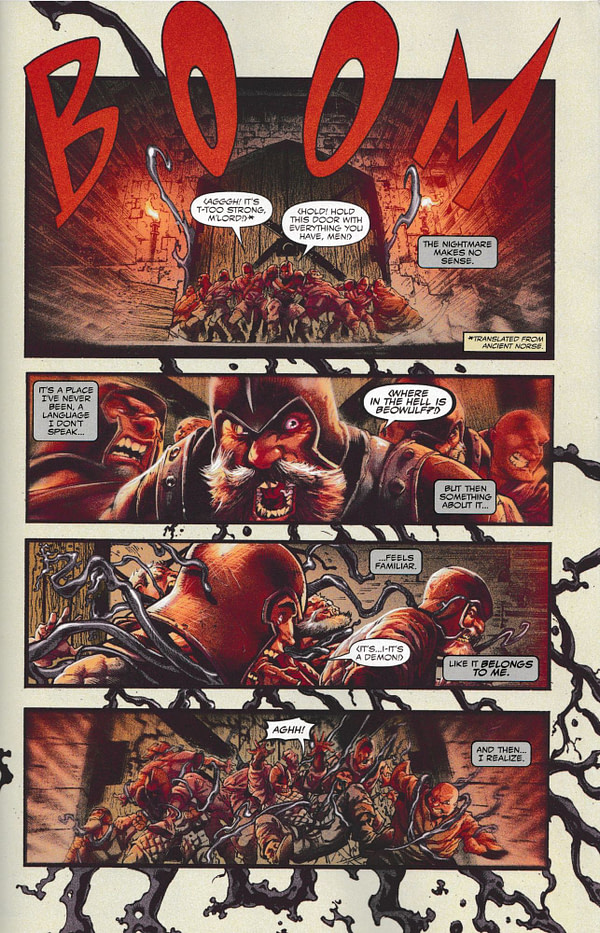 But Venom #1 reveals that the symbiote has been on Earth before. And has his own Dark Ages past, a contemporary of Beowulf. And is starting to remember. Because something is coming…
It's not just ancient times either, we discover that there is a more contemporary past for other alien symbiotes bonded to humans on Earth as well.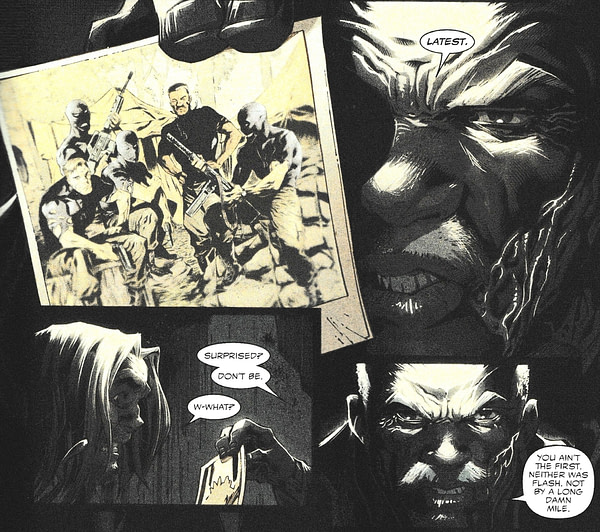 And it's also not just the plot as well, artists Ryan Stegman, JP Mayer and Frank Martin do their best to recreate those McFarlane years with the art style – and even the Sam Kieth years with the hand-drawn lettering effects. Stegman's greatest influence is Todd McFarlane, and with Donny's similar influences, you getting something even more McFarlaney that even Todd managed to create. Given all this, it's odd to think that this run wasn't the one lined up for Marvel Legacy last year.
And then the comic book turns left into something closer to that of another Spawn writer Grant Morrison's book Nameless, with Venom becoming host to something new, something even more alien and otherworldly.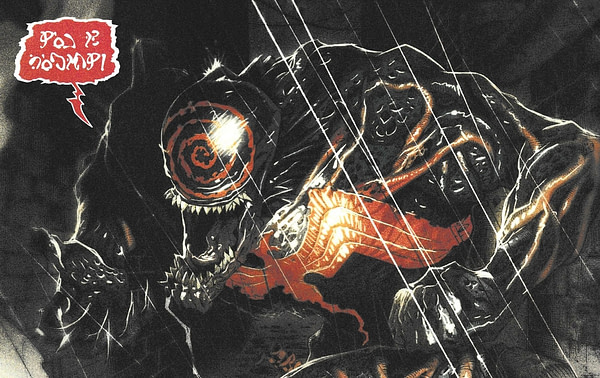 So yes, this is a monster of a book, ancient and recent history, alien and supernatural threats tied into all that and one man whose thoughts are no longer his own, trying to find a way through, carrying the burden that he often fails on his broad shoulders. Just without skulls on his shoulders.
Venom #1 is published by Marvel Comics tomorrow.
VENOM #1
(W) Donny Cates (A/CA) Ryan Stegman
A NEW SERIES BY DONNY CATES & RYAN STEGMAN!
In the wake of S.H.I.E.L.D.'s collapse, an ancient and primordial evil has been awakened beneath the streets of New York, and with it, something equally evil has awakened in that most Wicked of Webslingers – VENOM! Still a Lethal Protector of the innocents in New York, this never-before-seen threat could force Venom to relinquish everything it holds dear – including Eddie Brock! Join two of the hottest creators in comics today, Donny Cates and Ryan Stegman, for a VENOM adventure a thousand years in the making!
Rated T+ In Shops: May 09, 2018
SRP: $4.99