As dangerous as The Bluths can be on their own, fans of Netflix's Arrested Development are about to get a brutally hysterical reminder that the family that dysfunctions together, functions together. Creator Mitch Hurwitz's twisted take on family comedies returns to the streaming service for a fifth season on May 29th.
From the looks of the official trailer below and some exclusive pics courtesy of our friends at Entertainment Weekly, the family is going out of its way to give new meaning to "unhealthy relationships" — starting with the pic above, where Buster (Tony Hale) appears ready to go "startled Terminator" on an equally scared Michael (Jason Bateman).
Here's a look at the upcoming season of Netflix's Arrested Development:
https://youtu.be/gXg2_yExgVY
This time the Bluths are all together. Whether they like it or not.
Not sure what scam/persona Maeby (Alia Shawkat) is going for, but she pulls off the "old-young person" look pretty well — the smorgasbord of meds helps.
All you need to do is look at this image of Gob (Will Arnett), Lucille (Jessica Walter), and George Sr. (Jeffrey Tambor), and read the front of the podium to know there's something shady going on here.
Four words (minus her real name, but I hope you knew that) that should terrify any decent-minded voter: Lindsay Bluth (Portia de Rossi), elected official.
I went from impressed to very, very disturbed once my brain fully processed what I was seeing in this pic of George Michael (Michael Cera).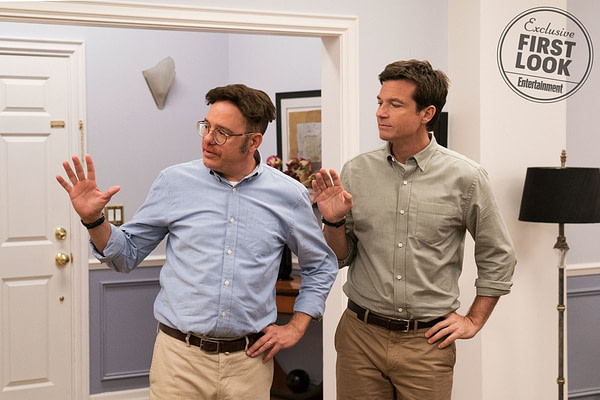 See, this is why Tobias (David Cross) is the most disturbing character on the show: while everyone's focusing on the next chapter in his book of really bad hair choices, no one seems to be appreciating the fact that Tobias is pulling a Single White Female on Michael — and there's just no way that could ever end well.
After a season of separate adventures, the Bluths are back in town — and burning it down — when Arrested Development season 5 premieres May 29th on Netflix.