Krypton started so simply, after watching Val-El (Ian McElhinney) get executed for heresy, we got to see Seg-El (Cameron Cuffe) work with his buddy Kem (Rasmus Hardiker) to con a few big guys out of some cash. This was the young, rankless Seg who was having a secret affair with Lyta-Zod (Georgina Campbell) and helped his parents get by. All of that changed when Adam Strange (Shaun Sipos) showed up… now seven episodes later things have turned completely upside down, and most of what fans expected from the series has been much crazier.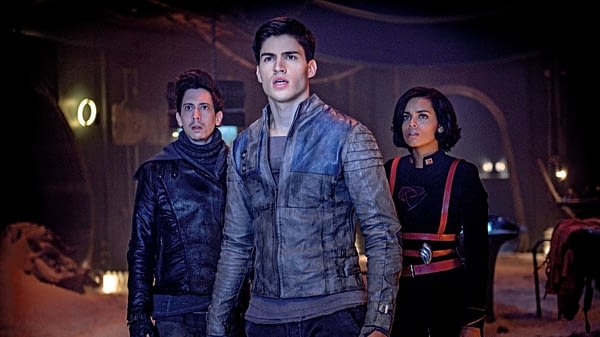 As the season has gotten crazier and deeper into the house politics and Brainiac storyline, the character of Kem has pulled back a little. He finally popped up again in the week seven episode where he helps get a healer for Dru-Zod (Colin Salmon) and uses his bar as the place for everyone to meet, but it looks like he's going to get a bit more screen time next week in a new sneak peek for episode 8.
Here we see Kem talking to one of the servants for the Voice of Rao, who is now Brainiac. He finds her hiding in the streets, afraid of what the Voice has become. Kem just cares about what has happened to Ona (Tipper Seifert-Cleveland) the little girl the he tried to help earlier.
Krypton airs Wednesdays at 10 p.m. ET on Syfy.
(Last Updated
May 5, 2018 11:12 am
)
Related Posts
None found