This article contains spoilers for Krypton season 1, episode 7, 'Transformation'.
.
.
.
.
.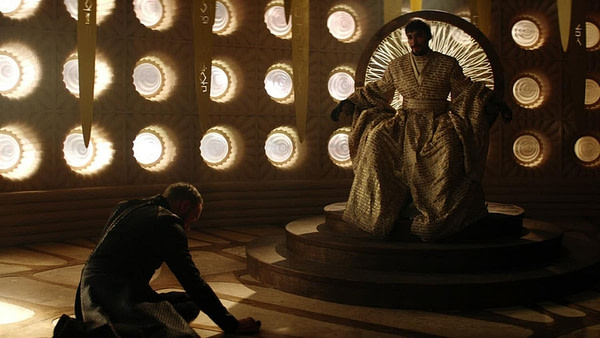 The episode kicks off with the failed coup against the Voice of Rao as he reveals he is indeed Brainiac (Blake Ritson). It appears only Jayna (Ann Ogbomo) escapes — Dev-Em (Aaron Pierre) isn't as lucky. Brainiac then has Daron-Vex (Elliot Cowan) brought in and gets him to confess to being part of the coup and naming the other conspirators, allowing Daron to work for him and to execute the others… including Nyssa (Wallis Day).
Meanwhile, Seg-El (Cameron Cuffe) and Lyta-Zod (Georgina Campbell) get General Zod (Colin Salmon) back to the bar, where Kem (Rasmus Hardiker) catches them up on what's been happening in the city and calls for a healer for Zod. They're told that Jayna is being called the leader and is being hunted while Nyssa has been arrested and will be publicly executed. Lyta is going to go find her mother while Seg is going to try to help Nyssa. When asked by Lyta why, Seg reminds her that Nyssa was willing to help her when he asked.
Daron goes to Nyssa's room where she is under guard. He tells her that he's sorry and then shoots her — except it's a hologram, and she gets the drop on him. That's when Seg arrives and argues with the guards outside that he wants to see his betrothed. Nyssa has Daron tell the guards to let him in, and then the two interrogate Daron to find out what's going on. Daron gets loose and calls the guards. They knock him out and then take out the two guards, taking their uniforms and using them to escape the building.
Back on the streets they strip out of the guards' uniforms, and we find out that Nyssa learned to fight from her ex-girlfriend. She doesn't understand why Seg would try to help her, and she awkwardly thanks him. They are spotted by a search patrol and run for it.
Lyta is sneaking out of the city when she is found by Dev… who is surprisingly not dead. They have a moment about her saying she loved him and she does the whole "as a friend" thing. He thanks her for caring enough to lie to him. They buy supplies and head to the Outlands, where they find Jayna — and it turns out (surprise, surprise) Dev has been infected by Brainiac. He attacks. Lyta kills him and the two head back to the city. On their way back they come across Seg and Nyssa, who had been caught by the search party. They take out the search party and all four head back to Kem's.
Daron reports to Brainiac that Nyssa escapes and Brainiac doesn't seem surprised, but knows Daron isn't lying, so he lets him live. Daron brings up the end of the Nova Cycle, where the Voice of Rao would extinguish the living flame. He suggest that Brainiac should do that to keep the people of Kandor in check. Brainiac agrees but says he needs no additional guards and brings in the soldiers who had attacked him. They are now all under his control.
Back at Kem's, General Zod is better thanks to the healer. Jayna doesn't trust him yet, but his answers are very much House of Zod answers of course. They talk about a plan to deal with Brainiac, and Seg comes up with best one: to attack him at the end of the Nova Cycle ceremony. They can't kill him with the weapons they have, but they can get him angry enough to reveal his true nature in front of all of Kandor, then the citizens would rise up with them. It's a very good plan… except during the ceremony one of his disciples calls him out as a monster. He stops the guard and tells everyone that she is right, that he has transformed… transcended into Rao himself, stepping into the living flame to prove it, and telling everyone that he's going to lift them up into immortality. And by revealing himself, Seg's plan goes out the window and he now has all of Kandor behind him.
While all this is happening, we can't forget about Adam Strange (Shaun Sipos), who heads back to the fortress to get the hologram of Val-El (Ian McElhinney) to help him fix the Zeta Beam Projector. He puts it into the scanner, and Val comments about how Adam seems to have picked up the workings of the fortress computer quickly. They talk while Adam drinks — he plans to go home to find someone else to try to save Superman. He comments about all the nicknames the Man of Steel has and how true heroes have nicknames… and he doesn't have one. Val is surprisingly supportive for a hologram program, but he actually brings Adam around to the point where he comes up with a plan to still save Superman… and once the projector is fixed, he erases the whole conversation from Val's memory banks and heads off to Kandor.
And in seven episodes the series set us up for what we thought was happening then flipped the script multiple times, giving us what we have now. Seg and Zod working together against Brainiac to save Kandor, which could cost the Earth its greatest champion — unless Adam can change that. This is not what we signed up for, and damn, it's good. This is one of the few comic shows on television that isn't constricted by fan expectations. We know General Zod, we know Brainiac, and we know Adam Strange — but everything in this universe is fresh. If the viewers want Superman to end up on Earth, then they have to root for Brainiac to steal Kandor and destroy the planet. That is really ambitious storytelling.
Also, fans of Da Vinci's Demons should enjoy the scenes between Cowan and Ritson. The two didn't get to work together much on that series, but both were standouts there and now seem to be having fun working together here. How long before we get a Tom Riley appearance?
And looking at next week's previews… the moment that Adam fires up the Zeta Beam. Is he going to take Seg back to Earth to show him what Superman means there? It's a hell of an idea.