We are getting near the end of the season for Arrow, with only four episodes left counting tomorrow night. We know that there are two guest appearances of old characters scheduled, including one in the season finale, and we know the titles of the final four episodes. TVLine's May Sweeps/Season Finale teasers gives us a new clue to ponder… spoilers ahead.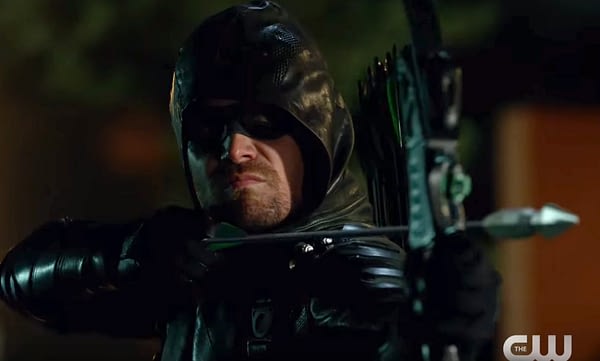 This weeks episode Shifting Allegiances feels like it's going to set the table for what happens the rest of the way and then there is Docket 11-19-41-73, which brings back season one regular Colin Donnell as Tommy Merlyn. Donnell has popped up a couple times over the years in flashbacks, hallucinations, and as an Earth-X doppelgänger… how he's going to be appearing here is unknown, but Stephen Amell has said that Donnell gets "something to chew on." The penultimate episode is called 'The Ties that Bind' and has Diaz (Kirk Acevedo) going after family members and Felicity (Emily Bett Rickards) putting herself in danger to try and stop him.
As for the finale, it's called 'Life Sentence', and I have made my speculation that this ties into Oliver being publicly outed and possibly going to jail, with that being how we start season 7 as a take on the never-produced Green Arrow: Super Max movie. We know that Caity Lotz will be appearing as Sara Lance and that the show is going to set up season 7 with a twist that Amell describes as, "more so than anything we've ever done… that we can never undo." Hence my thought on prison. But the new clue is that Amell had to repeat wardrobe that he specifically wore in season 1, episode 5…
That particular episode was called Damaged and had Oliver arrested for being the Hood. This was something he set up to happen because eventually someone would put his return together with the arrival of the Hood and ask questions. He insisted on Laurel (Katie Cassidy) on being his lawyer, he got released with an ankle monitor, and threw a big party at the mansion while Diggle (David Ramsey) wore the hood for the first time and took out a gun dealer, clearing suspicion of Oliver. On the Island, this was when he first started learning to shoot an arrow. The only wardrobe thing he wore that seemed to be unique to the episode was the ankle monitor. Make of that what you will.
Arrow airs Thursdays at 9 p.m. ET on the CW. The season finale is May 17th.
(Last Updated
April 25, 2018 4:09 pm
)
Related Posts
None found