Bethesda has announced that Wolfenstein 2: The New Colossus is set to land on the Nintendo Switch in a couple months.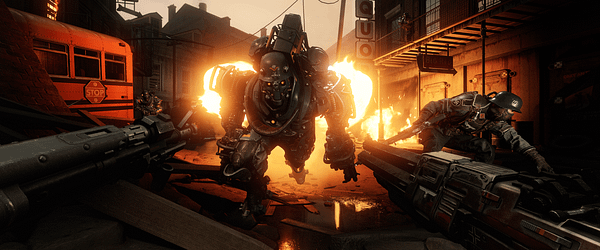 Wolfenstein 2: The New Colossus was a pretty wild ride. The game is really quite something to behold, full to the brim of harrowing drama, oodles of style and some truly bizarre plot twists that have to be seen to be believed. It's a game that really goes for it in a way AAA games don't usually and you really should check it out if you get the chance.
That is about to become easier too as soon you will be able to take the game on the move. Bethesda has revealed that Wolfenstein 2: The New Colossus is going to be finally landing on the Nintendo Switch on June 29, 2018. That's not so long to wait, and to hold you over, here is a trailer for the port. It's been handled by developer Panic Button, and if the gameplay is to be believed here, it seems like a decent job. Take a look:
The idea of playing Wolfenstein 2: The New Colossus in public is certainly an interesting one. There is some pretty intense imagery in the game, so if you are on that bus to work, you might want to check there are no young eyes prying. At the same time, it's great that the game now has portability. Nothing like killing Nazi's on the go.