A gigantic dinosaur head snapping its jaws isn't the sort of thing we'd like to see first thing in the morning (especially after that time we got drunk and woke up in bed with a pterodactyl – talk about morning breath), but Bleeding Cool roving ace reporter Denzel Eslinger is snapping photos from the show floor at Cinemacon, and he captured exactly that in the form of this new Jurassic World: Fallen Kingdom standee. Scary!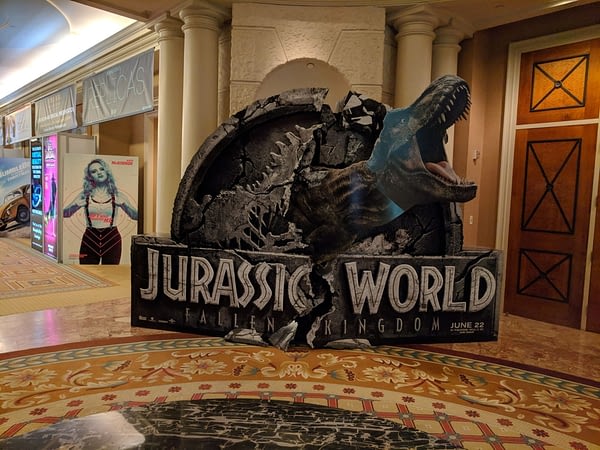 Jurassic World: Fallen Kingdom, the fifth entry in the Jurassic franchise, is directed by J.A. Bayona, stars Jeff Goldblum, Chris Pratt, Bryce Dallas Howard, Toby Jones, James Cromwell, Ted Levine, Geraldine Chaplin, Rafe Spall, B.D. Wong, and Justice Smith, and will hit theaters on June 22. If you're heading to the movie theater between now and then, watch out for biting dinosaurs, as this standee could show up in a theater near you soon.
Enjoyed this article? Share it!