Last week, IDW and Oni Press came together at C2E2 to announce a special Rick and Morty comic book crossover event with Dungeons & Dragons, and that the lucky soul who would get to pen this creation would be Patrick Rothfuss. Since then, we haven't heard much about the details beyond the idea that it was happening and that it will be released sometime this August. Well, until today, with Rothfuss himself addressed it the much talked about the comic book on his blog. While addressing his schedule and what he's working on, he lightly touched on the comic saying:
I get invitations to be involved with a lot of projects these days, and I say no to the majority of them. It's my job to say no to things these days so I can focus my energies on essential things, and as a result, I've passed on some really cool gigs over the last couple years.

But when this got offered to me, I really couldn't say no.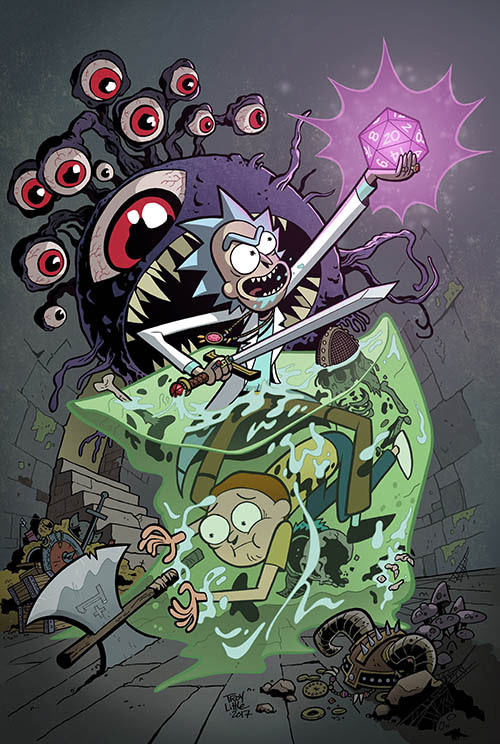 Rothfuss basically has one of the busiest schedules you could have as a writer these days, jetting around to signings and special events (like his most recent appearance at PAX East for Acquisitions Incorporated and his own panel), not to mention we're sure the insane writing schedule he's keeping working on various projects. Like any good writer, he didn't give away any details to the story, but we do think the title of his entry, R&D&D would be a great title. We also thoroughly enjoy his response about doing this comic in the press release that was sent out last week.
When asked for a quote about the project for the press release, and how I felt about being responsible for bringing together Dungeons & Dragons and Rick and Morty, here's what I said:

"That's some serious you-got-chocolate-in-my-peanut butter $#!& right there. I'm in. I'm all the way in. I'm gettin' that chocolate all up in the peanut butter. Like, deep in. All the way in. It's going to be sticky and delicious."

So… yeah. I think the moral of the story is that you shouldn't ask me to contribute to press releases.