It's rare to see so many current and former Image partners in one place at the same time as in this month's July Solicitations from Marvel Comics. Robert Kirkman, Eric Stephenson, Eric Larsen, Jim Lee, Marc Silvestri, and Rob Liefeld all appear at least once in the listing of comics and collections to be published by Marvel this July.
Deadpool creator Liefeld appears via variant cover for Astonishing X-Men #13, which launches a new storyline with a new creative team for the book:
ASTONISHING X-MEN #13
MATTHEW ROSENBERG (W) • GREG LAND (A/C)
Variant Cover by Rob Liefeld
VARIANT COVER BY MIKE DEODATO JR.
A NEW ERA BEGINS NOW!
The Reavers are back, and they have a new weapon that only Havok knows about. It's going to take a ragtag group of X-Men to save a world that hates and fears them! But after his villainous turn, can any of the X-Men really trust him? Can he blame them? Havok! Beast! Dazzler! Warpath! Colossus! It's an all-new, all-different kind of X-Men story from the minds of Matthew Rosenberg (PUNISHER) and Greg Land (INCREDIBLE HULK)!
32 PGS./Rated T+ …$3.99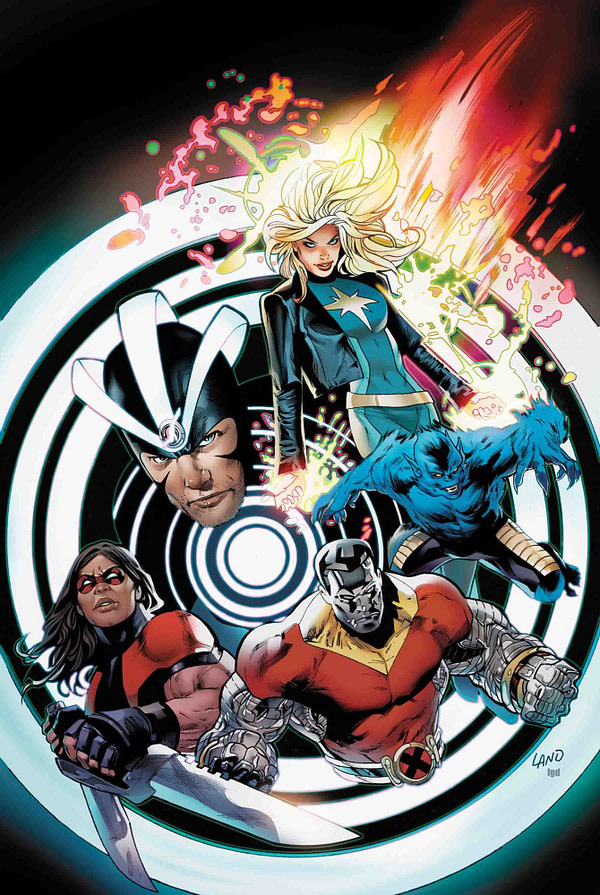 DC Co-Publisher Jim Lee shows up in a TPB reprinting of Heroes Reborn: Fantastic Four:
HEROES REBORN: FANTASTIC FOUR TPB (NEW PRINTING)
Written by JIM LEE, BRANDON CHOI
& SCOTT LOBDELL
Penciled by JIM LEE, BRETT BOOTH & RON LIM
Cover by JIM LEE
ON SALE AUGUST 2018
Marvel's greatest heroes reimagined! In 1996, the hottest creators of the day teamed up to reinvent and reinvigorate Marvel mainstays Captain America, Iron Man, the Avengers and the Fantastic Four. Seemingly killed off in the mainstream Marvel Universe, these classic heroes were reborn with bold new looks on a brave new world, their origins re-envisioned with a raw vitality and contemporary sensibility. The reborn Fantastic Four faces menaces from the earth, the sea…and the nation of Latveria! But even the Mole Man, Namor and Doctor Doom himself pale before the threat of Galactus and his Heralds! Featuring the Heroes Reborn versions of the Avengers, S.H.I.E.L.D. and more! Collecting FANTASTIC FOUR (1996) #1-12
336 PGS./Rated T …$29.99
ISBN: 978-1-302-91333-5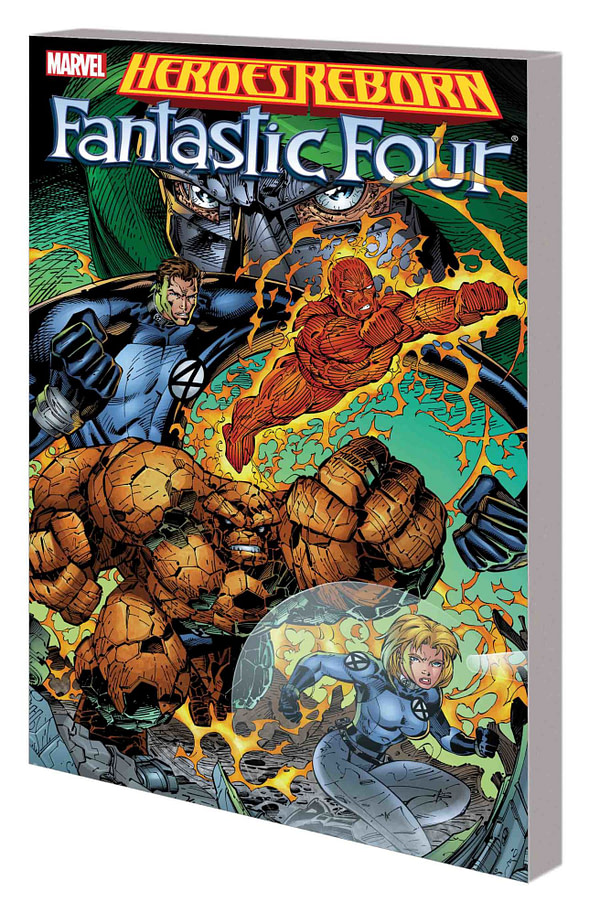 Marc Silvestri's art is part of the near-1000-page Mutant Massacre Omnibus:
X-MEN: MUTANT MASSACRE OMNIBUS HC
Written by CHRIS CLAREMONT, LOUISE SIMONSON, JO DUFFY, WALTER SIMONSON, ANN NOCENTI,
ROGER STERN, TOM DEFALCO & JIM SHOOTER
Penciled by JOHN ROMITA JR., BRET BLEVINS, RICK LEONARDI, ALAN DAVIS, BARRY WINDSOR-SMITH,
BUTCH GUICE, MARC SILVESTRI, TERRY SHOEMAKER, WALTER SIMONSON, DAVID MAZZUCCHELLI,
TOM GRINDBERG, SAL BUSCEMA, JON BOGDANOVE & KEITH POLLARD
Cover by JOHN ROMITA JR.
The first X-Men crossover event — and still the most brutal! When Sabretooth and the lethal Marauders attack the underground outcasts known as the Morlocks, the X-Men, X-Factor and New Mutants join forces to stop them — with help from Thor, Daredevil and Power Pack! But the cost of victory is high, and many X-Men come away badly injured. While Shadowcat might be saved with the Fantastic Four's help, the Angel contemplates a much bleaker fate! Psylocke, Longshot and Dazzler join the undermanned X-Men — just in time to clash with the Avengers — as Marvel's mutants struggle to recover and rebuild! Collecting UNCANNY X-MEN (1981) #210-219, X-MEN ANNUAL (1970) #11, X-FACTOR (1986) #9-17 and ANNUAL #2, NEW MUTANTS (1983) #46, THOR (1966) #373-374 and #377-378, POWER PACK (1984) #27, DAREDEVIL (1964) #238, FANTASTIC FOUR VS. X-MEN #1-4 and X-MEN VS. AVENGERS #1-4.
952 PGS./Rated T …$100.00
ISBN: 978-1-302-91424-0
Trim size: oversized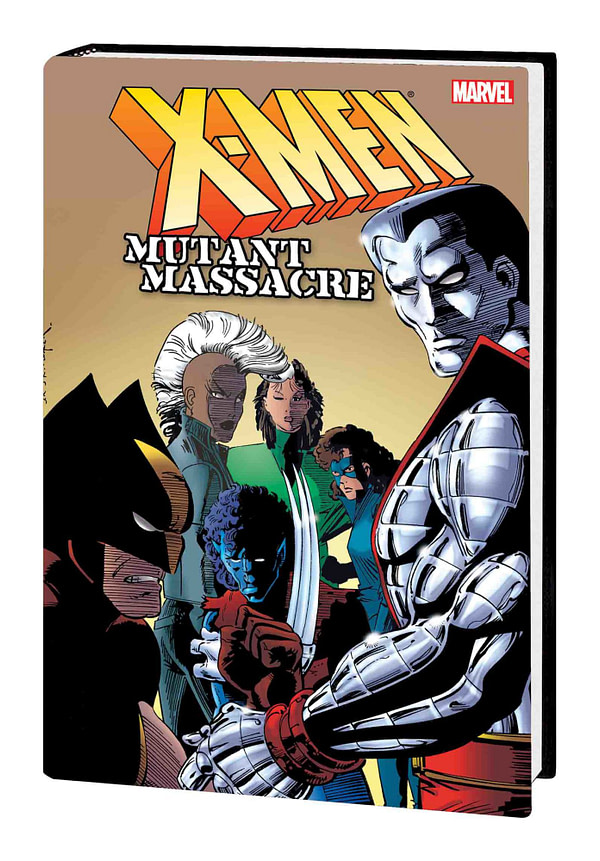 While both Erik Larsen and newest Image partner Eric Stephenson are part of the collection of Fantastic Four: World's Greatest Comic Magazine:
FANTASTIC FOUR: THE WORLD'S GREATEST COMICS MAGAZINE TPB
Written by ERIK LARSEN, ERIC STEPHENSON,
TOM DEFALCO, KURT BUSIEK, STAN LEE & MORE
Penciled by ERIK LARSEN, KEITH GIFFEN,
JORGE LUCAS, FRANK FOSCO, RON FRENZ & MORE
Cover by ERIK LARSEN
ON SALE AUGUST 2018
Stan Lee and Jack Kirby's legendary run on FANTASTIC FOUR lasted more than one hundred issues — and ended all too soon! Now, witness the continuing adventures of Marvel's First Family, told as if Stan and Jack never left the book! Some of comics' most talented creators join forces in this time-tossed tribute to the original Imaginauts! Featuring Doctor Doom, the Avengers, the X-Men, Thor, the Hulk, Daredevil, Black Panther, the Inhumans, the Sub-Mariner, the Silver Surfer, M.O.D.O.K., Annihilus and more! It's an action-packed celebration of everything that made Stan and Jack's FANTASTIC FOUR truly the World's Greatest Comics Magazine! Collecting FANTASTIC FOUR: WORLD'S GREATEST COMICS MAGAZINE #1-12.
280 PGS./Rated T …$24.99
ISBN: 978-1-302-91337-3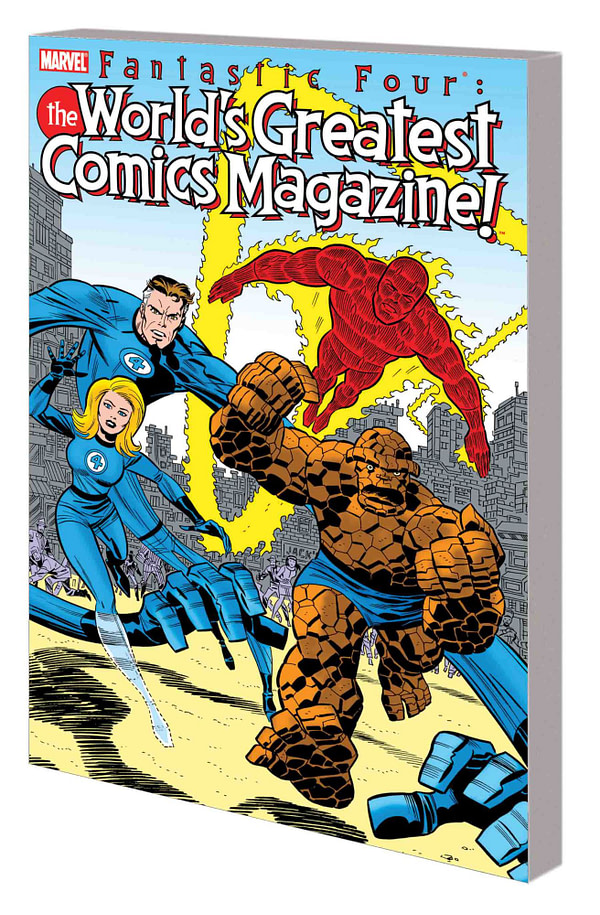 Finally, Walking Dead mogul Robert Kirkman is featured right in the title of a collection of Destroyer (padded with classic reprints):
DESTROYER BY ROBERT KIRKMAN TPB
Written by ROBERT KIRKMAN
with JOHN ARCUDI, STAN LEE & DAN SLOTT
Penciled by CORY WALKER with STEVE ELLIS, JACK BINDER & JAMES FRY
Cover by CORY WALKER
ON SALE AUGUST 2018
Robert Kirkman (The Walking Dead) and his Invincible collaborator Cory Walker put a fresh shine on a Golden Age hero! They don't make 'em like Keene Marlow anymore. As the Destroyer, Marlow fought some of the world's greatest evils and survived to tell the tale. But in his twilight years, Marlow has finally met his match: a bum heart. Facing impending death, he must tie up his loose ends — which means eliminating all his grudge-holding old enemies, including archnemesis, Scar! The Destroyer can cut a bloody swath through the underworld, but can Marlow survive long enough to complete his final mission? Plus: The Destroyer's rarely-seen Golden Age origin…and more tales from his past! Collecting DESTROYER (2009) #1-5; USA COMICS 70TH ANNIVERSARY SPECIAL; and material from MYSTIC COMICS (1940) #6, MIDNIGHT SONS UNLIMITED #9 and MARVEL COMICS PRESENTS (1988) #156.
224 PGS./Explicit Content …$24.99
ISBN: 978-1-302-91326-7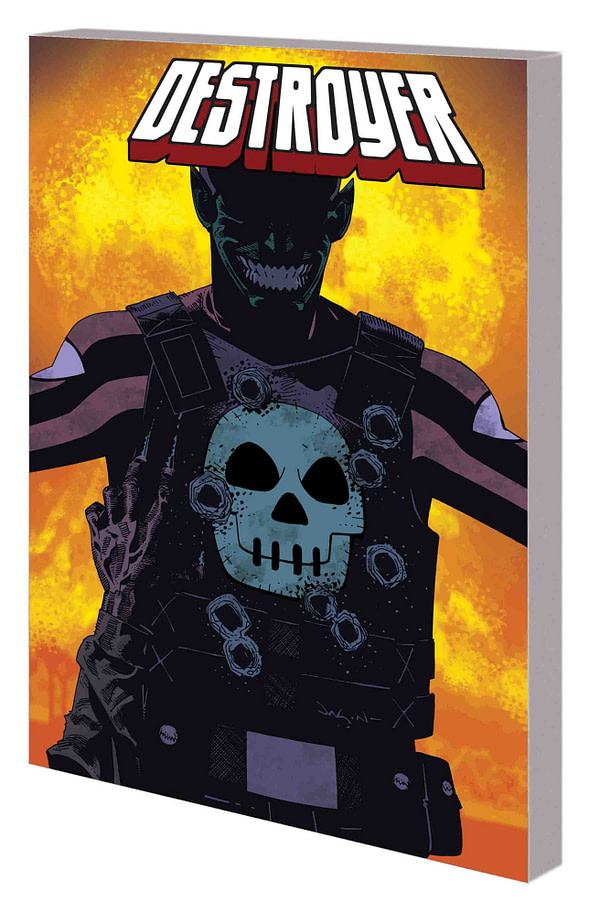 Now since we've got almost all of them in once place, how about an update on Image United #4? Hello? Hello?