A couple of comics from DC Comics are coming out a month late, but they couldn't be more different. Or could they?
Mister Miracle #9 was solicited for the 9th of May but is now scheduled for the 6th of June.
MISTER MIRACLE #9 (OF 12)
(W) Tom King (A) Mitch Gerads (CA) Nick Derington
After war comes peace. The bloody battles that waged across New Genesis and Apokolips have come to an end, and now Mister Miracle and Kalibak must sit down and discuss a truce. Can Scott Free trust the former minions of Darkseid to keep their word? Not likely, but a leader sometimes has to take a risk in service to the greater good. Perhaps the more pressing question, though, is whether Big Barda can make it through the negotiations without beating the life out of the assassin Kanto.In Shops: Jun 06, 2018
SRP: $3.99
Scooby-Doo, Where Are You? #93 was also solicited for 9th of May but is now scheduled for the 20th of June.
SCOOBY DOO WHERE ARE YOU #93
(W) Sholly Fisch (A) Scott Jeralds, Scott Jeralds
Off on a long-overdue vacation, Scooby and the gang travel to a photographic safari park, where their only plan is to get up close with nature. But nature gets a whole lot more up close than they planned when their safari's interrupted by the ancient Spirit of the Land! Thrust into the midst of lions, leopards and rhinos, the gang will have to unmask the bogus spirit… assuming they can escape the all-too-real savage beasts long enough to do it!  In Shops: Jun 20, 2018
SRP: $2.99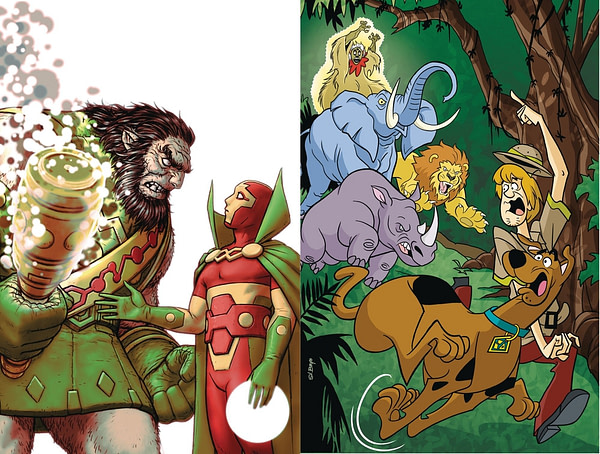 And the Batman: Knightfall Omnibus Vol 3: Knightsend had a little slip from the 2nd May to the 30th of May.
BATMAN KNIGHTFALL OMNIBUS HC VOL 03 KNIGHTSEND
(W) Chuck Dixon, Doug Moench, Alan Grant (A) Jim Aparo (A/CA) Kelley Jones
In this final KNIGHTFALL Omnibus collection, Bruce Wayne turns to Lady Shiva for help in retraining. Meanwhile, moving in on an arms dealer, Batman discovers that the perpetrator might actually be an old and deadly enemy of the Order of St. Dumas. Bruce Wayne and Robin recruit Nightwing, the first Robin, to keep tabs on the new Batman's activities even as he continues his pursuit of the deadly arms dealer, while Wayne sets up a training facility in an abandoned logging mill in the hills outside Gotham City. Collects BATMAN #509-510 & #512-515, BATMAN: SHADOW OF THE BAT #29-30 & #32-35, DETECTIVE COMICS #676-677 & #679-682, ROBIN #8-9 & #11-14, CATWOMAN #12-13, BATMAN: LEGENDS OF THE DARK KNIGHT #62-63, SHOWCASE '94 #10, NIGHTWING: ALFRED'S RETURN #1, BATMAN: VENGEANCE OF BANE #2.  In Shops: May 30, 2018
SRP: $99.99