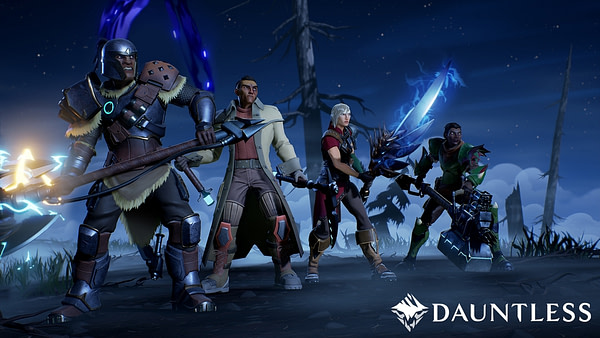 The monster hunting MMO Dauntless will be entering its Open Beta test phase starting May 24th, 2018. With the launch of the Open Beta, current players of the game will see a ton of new features added to the game in order to test them before the Open Beta begins. This includes UI updates, updates to end-game content, weapon re-tuning, more emotes, island gameplay changes, tutorials, and even an opening cinematic to replace that "Welcome to Dauntless" video from CEO Jesse Houston. You can check out the full Road to Open Beta here. There will also be a level wipe just prior to the beta to insure that all players enter the Open Beta phase at the same level.
The Open Beta will be available as a free-to-play experience with an in-game store supported by a variety of cosmetic and vanity items. Phoenix Labs has ensured there are no paywalls or pay to win mechanics in the experience, and players will not be able to purchase any form of loot boxes. So, the game should have a pretty solid launch without the taint of #lootboxes hanging over its head.
As for the game itself, well, here's the official description:
In Dauntless, players are transported to the science-fantasy universe of the Shattered Isles where they take up the mantle of the Slayers, brave warriors tasked with ensuring humanity's survival from the Behemoths. Slayers will join up with other players and take down Behemoths together, bringing their spoils to the frontiervcity of Ramsgate to craft new weapons and armor.
Currently, over 100,000 players have explored the Shattered Isles and slain behemoths in the closed beta phase of the game, with another 700,000 players signed up for the Open Beta phase. So it's going to be an absolute party once it launches.
"Dauntless is more than four years in the making, and we can't wait for everyone to join us in the Shattered Isles, team up with friends, take on Behemoths, craft epic gear and bring the world to life," said Jesse Houston, CEO and co-founder of Phoenix Labs. "As we close in on our next phase of this adventure, we thank our passionate community that has been with us from day-one, providing feedback and helping craft the experience into what it is today. It has been an honor to create Dauntless together with you!"
Dauntless will be available to download and play for free on May 24 as part of the Open Beta experience. Aspiring Slayers can experience the Dauntless Closed Beta today by purchasing a Founder's Pack. For more information, or to register to secure your Slayer name ahead of the Open Beta, visit www.playdauntless.com.
You can check out our latest playtest of Dauntless from PAX East here.
Enjoyed this article? Share it!