After months of speculation, a listing for Spyro Reignited Trilogy has found its way online, seemingly confirming the game.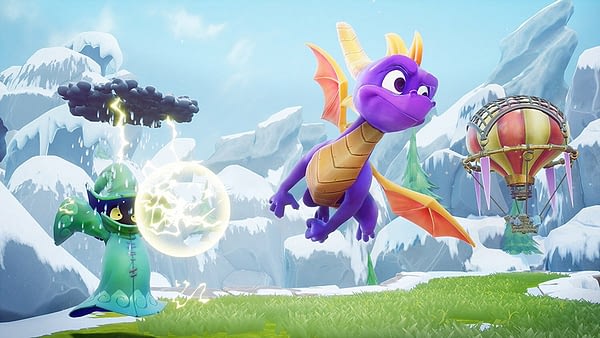 Well, this has been a long time coming. Reports hit in February about the possibility of a Spyro trilogy remaster, much in the vein of Crash Bandicoot N.Sane Trilogy last year. It makes sense, as Activision proved that there is big bucks in a well-done nostalgia trip. Since they can't dip back into the Crash well just yet, the little purple dragon seems like it would be the perfect next property to touch up. That being the case, despite only growing murmurs that the game is coming, no official word has hit yet.
Well, that being the case, new evidence has seemingly confirmed that the collection is on the way. An Amazon listing for Spyro Reignited Trilogy has been spotted (via Eurogamer), and with it, several other details. The first is the game is listed with a September 21, 2018 release date. The games that are seeing work are Spyro the Dragon, Spyro 2: Ripto's Rage! and Spyro: Year of the Dragon. The remasters are being done by the same team who did the Crash Bandicoot N.Sane Trilogy, previous Skylanders developers Toys for Bob.
Some images have also been leaked, showing off the impressive work on the remaster (via Nibel). Take a look:
Spyro Reignated Trilogy screenshots have leaked pic.twitter.com/cjEUgWVWVU

— Nibel (@Nibellion) April 5, 2018
As of yet, Activision has held strong, not making the announcement themselves, but this evidence makes it seem a foregone conclusion. I expect we are due an official reveal at any moment, and when it comes, we will be sure to bring it to you.
UPDATED: Activision has confirmed the remaster for a September 21, 2018 release date. The official confirm came with the following statement from Toys for Bob:
"We're deeply passionate about staying true to the legacy of the original three Spyro games with the Spyro Reignited Trilogy," said Paul Yan, Chief Creative Officer at Toys For Bob. "We've poured a lot of love into making the personalities and worlds feel just like fans remember them, while also keeping the game collection surprisingly fresh with lush, high definition detail. We're bringing back the Spyro we all fell in love with 20 years ago."